The lead singer of a band who were swept offstage by the tsunami that struck Indonesia has released a tearful video announcing two members were killed.
Dramatic video circulating on social media showed the band Seventeen performing in a marquee to visitors at the Tanjung Lesung beach resort in Java, when the wave suddenly broke through the set.
Riefian Fajarsyah posted a video on Instagram saying that the band's bassist and road manager had died, while his wife, two more band members and a crew member were missing.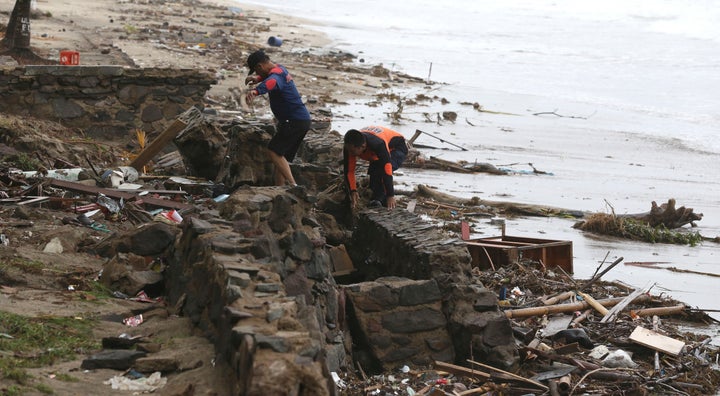 "We lost our bassist Bani and our road manager Oki," he said.
"Andi [drummer] and Herman [guitar] and Ujang [crew] have not been found. Please pray so that my wife Dylan [Dylan Sahara] will be found soon.
"The rest are thankfully safe although suffering from injuries and broken bones. Please pray so my wife Dylan, Andi and Herman and Ujang can be found soon."
It later emerged that guitarist Herman Sikumbang also died.
A statement from the band read: "The tide rose to the surface and dragged all the people on site.
"Unfortunately, when the current receded our members are unable to save themselves while some did not find a place to hold on."
At least 222 people died and 800 are injured following the tragedy which struck on Saturday, sweeping away hotels and hundreds of homes.
Scientists said the tsunami could have been caused by undersea landslides or those occurring above sea level on the steep outside slope of the Anak Krakatau volcano following the eruption.