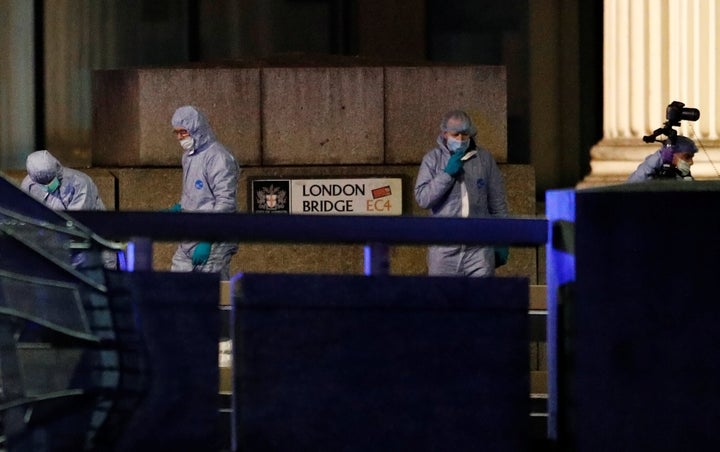 A number of people were injured before the suspected attacker, who was wearing a fake suicide vest, was shot dead by armed police.
A security source told PA on Friday evening that the man was known to police and had links to terror organisations.
He is believed to have been wearing an electronic tag and had recently been released from prison for terrorist offences, The Times reported.
On Friday evening NHS England confirmed that one of the three people injured remained in a critical but stable condition.
Simon Stevens, NHS chief executive, said: "Our heartfelt thanks go to everyone who responded to this incident, both the extraordinarily brave members of the public and our emergency responders.
"As the Met Police have confirmed, sadly two people have died in addition to the suspect. London Ambulance Service treated people at the scene and three were taken to hospital.
"We can confirm that one patient is critical but stable, a second person is in a stable condition and a third person has less serious injuries.
"Our deep sympathies are with the families and all those affected by today's incident."
Metropolitan Police Commissioner Cressida Dick confirmed that two people had been killed and three more injured and currently in hospital.
Heroic passers-by were seen grappling the suspected knifeman to the ground and disarm him before specialist officers arrived at the scene.
Speaking at a press conference on Friday evening, Metropolitan Police commissioner Cressida Dick said: "I want to thank the members of the public who have helped, either by showing extraordinary courage by stepping in to tackle this attacker or by following the instructions they have subsequently been given by officers at the scene and in the area."
She said officers were working at "full tilt to understand what has happened and whether anyone else was involved.
"For this reason we expect cordons to remain in place around the London Bridge area for some time."
The area surrounding Borough Market was evacuated immediately, and London Bridge has been closed both to traffic and pedestrians indefinitely.
London Bridge station has since reopened.
Asked whether the suspect was known to police, Dick said: "This is a very fast moving, dynamic investigation, we will keep you updated."
Shortly after the commissioner's statement was released, London mayor Sadiq Khan released an updated statement, describing the news of the deaths as "heartbreaking".
He said: "My heart goes out to them [the victims], their loved ones and to everybody affected.
"London will never be cowed by terrorism. Terrorism will never win. I want to reassure Londoners and visitors that there will be enhanced police patrols, including firearms teams, on the streets of London this weekend."
His sentiments were echoed by prime minister Boris Johnson, who described the fatalities as "heartbreaking" and said there would be an "enhanced" police presence in days to come.