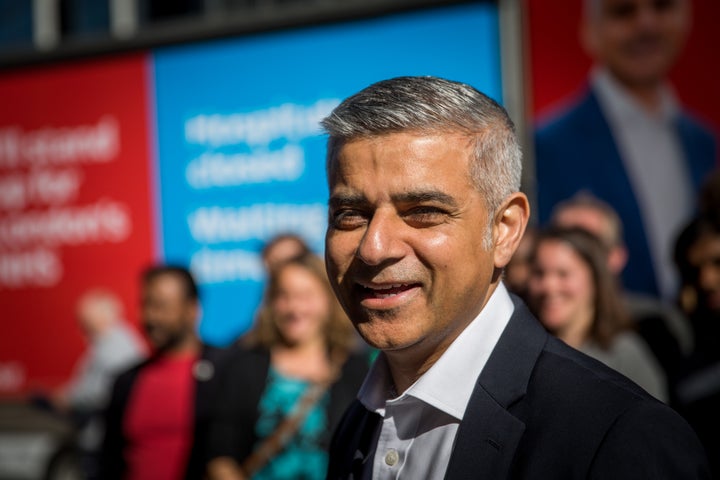 A nifty bit of tech on the London Elects website is showing the Tooting MP is currently ahead of his Conservative rival Zac Goldsmith in the race to City Hall.
Green party candidate Sian Berry is third on six per cent, while Lib Dem woes continue with Caroline Pidgeon languishing in fourth on four per cent.
Former Labour MP George Galloway has just one per cent.
The ticker only shows the results for first preferences, and if Khan fails to get more than 50 per cent of those votes, Londoners second preferences will be taken into consideration.
Goldsmith's campaign for City Hall has been accused of being "divisive", with the Tory candidate frequently questioning Khan's links to "extremists".
After the polls closed on Thursday, Boff revelaed he had spoken to Goldsmith and said it was "a mistake" to attack Khan with such allegations, as it undermined the party's hard work in appealing to the Muslim community.
Speaking on BBC's Newsnight, he said: "I don't think it was dog whistle, because you can't hear a dog whistle. Everybody could hear this.
"It was effectively saying that people of conservative religious views are not to be trusted and you shouldn't share a platform with them and that's outrageous."
"I was really troubled by one particular aspect [of the campaign] and that's when he started equating people with conservative religious views with sympathising with terrorism. That sent a message out to many of the communities in London that's very difficult to justify."
The party has been pushed into third place in the Scottish Parliament after finishing behind the SNP and the Tories, and will have to rule as a minority administration in Wales after losing a seat in the Assembly.
Labour also lost council seats in England, at a time in the electoral cycle when opposition parties are expected to make gains.