Tapas is undoubtedly the best kind of food. You get to sample loads of dishes, share the experience with pals and it gives you a fantastic excuse to guzzle copious amounts of Spanish wine.
London has no end of tapas restaurants, which can make it extremely difficult to know where to head if you're after something special.
To save you the trouble of scouring endless Trip Advisor reviews or asking your Facebook friends where's good to go (with disappointing results), we've picked out the best tapas restaurants in the capital.
Navarro's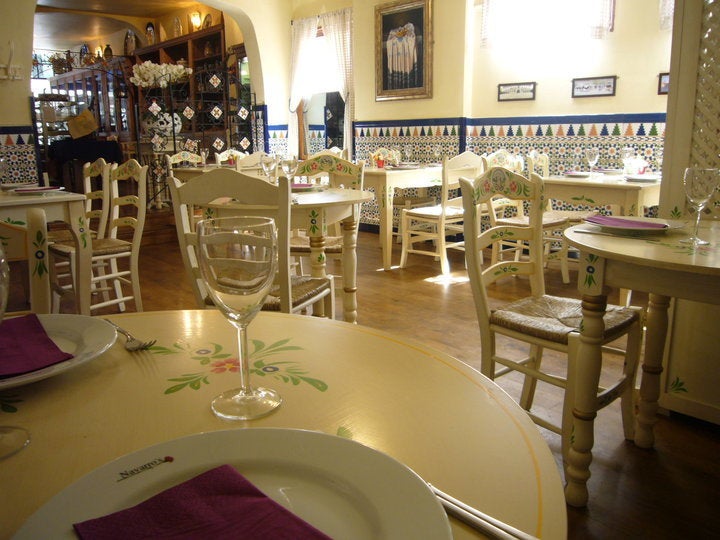 Navarro's is a tiny, family run Spanish restaurant situated along London's infamous Charlotte Street. It has been in business for 30 years, which we credit to its incredible menu and friendly staff.
The cosy restaurant is the perfect place to head for date night or even a wine-filled evening with pals.
Great dishes to try include pulpo a la Gallega (£8.95), which is Galician style octopus and sliced potatoes sprinkled with rock salt, pimenton and olive oil; and albondigas en salsa (£6.45) which is a mouthwatering dish of meatballs in a tomato and wine sauce.
There are also plenty of delicious vegetarian options and side dishes to try.
Bread, olives and wine is a must.
The Little Taperia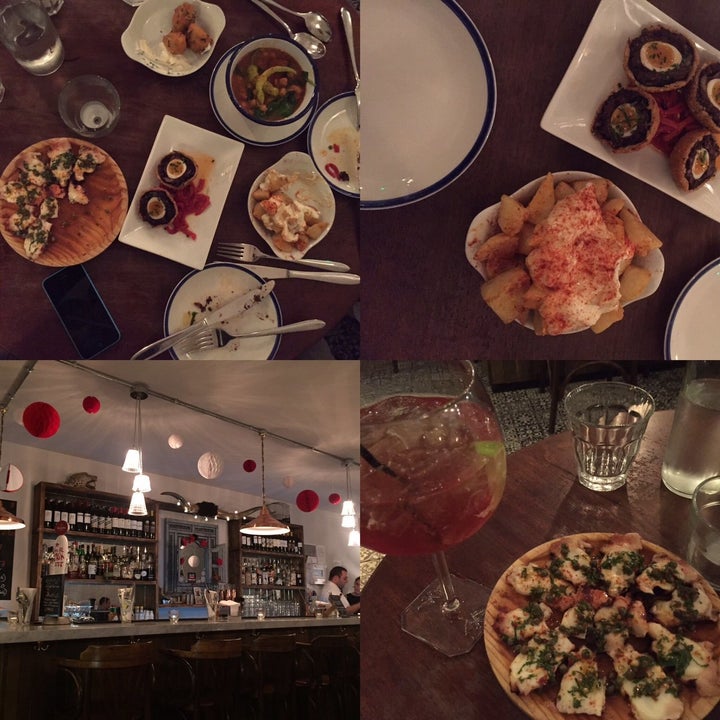 The Little Taperia is a well-designed, cosy restaurant just past Tooting Broadway. There are seats available on the marble-topped bar for quick snacks, or on their restaurant tables if you're going out for a meal.
The dishes on the menu will undoubtedly make you want to order the lot, but it's wise to stick to around six plates between two people and then a cheese board for dessert - which is plenty.
Prices range between £4.50 and £8 per dish. There are the simple dishes you always expect - such as patatas bravas with allioli or chilli garlic prawns - or something a little more extravagant like morcilla (which is Spanish black pudding), scotch eggs, or hake with peas and salsa verde.
The marinated octopus is incredible. The warming chickpea stew with chorizo and spinach is a warming and filling option, too.
The restaurant's buzzing atmosphere and incredibly friendly staff make it the perfect place to eat, relax and have a great time.
José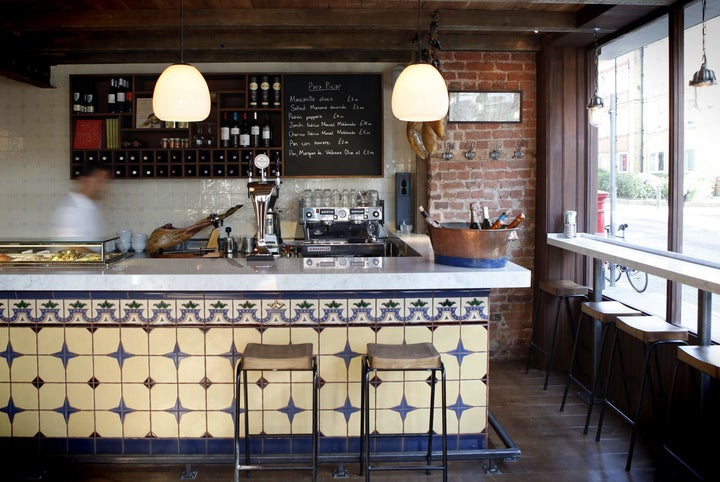 Inspired by buzzing tapas bars in his native Spain, top chef José Pizzaro decided to open his own: the eponymous, José.
Tucked along the trendy foodie hub that is Bermondsey Street, the venue is tiny and intimate. There is a 'no reservations' policy, so guests simply grab a drink at the bar and shuffle to a seat when one becomes available.
The menu is based around simple, seasonal food and specials change daily.
Try Jose's signature dish: the Ibérico Pork. Yes it's pink in the middle, which goes against everything you've ever learned about cooking pork, but trust us on this one. Because the pig is acorn-fed and rigorously tested before it's shipped to the UK, you can serve it rare without fear of bacteria or infection. Admittedly it features on the more expensive end of the menu, but it's rich and nutty in taste - most definitely worth it.
Other dishes worth trying are the boquerones en vinagre (anchovies) and croquetas de Jamon y Queso (cheese and ham croquettes).
The Black Pig With White Pearls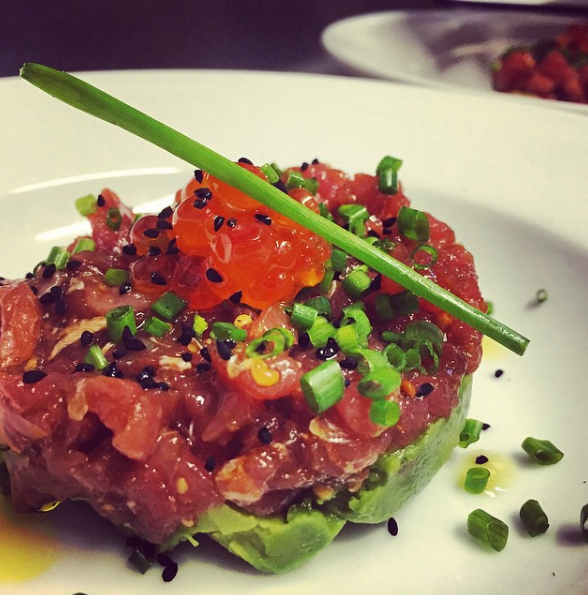 Nestled on the quiet strip between the main bustle of Dalston and Stoke Newington, The Black Pig With White Pearls provides an intimate, cosy escape from East London's jam-packed bars.
A top spot for date night, the small (but generously portioned) plates are perfect for sharing - and you'll want to, if just to sample more things on the menu.
The eponymous 'black pig' (aka Ibérico pork) served on a bed of patatas panaderas is a standout choice, the fried calamari melts in your mouth and the Marcilla lollipops (balls of rich black pudding) are a treat for the eyes as well as the tastebuds.
Even if you're not a local, it's worth the trek. Expect candlelight, soft Flamenco music and knowledgable staff serving dishes you'll be dreaming about for weeks.
Morito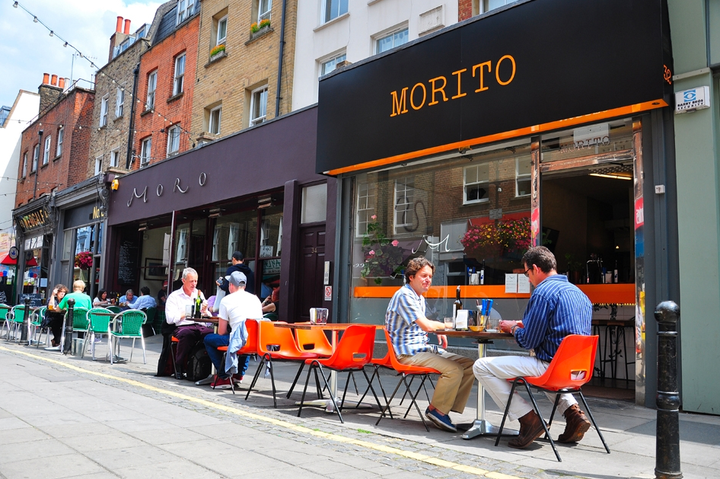 Situated in Clerkenwell's Exmouth Market, a pedestrianised street offering a parade of quaint foodie hotspots, lies Morito, the teeny tapas bar and little sister of Spanish restaurant, Moro.
The decor has a 1970s-vibe to it, with a long orange bar and retro mirrors. It's a charmingly intimate venue, with customers sitting along the bar, if in twos, or at a handful of tables along the opposite wall, if in larger parties. If the weather is nice, there are a few tables outside, which make for good people watching.
Many of Morito's dishes are worth a mention, but favourites include: spiced lamb, aubergine, pomegranate and pine nuts; octopus, tomatoes and garlic rusks; and the salt cod croquetas.
For drinks, ask the knowledgeable staff to recommend a Spanish wine to go with your choices - much easier if you've nabbed yourself a seat at the bar.
Trangallan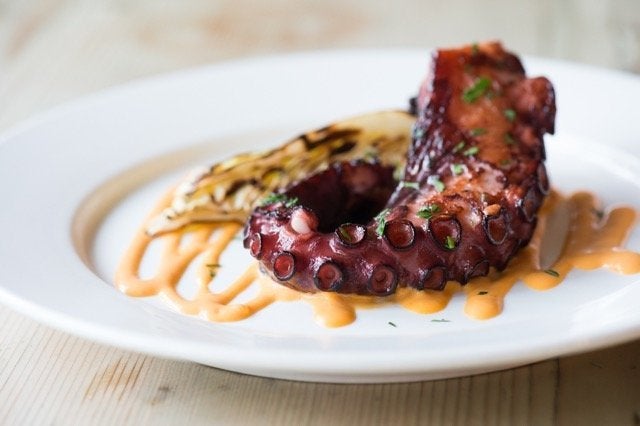 Trangallan (pronounced Tran-ga-yan, if you please) bills itself as a 'gastro-cultural space' offering delicate tapas, alongside a range of events including film nights.
Tucked away in Newington Green, Hackney, the former shop building now with adorable black-and-white awning, attracts a young, foodie clientele.
In summer, go European and grab a table outside in the pedestrianised area in front of the restaurant, in chillier months, head inside to sit on mismatched shabby chic furniture with a large glass of red and get cosy.
The menu, which changes regularly, is expertly put together. Favourites include the tuna tartare with ajo blanco, a chilled almond and garlic soup, the octopus served with girolles and saffron mayo (pictured), or the charcuterie board, boasting chorizo, carnixúa, sobrasada, salchichón.
​61 Newington Green, London, N16 9PX
Social Wine And Tapas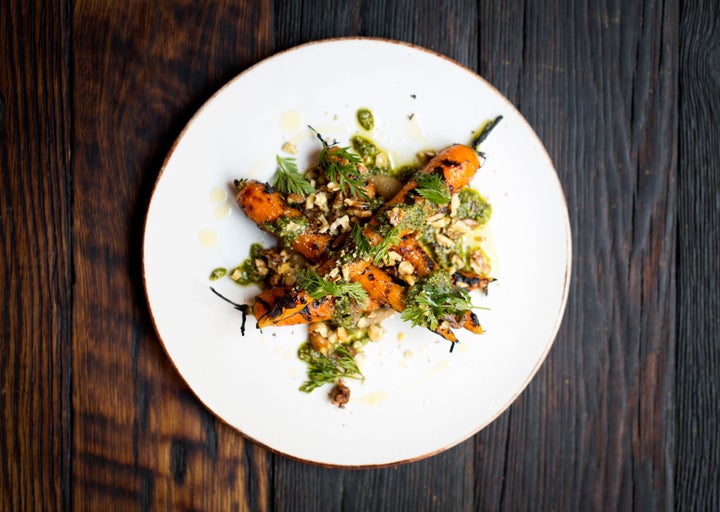 When you want to make tapas an occasion rather than a hurried snack, this Jason Atherton-owned restaurant is the place to do it.
Easily one of the best tapas places in London. You should definitely order the Iberica bellota - dark red slivers of heavenly ham - and the gorgeous crispy duck egg with truffle.
Also, try the chargrilled carrots. Unusual with walnut pesto and a revelation.
What elevates this from a good tapas experience to a great one, however, is the choice of wine (and some unusual ones at that) - ask the sommelier to match for you.
Barrafina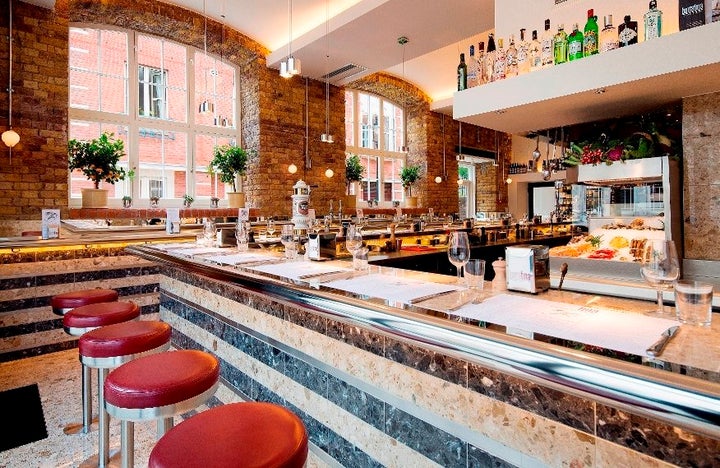 Barrafina does't take reservations and you may encounter a queue if you go at peak times, but we assure you, it's well worth the wait.
The open kitchen and casual bar setup allows you to watch as masterful chefs turn fresh ingredients into delicious Spanish dishes.
Try the tempura prawns for a light starter followed by melt-in-the-mouth pork belly with a side salad of baby gem lettuce, botarga, walnuts, pancetta and manchego.
If you've got room, squeeze in some torrijas for dessert (they're a bit like French toast, but covered in cinnamon and sugar).