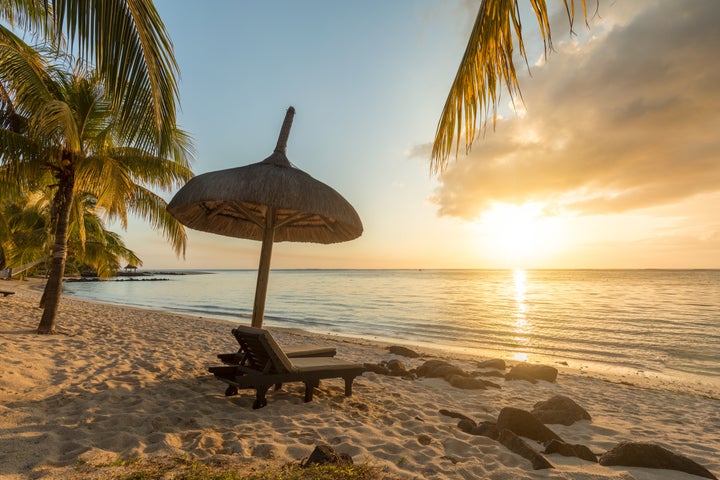 As the writer Mark Twain famously described it: 'Mauritius was made first and then heaven; and heaven was copied after Mauritius'. Set foot on this small, oval-shaped gem in the Indian Ocean and you soon discover this was no mere hyperbole.
Mauritius is a volcanic island extending to 65km at its longest point and 45km at its widest. It has 330km of coastline made up of lagoons and palm-fringed marble-white sand, and the island is surrounded by coral reefs teeming with marine life. It's interior is characterised by mountainous tropical forest, sparkling waterfalls and some of the most exotic wildlife found anywhere in the world. It's these factors that combine to make the getaway one of the most startlingly romantic places that you can possibly travel to with your significant other.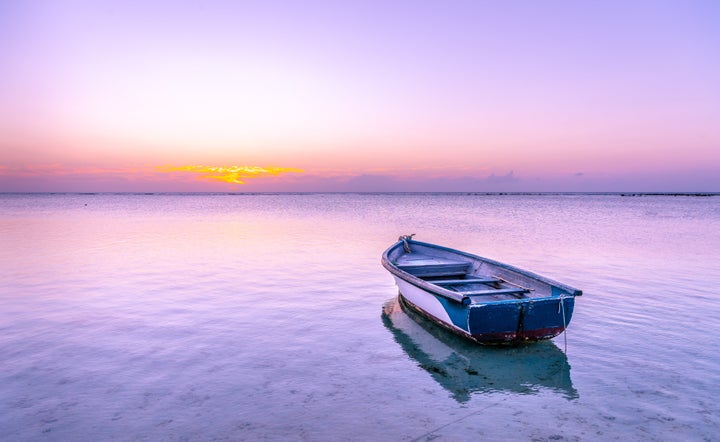 You can spend an entire visit to Mauritius doing very little but hanging out with your loved one, reclining in a hammock and staring slack-jawed at its beauty. The island is justly renowned as a getaway for couples looking for a special escape and as a top honeymoon destination, thanks to its discrete luxury resorts and world-class restaurants and spas.
The TUI Sensimar Lagoon Mauritius is one such place. Designed just for adults, it's complete with a wellness area and spa, three outdoor pools and, as with all stylish, grown-up-only TUI Sensimar destinations, an incredible section of food for evenings spent dining, just the two of you - as well as low key entertainment.
Based on the north coast of the island at Anse La Raie, the emphasis here is on luxury and pampering, and on giving guests the space to wind down and recharge their batteries. It comes with three pools and three restaurants (one of which, Kot Nou, is dedicated to local Mauritian Creole cuisine), a spa with hammam, sauna and four treatment rooms, while guest rooms are rendered in a bright, contemporary style, some coming with sea views, hot tubs and whirlpool baths.
Another remarkable place to head to is the TUI Sensimar Hotel Riu Le Morne. Located on the UNESCO-listed Le Morne peninsula, in the south-west of the island, this destination looks onto a pristine white beach, which is fantastic for windsurfing. (Equipment for this is free to use, or you can book lessons for an extra charge.) You can also try your hand at stand-up paddle boarding and kayaking.
Both a buzzy buffet and a stylish à la carte restaurant are available, as well as an Indian eatery and a pan-Asian spot. There's also live music to chill out to, a few evenings a week.
If there's only so much downtime you can handle, then there are lots of water sports available, such as snorkelling, scuba diving, paddle-boarding, wind surfing and kayaking.
Given Mauritius' outstanding coral reef that ring-fences the whole island, the kind of scuba diving you find here is on a par with the Maldives, and there are excellent dive sites all around the island. Expect to see stingrays, turtles, reef sharks and barracuda, not to mention dozens of species of tropical fish among the various submerged wrecks and underwater caverns and rock pinnacles. It truly is one of the most spectacular places to go diving anywhere in the world.
For those who prefer to stay above water, the island is an ideal place to take a boat and go whale and dolphin spotting, with various conservation-conscious operators offering full or half-day packages to see Spinner and Bottlenose dolphins, and humpback, sperm and pilot whales. (These amazing activities will sometimes incur an additional charge.)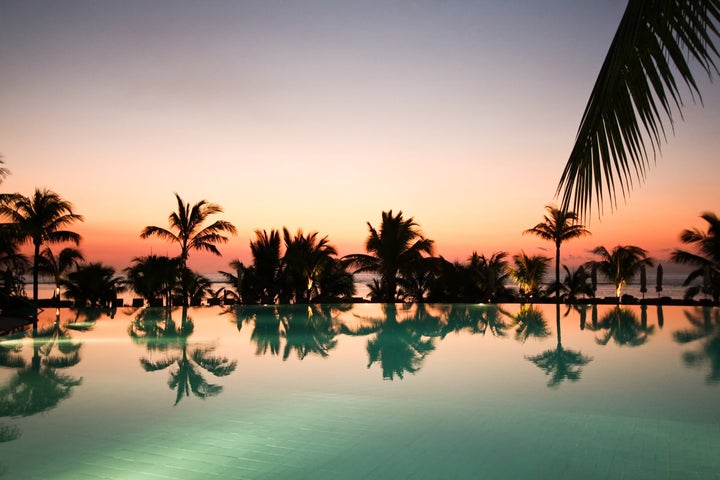 Back on dry land, don a pair of walking boots and head to the Black River Gorges National Park and its 50km of walking trails. This is in the south of the island, and it's difficult to overstate the beauty of this place. A protected reserve since 1994, it's home to a unique ecosystem that's irrigated by spectacular waterfalls: making it an incredible experience to share with your significant other. You won't find the dodo anymore (except on the country's coat of arms), but this habitat provides a home to rare native birdlife like the Mauritius kestrel, the echo parakeet and the pink pigeon, while wild boar, macaque monkeys and deer can be found amid the lush forest. Get back to nature with a jungle hike or take in the greenery in a more relaxed way, at the Pamplemousses Botanical Gardens.

Indulge in Creole cuisine
The island's strategic location means many countries have tried to dominate it down the centuries, including the Portuguese, Dutch, French and British. But African and Indian cultures have also made their mark here, with Hinduism now the dominant religion and other Asian traditions coming to the fore. Mauritian culture is thus a remarkably harmonious blend of influences, best expressed in the native Creole cuisine.
Romantic restaurants like Maison Eureka, Le Barachois, Le Fangourin and Deer Hunter celebrate this, with plenty of sweet and spicy seafood (expect plenty of fresh lobster, giant shrimp and crab), saffron-infused rice and vegetable curries, normally washed down with delicious Mauritian tea flavoured with vanilla, mint and lemon. At the TUI Sensimar Lagoon Mauritius, try the the Culinarium à la carte restaurant, where each night sees food from a different theme on offer -think seafood feasts and local specialities.
All of which leaves only one question: when to take your partner and go? This is actually something of a moot point, given the weather in Mauritius is excellent all year round, temperatures in the mid-to-high twenties, and rarely going below twenty degrees at night. If you're thinking of heading to TUI Sensimar Lagoon Mauritius, why not go between February and April, the period when Britain's winter and general gloom have got the better of you? There is, after all, no greater antidote than this gorgeous, sun-soaked island, a place that really is a little piece of heaven.
All hotels featured in this article can be booked with TUI. Explore all the delights Mauritius has to offer, here.