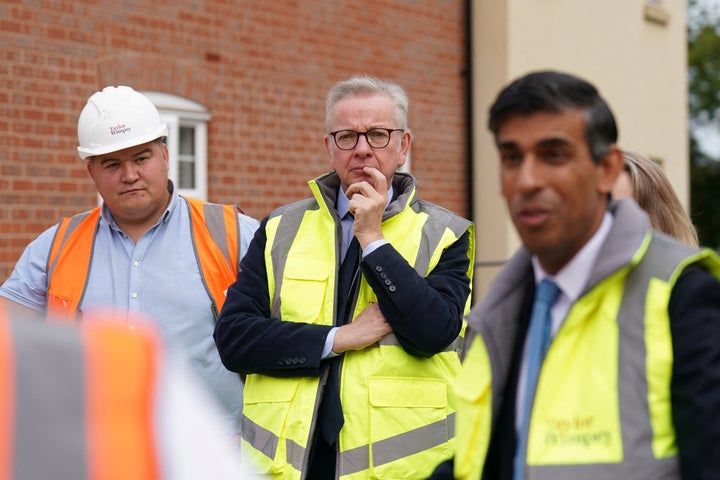 The cabinet minister's comments come as the government said on Tuesday it would remove some European Union rules it had retained post-Brexit that were meant to curb water pollution, to enable thousands of new homes to be built.
The EU's "nutrient neutrality" laws were put in place to ensure that development does not pollute waterways with additional chemicals that cause plants to grow, from sources such as agricultural fertiliser and untreated sewage.
But Gove's department for levelling up, housing and communities said that while nutrients entering rivers was "a real problem", the contribution made by new homes was "very small".
On Times Radio, Gove defended his administration's record, saying: "Of course, our rivers aren't as clean as they should be, but they are cleaner than they have been in the past."
When challenged by presenter John Pienaar that pollution was in fact "worse than it was", Gove replied: "No, no, I want to pick you up on that.
"It's a widespread myth that somehow the quality of our water has deteriorated.
"Actually, we've seen record levels investment between 2020 and 2025 ... England will be spending more on improving its water than other European countries.
"And it's also the case that if you look at the real measures of pollution in our rivers – if you look, for example, at the ammonia, which is a sort of principal by-product of some of the waste that we're talking about here, it's a key indicator of sewage in our waters – the ammonia being detected has gone down.
"Now, the standards we expect of our rivers have gone up quite rightly. We're being more and more stringent in what we expect and at the same time, we're also being more demanding of water companies as well."
Water companies pumped sewage into Britain's waterways over 300,000 times last year.
Against the backdrop of growing public anger over raw sewage being dumped into the sea and rivers when the system cannot cope with heavy rain, the water industry has promised to make a £10 billion investment in sewerage infrastructure.
But the upfront payment by the water companies will be recuperated from consumers by gradually raising their bills over time.
Gove's assessment will likely receive pushback from environmental groups, who had already criticised the policy announcement.
Surfers Against Sewage, the group that has done most to raise awareness of sewage being dumped in waterways, tweeted: "Our rivers are already on the precipice. They urgently need more protection, weakening regulations is madness."
Craig Bennett, chief executive of the Wildlife Trusts, said: "Scrapping the rules that are merely trying to stop rivers becoming even more polluted will allow vested interests to make more money at the expense of our rivers and the natural environment."
Clean rivers campaigner Feargal Sharkey has described the government's scrapping of pollution rules as "a complete and utter shambles".
Speaking to BBC's World at One, he said: "This morning the last vestiges of any pretence that this government is in any way actually interested in the environment has now just been shredded."