When the UK government started warning people not to go into pubs or restaurants on March 16th, 2020, to limit the spread of COVID-19 - before imposing the official lockdown - Orwells restaurant in Shiplake, Henley-on-Thames, was happily enjoying its 10th anniversary celebrations, which featured a different top chef guest-cooking in the kitchen each month (Sabrina Gidda from the Allbright in London was at the helm that evening).

As customers started getting panicky and cancelling reservations last-minute, husband-and-husband co-owners, Ryan and Liam Simpson-Trotman, found they suddenly had no bookings for the Thursday and Friday of that week.

"We decided to have a meeting that we called Operation Loch Ness, because it was about keeping our heads above water. We decided to close the restaurant and only offer a takeaway service shop with ready meals, to serve locals with quick bites to eat and groceries," Ryan tells HuffPost UK.

Orwells is a much-lauded, multi-award winning restaurant in a converted 18th century pub, known for its modern fine dining dishes - think red turbot with samphire and lamb neck fillet with asparagus and puy lentils. When lockdown hit, Ryan and Liam quickly shifted to a takeaway system of "simple food, but done very well," like fresh bread, simple pates, chicken curries, lamb shanks and beef Bourguignon.

In addition to offering takeaways, Orwells now operates as a community shop, with butcher's cuts, fresh fish, dairy products and a deli. Liam also grows most of the restaurant's vegetables in the kitchen garden and a small holding down the road, where you'll find everything from turnips to caraflex cabbage, as well as honey produced from Orwells' own bees, all sold in the online shop, created with Square.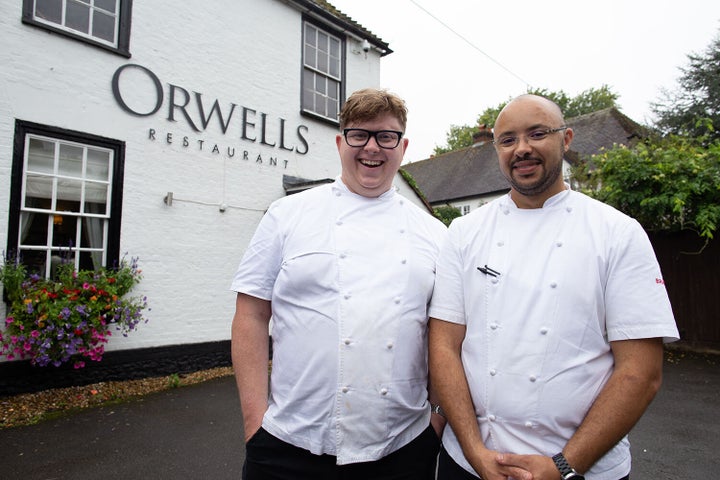 The first weekend of lockdown coincided with Mother's Day, so Ryan and Liam devised a bit of an experiment: Orwells originally had 80 covers booked for the occasion, so the chefs quickly launched a set menu for takeaway and delivery. A whopping 350 customers ordered it.

"We were quite shocked, but we were actually appealing to our wider audience. It wasn't the easiest of days, we weren't prepared, but we actually got all these ideas together and thought, how do we deliver and package this?" says Ryan.

While Orwells had a website with a small purchasing section prior to lockdown, it was disjointed and required customers to call in to place orders - you couldn't do it all online. The restaurant's manager, Arnaud, mentioned to the chefs that Square - which they had been using for in-person payments already - offered a free website service, and within a few hours, the online takeaway service and community shop was up and running.

"It just went crazy. It was working, there was money going into the bank account," says Ryan. "It looks after itself in a sense. You get orders coming in, you process the orders."

The duo also launched a home delivery service with Square for those who were isolating, including a regular customer of theirs who was a fan of Orwells' pub offerings over their more exotic dishes.

She provided them with their next big lockdown idea when she mentioned that their fish and chips was the best she'd ever tasted.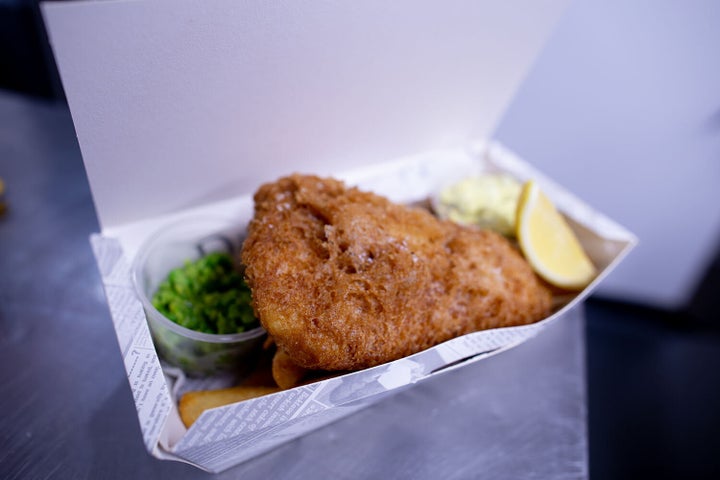 A week later there was a fryer in the kitchen and 100 orders of fish and chips for that Friday (enough to pay for the cost of the fryer); two weeks later and they had another fryer and 200 orders. By week four they were doing 350 of them on a Friday night, and they now have a fish and chips menu to cater to all tastes, whether you like lobster fish and chips, scallops, salt and pepper squid, or the OFC - Orwells' fried chicken.

Deep fryers weren't the only new cooking kit the chefs invested in: they soon had a pizza oven in the garden for Wednesday pizza nights, and launched four signature flavours, like the Kernow Catch, which is topped with lobster, and the Cheesy Fun-guy, a truffle-laden pizza. All cheeses come from the UK, and vegan options are available.

They've also launched an ice cream parlour thanks to Pacojet ice-cream churners and, for customers missing the high-end Orwells delicacies they've come to know and love, there's The Orwells Experience, which is the next best thing to an Orwells meal, but enjoyed at home.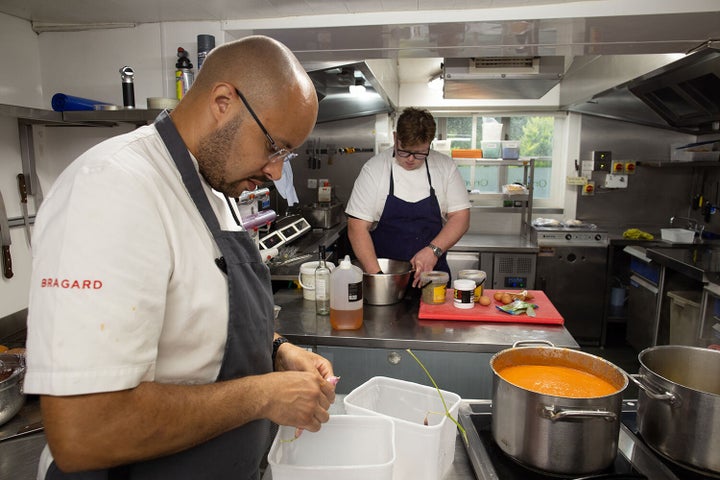 Arriving in a gable box and containing a starter, main, dessert, homemade bread and butter, pre-starter and petits fours, for £45 a head, The Orwells Experience is available any day of the week (customers typically need to order a day in advance for availability the next day) and has been a huge success.

"We've designed this concept where we've personalised an interactive video for the customer that's bought it. Inside the box is a sheet with a special password and a link to the website with the video with me and Liam giving tips, and telling them the best way to heat things up," says Ryan.

This personalised aspect is one of the primary reasons the duo have chosen to keep the restaurant's doors shut for now - Orwells isn't just about amazing food, but also the experience, one where Arnaud jokes around with clients while pouring a glass of wine. "There's a lot of theatre when you eat at Orwells. We're waiting for things to calm down," says Ryan.

The response to The Orwells Experience has been so hugely positive that Ryan and Liam are thinking ahead. The next step? To possibly extend their deliveries further afield, like London, where they have a large client base.

Ryan and Liam's quick-thinking, creativity and talent made all of these pivots possible. Square's online services have helped to make them a profitable reality. The duo switched to Square in autumn 2019 for restaurant payments, after using another company they found "didn't move with the times."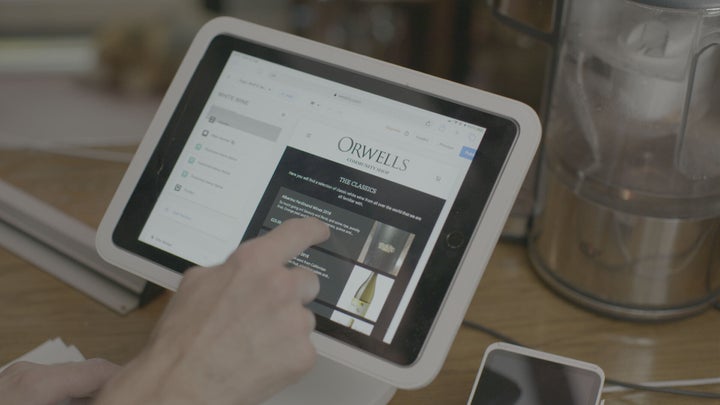 With all of the amazing feedback they've gotten, Ryan and Liam are contemplating what it might be like to open a second location, which caters to the pizza-and-fish-and-chips-loving crowd they've been feeding the past few months. They're also looking to rework their menus using Square eCommerce solutions, so they can keep up their sustainability goals and avoid wasting printer ink and paper on new menus. Ryan and Liam are also thinking about introducing menus on iPads as an additional means for customers to order in the restaurant, which they'll disinfect for safety between customers.

"I like the fact that Square has their own merchant services - it's very seamless. That's how we operate here," says Ryan. Square's website enabled Orwells to transform into a cashless business, which Ryan and Liam find easier since it means no more counting money, checking for fake £50 notes or trips to the bank.

Orwells is thriving in its new incarnation, and Ryan credits the establishment's success with having the courage to upend the original business model completely.

"Don't be scared to change your identity in a time of crisis. We didn't want to take any loans or go on furlough because you have to pay them back. We've built Orwells over 10 years. We do fine dining but we don't always eat fine dining, so we decided let's make it the best pizza and the best fish and chips in town," Ryan says.

Job done.