You know the feeling. You've just aced a long day's work and you're now in the kitchen silently screaming, "What can I cook tonight?" We get you. Midweek meals can be a chore. Trad meat dishes take time and planning, so we're suggesting for midweek you go meat-free. And meat-free doesn't have to be taste-free - far from it. Naked Glory's mission is to bring you "The Meatiest Thing Since Meat." Embrace our five clever hacks and inspiration from around the world, and you'll definitely be excited and up for cooking midweek meals.
1. Make the freezer work as hard as you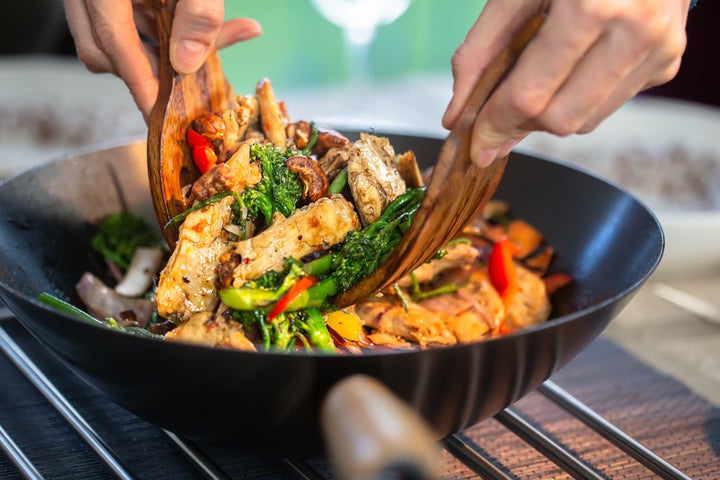 Sometimes, just thinking about peeling and chopping onions, peppers, and garlic is enough to make you phone for a takeaway. Stop! An easier, cheaper and less wasteful way to get your five-a-day into midweek meals, is to check out your supermarket's frozen veg section. It's amazing what you'll find pre-chopped and frozen: from onions to okra, sweetcorn to sweet potato, peppers to peas, edamame beans, oriental stir-fry mixes, garlic and ginger. Just throw handfuls of whatever frozen veg your recipe says straight into a hot pan – no mess, no waste, just as nutritious.
2. Embrace the assembly job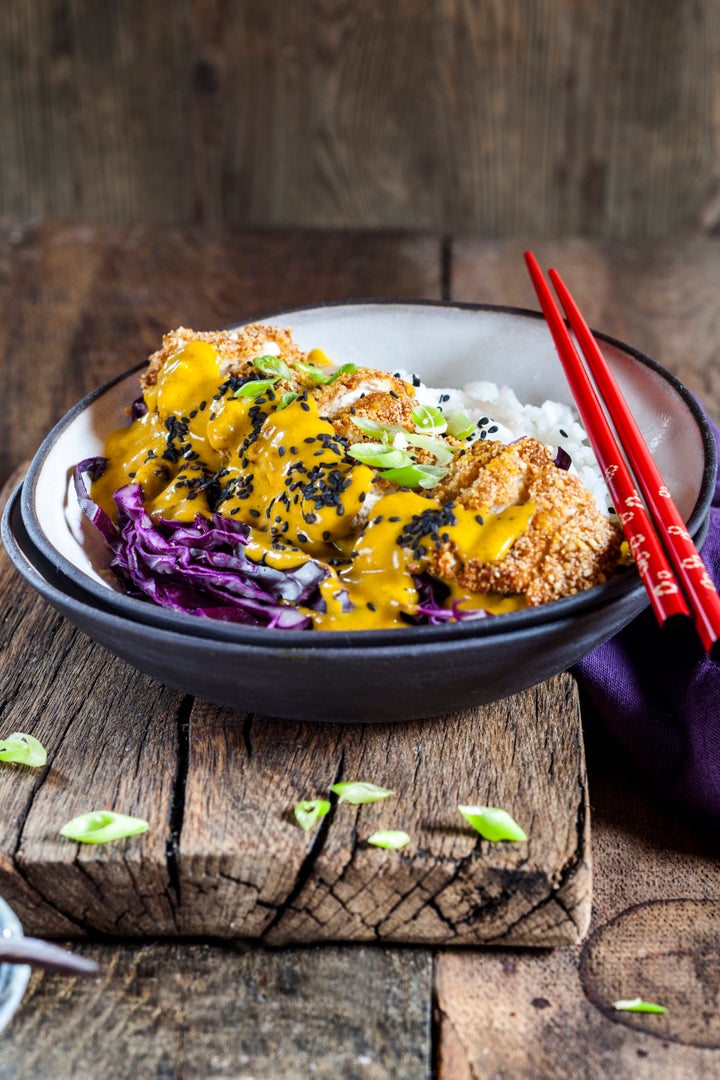 Who's got the patience mid-week to experiment with complicated recipes and loads of pots and pans? Not us. Instead, take inspiration from world cuisines that assemble simple elements into deliciously harmonious dishes. We particularly love casado from Costa Rica: it's rice, tinned black beans, avocado, a chopped salad of whatever's in the fridge, and something meat free and delicious on top – a juicy Naked Glory Quarter Pounder or succulent Naked Glory Tenderstrips. If you want to fry up some plantain to make it even more authentic, go for it.

Katsu curry is another rapid, and utterly delicious midweek crowd-pleaser. Roll fragrant Naked Glory Tikka Tenderstrips in panko breadcrumbs and warm through in the oven, then serve them on rice with a shaved carrot and cucumber salad, pickled sushi ginger, a shake of sesame seeds and a ready-made katsu sauce on top.
3. Pair drinks with your dinner creations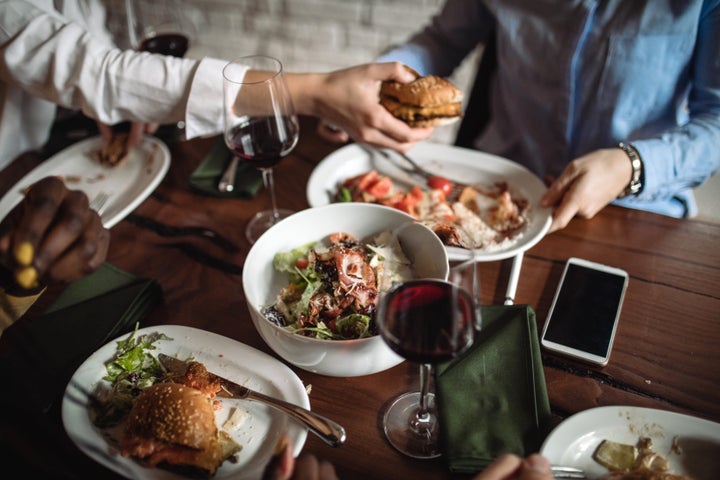 It's OK to have a glass of wine on a Tuesday. It's easy to overlook drinks with midweek meals, but a glass of something lovely can elevate dinner from meh to more. Take a classic loaded Naked Glory Quarter Pounder with chips and slaw – it pairs perfectly with a red wine such as a Cabernet Sauvignon or a Syrah. White wine is the go-to for chicken dishes, even when they're meat-free. A Muscadet will be perfect with the katsu curry, and Chardonnay complements the Costa Rican casado. You don't have to serve alcohol – the exotic juices in mango, guava watermelon and lychee drinks pair wonderfully with South Asian flavours. And when it comes to Chinese-style stir fries, you can't beat a pot of steaming jasmine tea.
4. Do It Yourself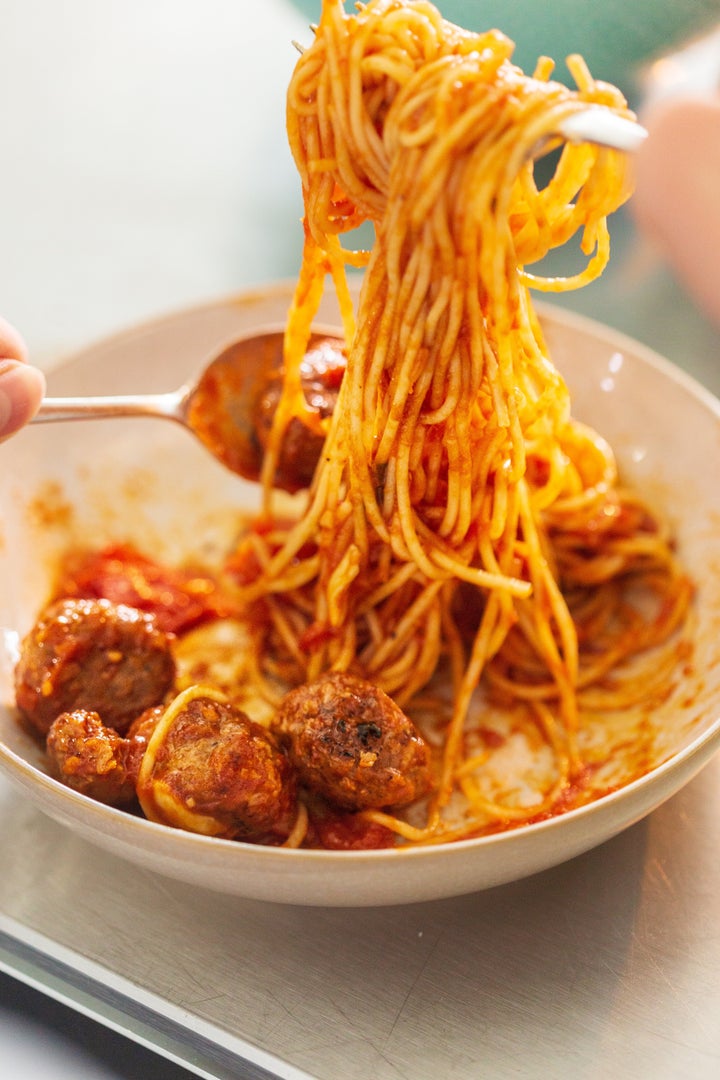 As if producing midweek meals people actually want to eat wasn't enough, most of us have the added considerations of other household members with food preferences, intolerances, or simply coming in at different times. But you've got this. It just needs a little forward planning. Stock the fridge with basics - pizza bases; cooled, baked potatoes (these last up to 5 days); and cooked pasta. Include Naked Glory Sausages, Naked Glory Quarter Pounders, Naked Glory No-Meat Balls and Naked Glory Tenderstrips that take little time in the oven or on the hob and supplies of salad, vegetables and favourite sauces. Everyone and anyone can create and heat up a pizza, pasta with meatballs or a filled baked potato with healthy salads when they get in, and – bonus – there's not much washing up.
5. Make enough for two days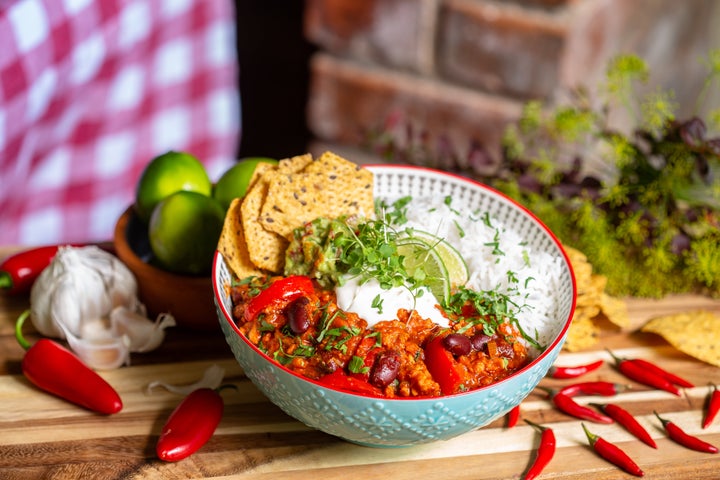 Isn't it the best feeling when you open the fridge door and there are enough leftovers for another dinner? If you double the quantity when you cook, you've got 40% of your midweek dinners covered! Chili non carne is brilliantly versatile for batch cooking – see our mouth-watering, meat-free recipe below. Serve it one evening with the classic rice, guac, salsa, sour cream and tortilla chips combo, then the rest later in the week (it'll taste even more delicious as the flavours develop) as chunky burritos with grated cheese, fried onions and peppers, in soft tortilla wraps with salsa.
Naked Glory Chilli non Carne
1 tbsp olive oil
1 onion, chopped
1 garlic clove, crushed/chopped
1 mild red chilli, thinly sliced (de-seed if you require a milder finish)
260g Naked Glory Mince
1tbsp tomato puree
½ tsp ground cumin
½ tsp ground coriander
½ tsp smoked paprika
½ tsp chilli powder
Pinch of cinnamon powder
½ tbsp soft brown sugar
½ tsp cocoa powder (optional)
250g passata
salt and freshly ground black pepper
400g red kidney beans, rinsed and drained
1 red pepper, diced
1 large bunch coriander leaves, roughly chopped
wedge of lime
plain boiled long grain rice
sour cream
chopped coriander
Heat the oil in a large, heavy-based saucepan with a lid and fry the onion, garlic and red chilli until softened.
Increase the heat and add the Naked Glory Mince, cooking quickly until browned and breaking down any chunks with a wooden spoon.
Turn down the heat to low, stir in the tomato puree and cook out for a minute, then add all ground spices (cumin, coriander, cinnamon, smoked paprika and chilli powder), cook out for a further minute (add a splash of water if the spices start to catch the pan).
Stir in the kidney beans and diced red pepper. Add the brown sugar and cocoa powder, stir in the passata, salt and freshly ground black pepper.
Bring to a simmer, cover with a lid and cook over a gentle heat for about 15 minutes, stirring occasionally until the mixture is rich and thickened.
Stir through the fresh coriander and cook out for a minute uncovered before removing from the heat, adding any extra seasoning if necessary.
Serve with rice, guacamole, sour cream, a wedge of lime and a handful of fresh chopped coriander.