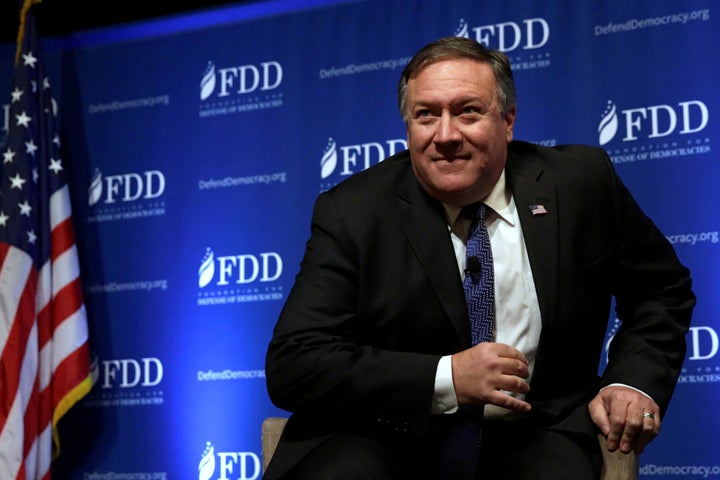 WASHINGTON ― President Donald Trump and his choice to be the next secretary of state, CIA Director Mike Pompeo, have both said it might be time for the U.S. to begin using torture methods like waterboarding again.
At least one of them might be forced to answer for that view on Thursday morning, when Pompeo appears before the Senate Foreign Relations Committee for his confirmation hearing. And Pompeo's response might reveal how the Trump administration has not just praised torture in theory but dealt with a real U.S.-linked application of it ― thousands of miles away, in the poorest country in the Arab world and the home of al Qaeda's most potent branch.
Neither Pompeo nor Trump has ever commented publicly on the growing mountain of evidence that the United Arab Emirates, the chief American partner in the battle against Al Qaeda in the Arabian Peninsula (AQAP), has tortured significant numbers of detainees in Yemen in the name of fighting terror. The evidence raises serious questions about the administration's counterterror-focused foreign policy and the prospect of once again embroiling the U.S. in human rights violations reminiscent of the worst moments in the post-9/11 War on Terror.
Amid other concerns about Pompeo's ability to serve as America's top diplomat ― like the former Kansas congressman's track record of Islamophobia, saber rattling and climate change denial ― the torture issue has gotten short shrift so far, congressional sources told HuffPost. But as director of the CIA since January 2017, Pompeo has been intimately involved in overseeing American intelligence collection, drone strikes and raids in Yemen as part of a campaign closely intertwined with the UAE.
Yemen is currently embroiled in a hugely destructive civil war, with multiple outside forces stepping in. Al Qaeda has had a presence there since the 1990s. UAE forces entered in significant numbers in 2015 at the invitation of Yemen's internationally recognized government to help fight an Iran-backed insurgency. They made targeting al Qaeda a priority within months.
During Pompeo's time at the CIA, four separate reports based on on-the-ground interviews have revealed that the UAE and two proxy militias, the Security Belt and the Hadrami Elite Forces, are torturing Yemenis in secretive facilities.
On June 8, 2017, The Bureau of Investigative Journalism published the first report, describing prisoners being beaten, stripped and packed into metal containers.
On June 22, two more appeared: A Human Rights Watch investigation noted the existence of 11 informal prisons and claims that detainees were being electrocuted. An Associated Press story revealed that U.S. personnel were interrogating detainees at UAE-controlled facilities, providing questions for UAE interrogators and receiving transcripts of interrogations.
And on Jan. 26 of this year, a United Nations panel of experts announced that the UAE was still holding more than 200 prisoners in at least three facilities in Yemen, subjecting them to torture and refusing "to conduct credible investigations into such abuses or to act against the perpetrators."
The Trump administration has not revealed the existence of any official U.S. investigation of these claims, although it did provide a classified response to powerful lawmakers angered by the reports last summer. In October, a Defense Department spokesman told HuffPost that an internal inquiry did not find any credible allegations to support the AP report. The spokesman declined to answer a follow-up question about the Human Rights Watch findings.
Now neither the CIA nor the State Department will say what Pompeo knew or did about torture by the UAE. Asked for comment, the agencies pointed HuffPost to each other.
But it's hard to pretend that this isn't Washington's problem.
"Given that the U.S. touts its relationship of cooperation, including intelligence cooperation, with the Emiratis, it certainly seems likely that there would be sharing of information from interrogations," said Hina Shamsi, director of the national security project at the American Civil Liberties Union. "And to the extent that any of those interrogations are abusive, there would be reason for concern that the U.S. is obtaining unlawfully coerced information."
The administration has not responded to ACLU and Human Rights Watch requests for internal documents on the matter, and the Pentagon told HuffPost the State Department should handle comment for this story. While State refused to comment on Pompeo's knowledge of the reported torture, a department official said, "We take all allegations of abuse seriously and continue to call on and all parties to the conflict to treat prisoners and detainees humanely, ensure that abuses are investigated, and those responsible involved are held accountable, and act in accordance with international law, including human rights law and the laws of armed conflict."
The UAE has repeatedly denied mistreating or even holding prisoners in Yemen.
The Emirati activity in that country mimics the Bush-era rendition program that the UAE once helped the CIA run, in which terror suspects taken to secret prisons were often tortured. Experts say it poses two broad legal concerns. U.S. officials could be in direct legal trouble at home and abroad if they were present when abuse was taking place. And more generally, the U.S. could be violating international law if it is benefiting from the practice, including by receiving intelligence obtained through torture.
American silence on the matter could also hinder counterterror efforts by fueling Yemeni resentment and making it harder for the U.S. to prosecute militants. The Trump administration has already struggled with how to handle an al Qaeda suspect called Abu Khaybar who was captured by the UAE in 2016 and is being held in Yemen. The FBI had wanted him to face trial in a civilian court, but there his treatment by Americans and Emiratis might come under scrutiny.
The FBI declined to comment for this story.
The UAE's heavy-handed approach could be guaranteeing future instability in Yemen, a country that's long been a source of threats to the territorial U.S.
The Emiratis have worked hard to build American confidence as an ally. "U.S. soldiers are willing to go downrange to knock on doors with the Emiratis in ways that they would never do with the Saudis," said Nicholas Heras, a fellow at the Center for a New American Security.
But in neglecting to establish any kind of judicial investigation or grievance process and in empowering militias, the UAE does not seem to have a long-term plan for Yemen, Radhya Almutawakel of the Yemeni nonprofit Mwatana for Human Rights told HuffPost.
Mwatana for Human Rights has documented 34 cases in 2017 in which forces aligned with the UAE-backed Yemeni government tortured detainees. Ten of them resulted in death.
Progress since last year's reports has been limited. In January, the International Committee of the Red Cross was permitted to visit one UAE-linked detention facility to observe detainees and pass on news to their families. Some prisoners have been moved to central facilities, which might help improve oversight, Kristine Beckerle of Human Rights Watch said. But there are still smaller UAE-associated prisons dotted across the south and east of Yemen operating with impunity.
"Some of the people who we know personally were involved in abuse still maintain positions of power and authority," Beckerle told HuffPost. "And we have not seen any clarity coming from the U.S."
This story has been updated with comment from the State Department.
Related