The Military Wives are preparing to take on Justin Bieber - and everyone else - in the Christmas chart, with a festive album set to be their most ambitious project yet.
More than 65 choirs, and 1000 lady singers, have participated in the making of 'Home for Christmas', recording in studios all over the world, performing the title track, as well as six classic carols, with lyrics updated to reflect what the festive season means to women in the military community.
Alexandra Obee, one of the voices of the Salisbury Plain Military Wives' Choir, tells HuffPostUK her choir had only a few weeks to rehearse before being recorded.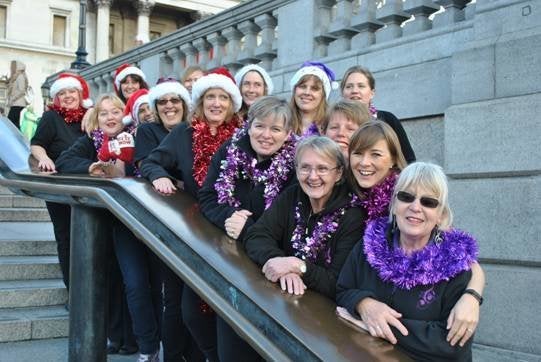 The Military Wives' previous albums were 'In My Dreams' and 'Stronger Together'. They also performed on Gary Barlow's 'Sing' for the Queen's Diamond Jubilee celebrations.
Alexandra, who balances work as a doctor and caring for her 18-month-old daughter between hymn practice, reveals the power of the music and the collaboration to help the wives during what can be a very lonely time for some.
"It's particularly poignant for us," she says. "There are lots of people, men and women, separated from their families. Coming together with the other ladies is a huge support."
Last year saw the Lewisham & Greenwich NHS Choir grab the coveted number one single position in the Christmas chart, beating even Justin Bieber - who quickly added his voice to those supporting their campaign, telling his Twitter followers: "I'm hearing this UK Christmas race is close, but the NHS Choir single is for charity. So for one week it's OK not to be number one. Let's do the right thing and help them win."
Will the Military Wives be gearing up to take on Bieber and his pop peers this time around? Alexandra chuckles. "My eight-month-old daughter is a Bieber fan, so she might be a bit cross. But for the rest of us, it's game on."
Military Wives will be releasing 'Home For Christmas' on 25 November 2016. 'Home For Christmas' single will be released on 2 December.