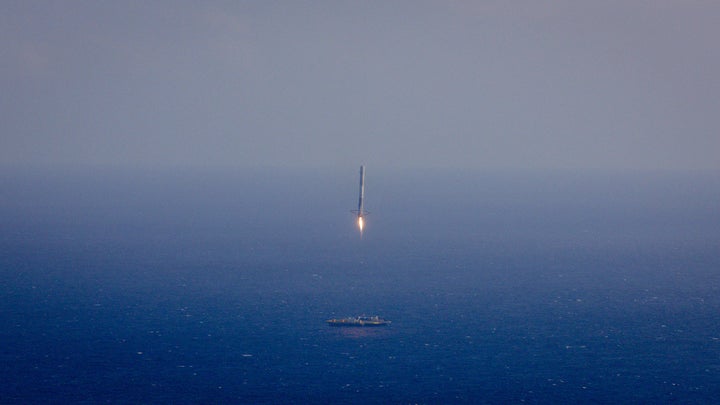 Elon Musk is the 94th richest person in the world, a co-founder of PayPal and the brains behind the world's most popular electric car company: Tesla. But his ambitions don't stop there.
Musk now wants approval to land three rockets within minutes of each other.
The Orlando Sentinel has reported that SpaceX is seeking federal permission for two new rocket landing zones on Florida's Space Coast.
In a statement sent to the newspaper, a SpaceX representative said: "SpaceX expects to fly Falcon Heavy for the first time later this year.
"We are also seeking regulatory approval to build two additional landing pads at Cape Canaveral Air Force Station. We hope to recover all three Falcon Heavy rockets, though initially we may attempt drone ship landings [at sea]."
Falcon Heavy is comprised of three individual boosters and will become the most powerful operational rocket in the world when it launches for the first time this year. It is twice as powerful as the next closest vehicle in operation but only one third as expensive.
Only the Saturn V moon rocket delivered more payload to orbit, according to SpaceX, who say Falcon Heavy "restores the possibility of flying missions with crew to the Moon or Mars".
On Tuesday, Musk tweeted: "Will be working at Tesla on Autopilot & Model 3 today, then aiming to pull an all-nighter and complete the master product plan."