Ask any American with young children what their No. 1 household expense is, and you'll hear the same answer almost every time: child care. Each family finds its own way to manage. Some parents are pushed out of the workforce. Others work jobs they wouldn't take otherwise or hold down multiple jobs in order to meet their families' needs.
In order to show you how real families are navigating this child care challenge, HuffPost is profiling parents around the country. If you'd like to be featured in an instalment, email us at parents@huffpost.com.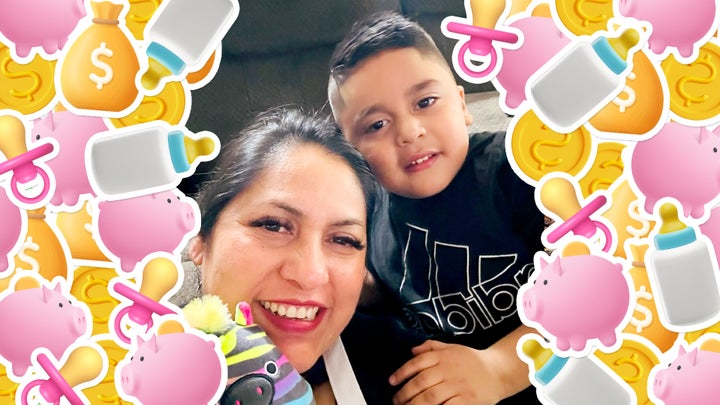 Children's ages: 26 years and 4 years
Weekly take-home pay: Because she serves individual clients in her home as an aesthetician, Quevedo's income varies significantly from one week to the next. She estimates that she earns between $300-$1,150 per week.
Child care costs: Her son's weekday care is paid for by Oregon's Employment-Related Daycare Program (ERDC). Otherwise, Quevedo would pay $950 a month for this care. Because she also works on Saturdays, she pays a friend $80 each Saturday to watch her child.
Child care plan: "From Monday through Thursday, he's in preschool, and Friday it's childcare — but it's the same place. Right now, I have the ERDC program, and I'm trying to keep it current because if I didn't have it, I wouldn't be able [to work]. It would be difficult for me to pay."
Even having been approved for the program and given a spot at a child care centre, Quevedo runs the risk of losing access to care if there are any delays in paperwork. On a recent Friday — her busiest day of the week — she arrived with her son in the morning and was told that he couldn't stay because payment from the state had not arrived. Quevedo was fully booked with clients that day. She could attend to two clients with her son alongside her but had to cancel on others who were not pleased. She estimates that she lost $380 worth of work that day — money she had been counting on to pay her bills. In addition, she had to spend almost an hour in a government office to get the paperwork issue resolved. Her son's payment came through to the provider that Saturday, and he was back in preschool by Monday.
There have been other issues. No providers were available near her home when she was first approved for ERDC. Quevedo had to take her son to a child care centre in a neighbouring town, Woodburn, driving 20 minutes each way. There, she paid $150 for four days of care per week. When she went to re-apply, the woman handling her application was hostile. While none of the information on her application had changed, "The woman I talked to was very, very strict. It was as though she was insinuating that everything that I was saying was a lie, that I was lying, and it made me feel bad. She was even asking me questions about my legal immigration status. The truth is it bothered me a lot. It was the first time they were asking me these questions. It was like they were trying to scare me away from applying. It makes me angry because there are other people who don't know the language, who don't know English ... and they don't help them. That's why there are people who truly need the help, and they don't let them [have it]." In the end, the woman processed her application. Quevedo was initially offered part-time child care but was notified at the end of October that she has been granted full-time child care hours, which she said "is going to help me a lot."
Currently, her son's day in child care runs from 8 a.m. to 3 p.m. Quevedo ends her workday around 2:30 p.m. to pick him up.
Work arrangements: "I'm an aesthetician. I work for myself. I do facials, waxing, everything related to facials." Quevedo sees clients in her home after she drops her son off in the morning until she has to leave to go pick him up from preschool. On Saturdays, she pays $80 for him to be cared for by a friend so that she can see clients. Sunday is her only day off.
When her older son was born, she stopped working, unaware that any help with child care was available. Likewise, she quit her job at a university cafeteria when her younger son was born four years ago. "I had a very good job. I liked my job with benefits very much, but in the end, I had to leave it in order to care for my child." When she left, after 10 years there, she was earning $3,500 a month.
After her son was born, a friend gave her the opportunity to learn about becoming an aesthetician. She completed the courses and began working, first for another person and now for herself. Her son was 6 months old when she started working again.
She hopes to take more beauty courses and expand her business but needs capital to do so.
What would help her family: Quevedo would like to work additional hours in the evenings to earn more income. She hopes to save up to have her own shop one day.
Her priority is maintaining her son's spot in his child care program. She would like to see such programs available to more families. Oregon's ERDC program currently has a waitlist, and the future of the program itself is uncertain. To qualify, families must make less than 200% of the federal poverty level. For a two-person family like Quevedo's, this would be $3,287 per month. There is also a limit on how much you can earn while your child has a spot in the program. You must earn less than 250% of the federal poverty level or 85% of the state median income, whichever is higher, to continue to qualify for the program. For a two-person family, income must be under $4,827 per month.
"I need these funds to always be there in order to have the ability to work and to thrive for my family and for myself. This is what would help me and other families a lot: That the funds are always there, that they don't make it too complicated for us to apply in order to thrive, in order to triumph. Because for a lot of women, a lot of single mothers, it's very difficult to get ahead. I want there to be easier access to child care because right now, I only have one [child], but there are other families that have three or four. I have a friend who sometimes has to leave her kids with her sister or with her older child because she has to go to work. She has to feed her family. If she doesn't go to work, there's no money. It's so hard, and I would like there to be more access so that we can always have these funds in order for our families to get ahead and to thrive."
This interview was conducted in Spanish, translated, and lightly edited for clarity and length.