Emily Macdonald got married 8 years ago, in a small ceremony and relaxed reception. Here she shares her choices.
Eight years ago, in our favourite place in Cornwall, I married Scott. There were just six guests and us two, and we spent the day laughing, in the company of our loved ones. Our wedding was small, but perfect. Our simple theme was pink – reflected in the flowers, dresses, and campervan we hired for the week – and the day was fuss-free, and personal.
When it came to marriage, we wanted just that – a marriage, rather than a wedding. We'd only been together 18 months, and pretty much knew after the third date we wanted to get married. There was never a big "proposal" – in fact, there wasn't really a proposal at all. I think it was Valentine's Day when Scott bought me a ring, but we'd already agreed we wanted to get married. By August, we'd set a date and we spent til Christmas planning.
A small wedding wasn't always on the agenda. Initially I wanted the big do, the big dress and the big venue. But we knew in order to go big, we needed to save. I was working part-time and studying, so we were faced with a decision: did we want to get married and start a family, or did we want to wait to have a baby? It would've taken us a good three years to save up for a big day. In the end, we spent about £2,500.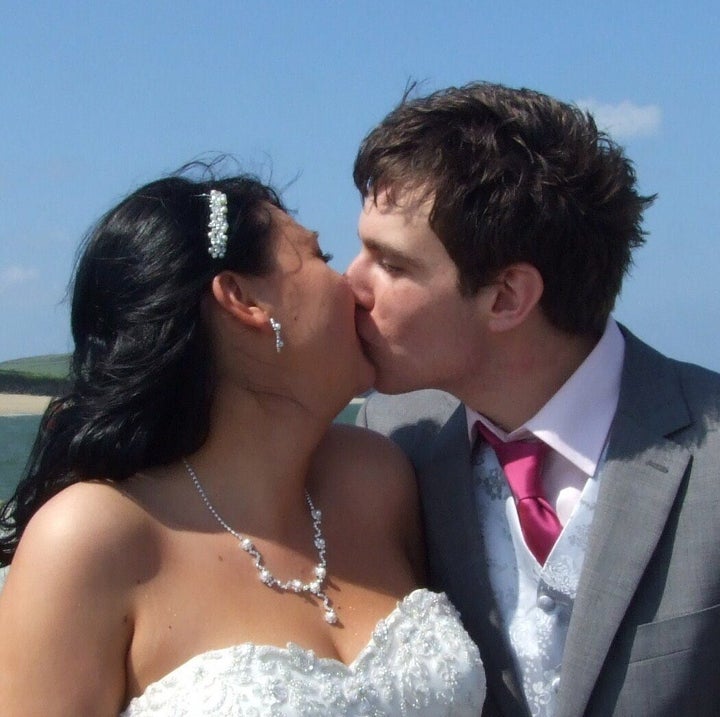 The more we spoke about our wedding, the more we grew to understand how complicated they can be. There are people you can't please; those you have to invite because you're inviting their friend/sister/uncle; far too many opinions on what you 'should' choose – and your bank balance is slowly depleting all the while.
Our decision to have a small wedding was cemented after we visited venues and attended a wedding fair. It was overwhelming. And the bigger our wedding got, the more it felt like it was being taken away from us. It wasn't about a marriage anymore: it was about napkins and photo-booths and DJs and food tastings. We lost enjoyment in it all.
So we decided to scale it back. We had a church in mind – we do a lot of walking together and it was a lovely little chapel hidden in the sand dunes in Cornwall – but when we called up to get married there, it was tricky to book. Yet again, it felt like our wedding wasn't our wedding.
"Why are we doing this?" my husband asked one day. "Because I want to be your wife," I replied. Underneath it all, that was all that mattered. The next day, we visited the register office to find out how we could get married there.
I guess what sets us apart is we had big hen and stag dos. My husband went to Amsterdam, and I had a big picnic with all my friends in a stately home, then went out in the evening. We paid for everyone – their outfits, too. They weren't coming to the wedding, but we wanted to party with everyone beforehand as one final "hurrah".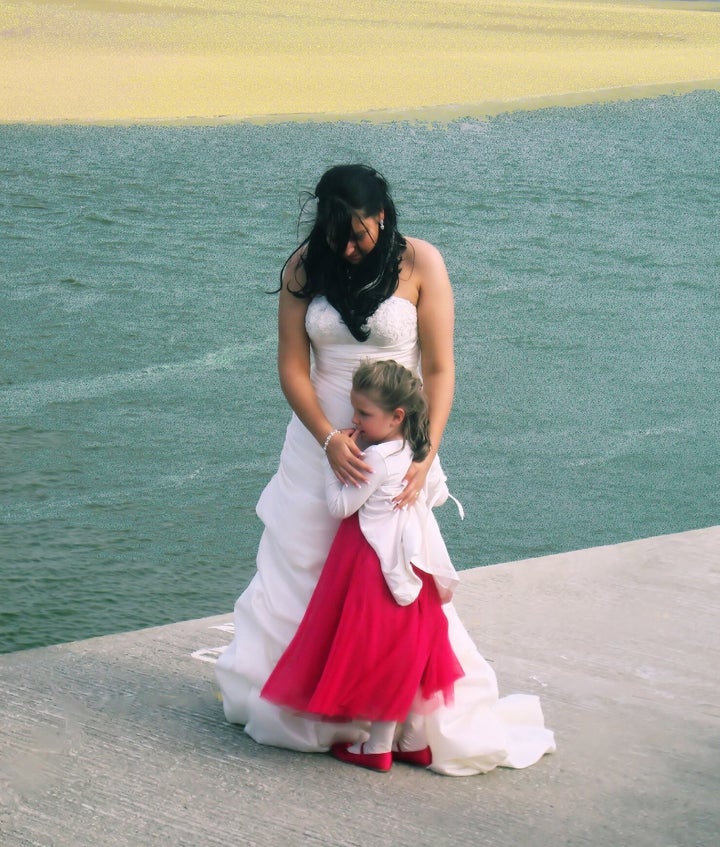 We'd dreamed of our ideal day – and then we made it happen. The night before, I stayed in a B&B in Rock, Cornwall with my mum, my daughter and my best friend. In the morning, Scott went off to pick up the beautiful pink campervan we'd hired for the week, while the three of us got our hair done, and mum drove us to the register office (in her car, nothing fancy).
I walked in to Kissing You, the theme from Romeo and Juliet. In that moment, as I saw Scott, I knew that we'd made the right decision. Nobody gave me away, and my daughter looked after the rings. She was four at the time, and had a little box with them in. It was her special job and she loved it.
The ceremony was personal and light-hearted. It was intimate, lasted about 20 minutes, and that was it – perhaps some people need big grand churches, choirs, or readings. I just needed Scott.
Outside, in the beautiful sunshine, our guests – my mum, my best friend, her partner, my daughter, another friend, my husband's sister – threw confetti over us. Instead of a big cake, my mum made gorgeous elderflower cupcakes with delicious pink frosting.
We had pictures, of course, but they didn't dominate the day. We cheekily drove to the church in the sand dunes where we'd originally thought about getting married and spent some time just enjoying the beach, the fresh air, and the closeness of the people around us.
In our blissful state, we all hopped on a ferry over to Padstow. It was really lovely, walking through the town with holidaymakers wishing us congratulations. Over a traditional Cornish cream tea – a proper brew with warm scones, Cornish clotted cream and local strawberry jam – we enjoyed each other's company, soaking up the beauty of the day.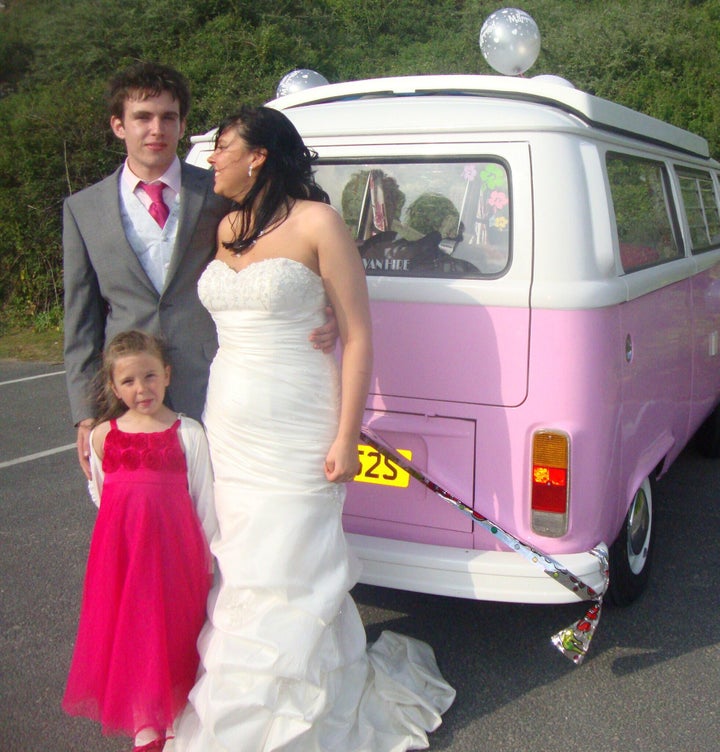 Later, hopping back on the ferry, we headed to a restaurant in Rock, overlooking the sea. It was the small touches that made this meal so special – we hadn't told them ahead of time it was our wedding day, but the staff were so warm when they found out.
The day felt like it lasted for hours. That night we travelled down the coast to a hotel in Falmouth, and then spent the rest of the week touring in the camper, visiting the filming locations of the original Poldark series. (I know, we're massive dorks.)
We played table tennis in campsite clubhouses, had lie-ins, delicious food, and stayed in our little bubble of bliss. We kept a memory box of that week, which is so treasured – it contains everything from our car parking tickets, to the shells we found along the way.
I've often wondered whether we'd do it differently now. Back then, people didn't put their lives on social media. I hadn't gazed at other people's weddings, or browsed Pinterest with its million ideas and options. I had nothing to compare our wedding to, so I never for one second felt like I was missing out.
Would I have preferred something bigger? Perhaps. But deep down I know that all the fancy extras would've taken away from marriage. And, eight years on, we're still going strong.
Emily shares her experiences of being a wife and mum on Instagram, A Slummy Mummy.