Billions of years ago, Mars was awash with water and cloaked in an abundant atmosphere. It might even have supported life.
But over time, the Red Planet was transformed into a barren desert as its atmosphere was gradually stripped away.
Now scientists think they know why.
A new study suggests that solar wind – a stream of charged particles from the sun – and solar radiation are to blame for the erosion of Mars's atmosphere.
"We've determined that most of the gas ever present in the Mars atmosphere has been lost to space," said Bruce Jakosky, principal investigator for MAVEN and a professor at the Laboratory for Atmospheric and Space Physics.
"The team made this determination from the latest result, which reveals that about 65 percent of the argon that was ever in the atmosphere has been lost to space."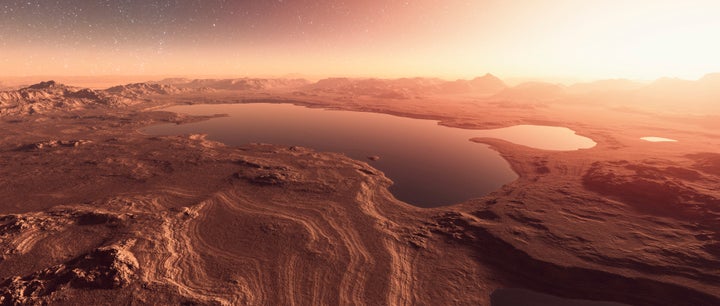 The latest analysis is the first to offer an estimate of how much gas been lost to space over time.
Planets can lose their atmosphere in several ways. Sometimes chemical reaction stow away gas in rocks. In other cases, such as on Mars, solar wind and radiation are responsible for the bulk of the lost gases.
The scientists studied argon because as a noble gas it can't react and get locked up in rocks on the planet's surface.
The analysis also help scientists determine the extent of the impact of solar radiation on other gases such as carbon dioxide.
"We determined that the majority of the planet's CO2 also has been lost to space by sputtering," said Jakosky. "There are other processes that can remove CO2, so this gives the minimum amount of CO2 that's been lost to space."