HuffPostUK recently visited a community in rural Kharelthok, two hours outside Kathmandu, an untouched spot on a Nepalese hillside, and one of the regions most devastated by earthquake a year and a half ago.
It is a rural community, whose genteel way of life was upturned by the events of April and May 2015, one of nature's largest shocks meaning many without water, food, shelter - and dependent on organisations such as WaterAid and KIRDARC to help restore clean drinking water, and impart vital information to local communities on sanitation and health.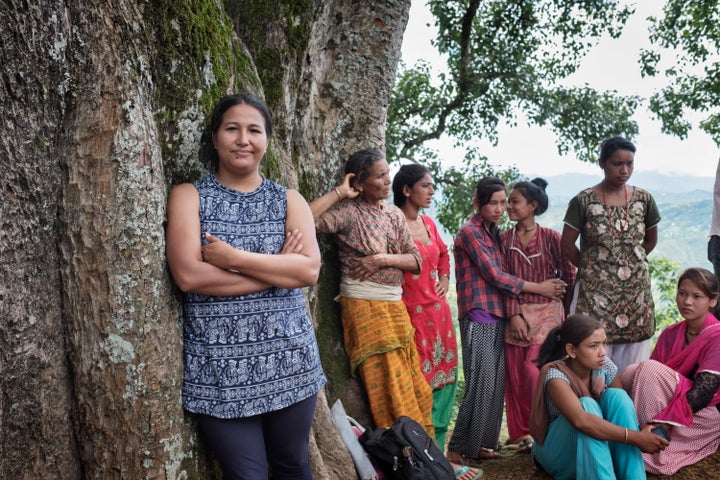 If the land is fragile, the spirit remains strong in the people of Khareltok – welcoming to strangers, generous with their supplies, giggling and bemused watching themselves on screen in the virtual reality film 'Aftershock' made this year by WaterAid – none more so than the women, who have come to the fore in a community forced to adapt.
We spoke to three of these extraordinary women. They shared their memories of 25 April 2015, the day the Nepalese earthquake killed 9,000 people, injured a further 22,000, turned many of the population's lives upside down, left thousands without food, water or shelter. But they also revealed how the disaster had changed their personal circumstances, for bad but also for good…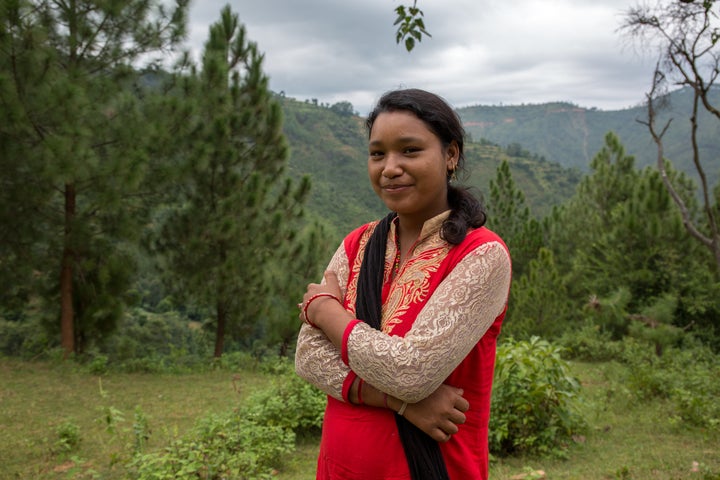 NEELAM KASULA
I am married, I am 24 years old, I live in Khareltok 4 with my husband and his family.
How I Remember The Earthquake...
It was only 12 days since I'd had my baby son. I was outside washing my child's clothes, when the earthquake hit.
All my family were working in the field, my husband ran to me and carried the baby. I tried to escape as well, but I fell because the ground was shaking. Only when it stopped was I able to join my family in the neighbours' field.
The first couple of weeks following the earthquake were really tough. I had a new baby with health problems, and my own health was not good, as my body had swelled up.
After two weeks, we were able to move back to our own field, but our house was cracked, too dangerous to move back into, so we set up a tent instead.
The weather was burning hot in the day, we had to cook away from the tent where we slept, and we couldn't leave our babies in the tent for one single moment, as there were also lots of tigers moving around the place. This lasted for two months, and then we began to rebuild our house.
My Job…
I'm trained as a staff nurse, but I don't currently work as that. Since the earthquake, I have been working as a volunteer for KIRDARC, coordinating water sanitation between the different wards of the village, and I also work as a community development officer.
The Biggest Problems Since The Earthquake…
The earthquake created many problems for the community. As well as the families who lost members in the disaster, there was family fragmentation. Before, families lived together, even those who had grown up and married. But in the earthquake. For those who'd lost everything, the government gave a small compensation per family unit, so there was an incentive to disperse, and since then these families have not reunited.
How I See The Role Of Women…
In the past, women were not provided with any opportunities, but that time has gradually changed. Now, when the government creates working groups, or local or community-based organisations, the involvement of women is guaranteed.
Because of that, women are out in front, and their participation is rising. Also we run education based programmes, to encourage women in what they can do and what they should do.
Are Women Supportive Or Competitive Of Each Other?
Both.
What Is Your Personal Wish Moving Forward?
In work, I want us to practice modern housing, with sanitation, personal hygiene, toilet health, safe water. These are the areas we're focusing on.
My personal dream is to apply for a government job, so I want to study more to join the civil service. That way, I can get back to my nursing.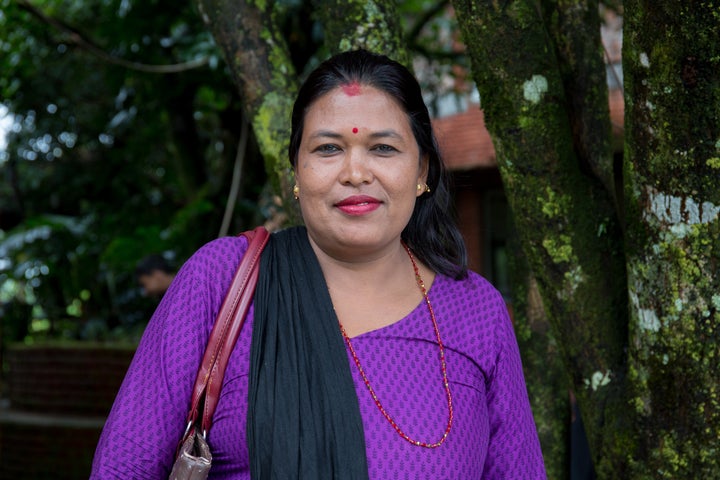 SARASWOTI MAYA SHRESTH
I live in Kharelthok 1, working as a water sanitation and hygiene promotor, under KIRDARC Nepal.
How I Remember The Earthquake...
It was a Saturday morning, and we were in the community office working. All of a sudden... I thought it was road construction outside, until I realised everything was shaking.
We ran outside to the emergency health post, but I could see houses collapsed all across the village. Everyone was crying and screaming, running towards their homes.
My family were all away. My house was still in one piece, but it was unsafe, so I sat outside until 3 o'clock in the morning, when it completely collapsed.
The biggest problem following the earthquake was the power cut, which meant no water supply. We had no food or accommodation either.
My Job...
I didn't have a paid job before. I look after the children, while my husband works as a primary school teacher.
Now under KIRDARC Nepal, I'm working as a hygiene promoter, teaching people about the important of water purification, sanitation, clean toilet skills, avoiding communicable diseases. But this is voluntary, with expenses covered, but no salary. I've been doing this for the last four months.
The Biggest Challenge We Face...
The main problem in this community is still the water. It was initially the biggest problem and the most urgent, KIRDARC Nepal has worked on this, and we've constructed different water taps, so it's in process. However, this isn't sufficient, because water sources are limited and soon they might get dry. If we could lift the water here, then that would be the sustenance solution. If we are left to rely on one water source and it gets dry, the only solution will be to move from this location and start life again somewhere else.
What Brings Me Job Satisfaction...
It brings me great happiness to work in this sector, as a volunteer. I feel the community appreciates me. Whatever they need to ask,even if it's only a small thing, they telephone me, they seek me out. They call me all the time. It makes me feel good, useful, that maybe I'm doing something right for them.
How The Attitude Towards Women Has Changed Here...
Women were very active in the community even before the earthquake. About 16 years ago, a government policy encouraged women to take an active role in financial saving. Before then, it was very difficult to gather women in one place and encourage them, but that program did it.
We started started saving, only five rupees a week. Before then, if women wanted a small amount of money, they had to rely on their husbands or a rich person to give them a loan. But that program encouraged them and, since then, women have slowly come to take the lead.
Those programs didn't just encourage women's participation, they fostered leadership opportunity within the group. Now whatever happens, women are very active. Previously, they were isolated, they didn't know what was going on in neighbouring villages, now they do.
My Personal Wish...
I think I'll be happy if the community continues to appreciate me, and realises the importance of our work.
What I want to see in my community is that every single woman can be skilful, so they can perform some income-generating activity, and not to have to rely on anybody else.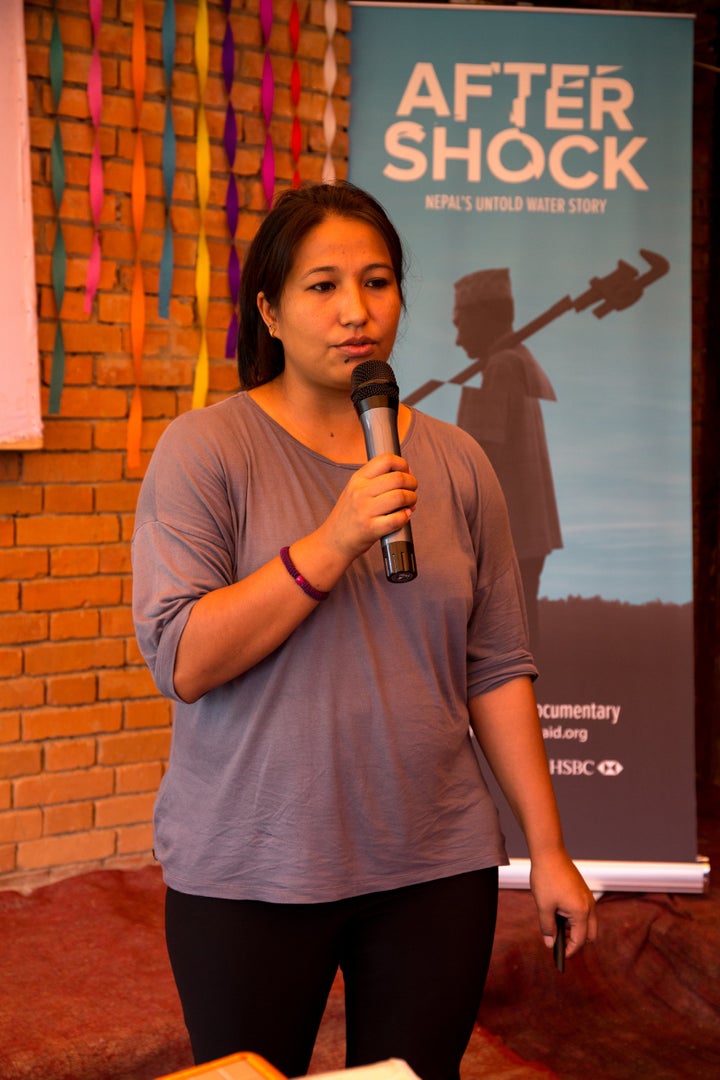 PRAMITA MAHARJAN
I'm a WASH District Coordinator, working for WaterAid, coordinating the sanitation and housing aspect of the recovery program in this area.
How I Remember The Earthquake...
That day, I was in Nagarkot, one of the most volatile areas most affected by the earthquake. I was with husband and son.
The earth began to shake, and we were stuck inside. Fortunately, my husband is a very calm person, and he led us to a doorway to protect us until the shakes subsided. We were on the ground floor, we ran upstairs and found an open space. A hotel nearby collapsed. Our kitchen was damaged, so we had nothing to eat for several hours. My own house was damaged, especially the roof, but compared with others, we were very fortunate.
My Job...
After completing my Masters in Environmental Sciences, I worked in water sanitation and housing. After the earthquake, I applied for a job at WaterAid, because sanitation is the subject I'm most passionate about and I recognised the huge need. I'm very new, I've been working in this region since January, coordinating and monitoring the progress of partners and recovery work.
My Biggest Challenge Since The Earthquake...
We had a target for ODF (open defecation-free nationwide sanitation by 2017, but this has been pushed back by the disaster. Also, the main priority for many people is, understandably, to get their accommodation sorted, before water and sanitation. But I know that, without sanitation, housing is useless. You need both to live.
Sometimes it's difficult, but it's evolving. Our partners are very good and we work with them and with local government. It was very tough after the earthquake, but it has improved since then.
What Brings Me Satisfaction...
When locals go out of their way to thank us, it's their satisfaction that pleases me. People are also being empowered to help themselves, and that makes me happy.
The Role Of Women...
I see women instinctively taking leadership roles with the tasks to be done. When there's pipe to be dug, it's the women who come ahead, saying 'We'll take the pipe, as we're the ones who suffer more.
'Men won't walk for two hours to get water, so if we do this work, it will benefit us.' They know that. They understand that need, and to fulfill the need, they are prepared to work. Why won't men walk? I don't know, it could just be the culture.
My Personal Wish...
I'm very passionate about water sanitation and hygiene. I don't have the technical knowledge, so I want to build that up, learn more, and bring that knowledge to the community.
Who Inspired Me...
Mainly my family. My father was a carpenter, and what my father did, my mother did too. I always think, if my mother can do that kind of work, then I can work, I can study. Working environment was always there for me. And now I'm married with my son, and I'm in the field for four to five days, and my in-laws help me. My husband works in IT, and he's very busy. It's very difficult for women to work without family support.
'Aftershock: Nepal's untold water story' was produced and directed by WaterAid's in-house film team. It's based in a community where WaterAid is working with support from the HSBC Water Programme, which has reached more than a million people with safe water and two million with sanitation to date. Aftershock is available to download via the app through the Google play store http://bit.ly/AftershockVRplay and the Apple i-store http://bit.ly/AftershockVRapp"
They will be distributing VR headsets using Google cardboard - click here for further info.
NOW READ: