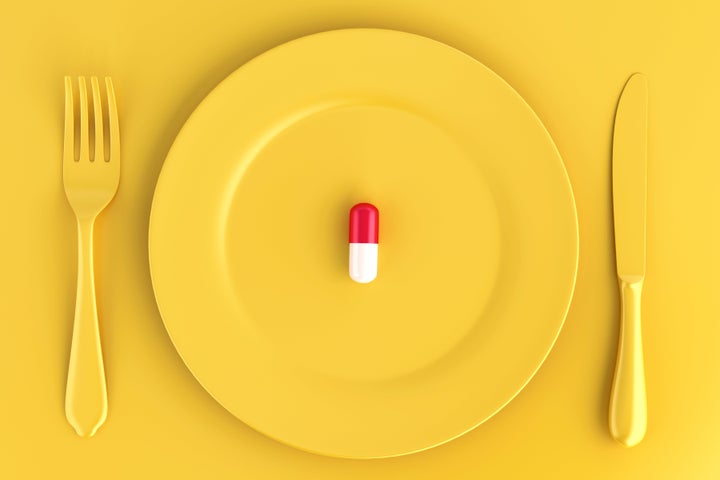 If you're thinking of losing weight in the New Year, steer clear of quick-fix products like slimming pills, injections and detox teas.
That's the advice from NHS England's medical director, Professor Stephen Powis, who warned that such products have a "slim chance of success" and could actually cause serious health complications.
Going on a diet is the most common new year's resolution, but while the NHS endorses getting in shape, Prof Powis advises against using diet pills, "tea-toxes" and appetite suppressant products to lose weight, as they can "end up doing more harm than good".
Products promising quick weight loss by reducing appetite and fatigue can have damaging side-effects, he explains, ranging from diarrhoea to heart problems.
They can also interfere with oral contraception, risking unplanned pregnancies.
Earlier this year, actor Jameela Jamil called out the Kardashian family for promoting detox teas and shakes, branding them "irresponsible". Around the same time, social media giants were urged to crack down on celebrities posting misleading "get fit quick" adverts, prompting Instagram and Facebook to restrict endorsements of risky products.
Discussing concerns surrounding detox teas, Chloe Hall, a community dietician at Dorset Healthcare University NHS foundation trust, previously told HuffPost UK the products do "very little if you're lucky" and may leave you "running to the bathroom if you're not".
"The ingredients in most of them are herbs and there is no evidence that they will help you lose weight," she said. "Some of the products contain caffeine and if taken in excessive quantities caffeine can leave people feeling anxious, shaky and with heart palpitations."
Some detox teas contain an ingredient called senna, which acts as a laxative, according to Laura Thomas PhD, a registered nutritionist. "It's only intended to be used in the short term, usually around one week, to help relive the symptoms of constipation," she explained. "Many of these products are sold in courses of 28-days – far more than the one-week recommendation."
So what can you do to safely lose weight? Prof Powis advises those wanting to shed a few pounds in the New Year to lose weight "gradually and safely".
He recommends trying the NHS weight loss plan, a 12-week schedule to be used alongside an app. The NHS also offers a Diabetes Prevention Programme – both of these can be found on its website along with healthy recipes.
Health professionals also recommend the Couch To 5K app for first-time runners, Strength And Flex, which is a five-week exercise programme delivered through five podcasts, and the NHS Fitness Studio apps.