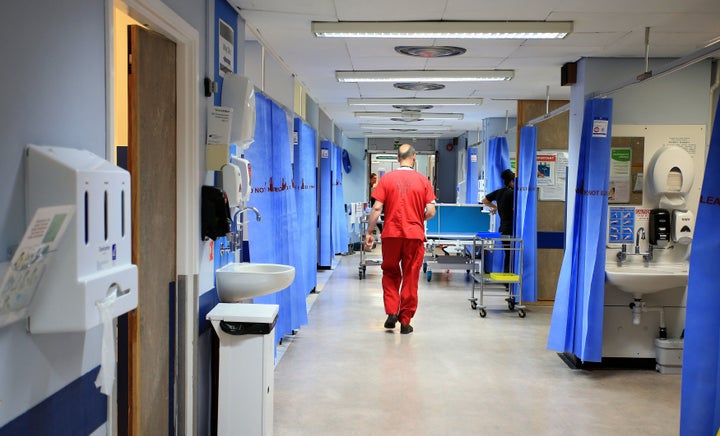 The NHS faces "complete financial collapse", it is claimed, after the UK's financial watchdog discovered a deepening financial blackhole.
In a damning report, the National Audit Office warned the Government's "aggressive efficiency targets" were leading to "financial problems" that are "endemic and not sustainable".
Its analysis found NHS commissioners, trusts and foundation trusts - which oversee hospitals and surgeries - had a combined deficit of £1.85 billion in 2015-16. This is a three-fold increase on the £574 million recorded a year earlier.
Taking account NHS trusts and foundation trusts, the deficit was £2.45 billion - up by 185% from £859 million in 2014-15.
And two-thirds of NHS trusts (65%) and NHS foundation trusts (66%) reported deficits in 2015-16, up from 44% and 51% respectively in the previous financial year.
Meanwhile, the number of clinical commissioning groups reporting cumulative deficits was 32 in 2015-16 - up from 19 in both 2014-15 and 2013-14.

The report links the "financial stress" in healthcare in some parts of the country to poor services.
It found an association between a trust's financial performance and its overall Care Quality Commission rating, with those boasting lower quality ratings also struggling to balance the books.
The 14 trusts rated "inadequate" had a net deficit equal to just over 10 of their total income in 2015-16.
Amyas Morse, head of the National Audit Office, said:
"With more than two-thirds of trusts in deficit in 2015-16 and an increasing number of clinical commissioning groups unable to keep their spending within budget, we repeat our view that financial problems are endemic and this is not sustainable.

"It is fair to say aggressive efficiency targets have helped to swell the ranks of trusts in deficit over the last few years.

"The Department, NHS England and NHS Improvement have put considerable effort and funding toward stabilising the system, but have a way to go to demonstrate that they have balanced resources and achieved stability as a result of this effort.

"Therefore, value for money from these collective actions has not yet been demonstrated."
Labour MP Frank Field, a former minister, offered the most damning criticism, claiming Britain's health and social care services are "staring into the abyss" - and calling for an extra penny to be slapped on National Insurance to fill the hole. He said:
The path they are on now leads only to a complete financial collapse by 2020 – the NHS in England alone faces a gobsmacking black hole of £56 billion over the next five years.

"An immediate penny increase in National Insurance contributions – a move which goes with the grain of voters' wishes – would see the NHS through this five-year period of intensive care.

"A root and branch reform of the contributory base, involving a new, hypothecated, progressive National Insurance system, is then required to see health and social care through the next generation."
Prof John Appleby, chief economist of the Nuffield Trust health think-tank, said:
"The only conclusion one can draw from the NAO's findings is that at present there simply isn't enough money in the system for the NHS.

"Their report echoes what we have pointed out numerous times, that the Health Service has gone into the current financial year in a considerably worse position than it expected to, in terms of both money and its ability to meet waiting time targets.

"In addition, the £669 million overspend projected for the end of the current financial year masks the fact an extra £1.8 billion has been pumped into the Health Service.

"That money was originally intended to help Trusts change the way they deliver services to patients, but has ended up being almost entirely used to bail out overspent hospitals.

"The current efforts to improve productivity will probably yield results in the long term, but the short-term pressures are becoming overwhelming, and our expectation is that the Health Service will not meet its overspend targets this year."
Jonathan Ashworth, Labour's Shadow Health Secretary, said the report was "absolutely damning". He added:
"They are very clear that it is this Government's 'aggressive efficiency targets' which have contributed to the disastrous deficits in the NHS and that the current financial trends are just not sustainable.

"They are also clear that the financial pressure is affecting access to services and the quality of care patients are receiving.

"The Government cannot turn away from the situation any longer: the NHS is in a financial crisis, the crisis is of their own making and it's patients that are suffering as a result. This cannot go on – the Government must act."