For those affected by the traumatic event - whether that's concert goers, children, families or emergency workers - the Manchester NHS Resilience Hub has issued advice for dealing with psychological issues that might arise as the anniversary draws closer.
"Strong emotional reactions are normal and there is no right way to think or feel," said the Hub. "It is common to have more memories or dreams of the event or feel more unsettled. For most people these difficulties will settle down again with time."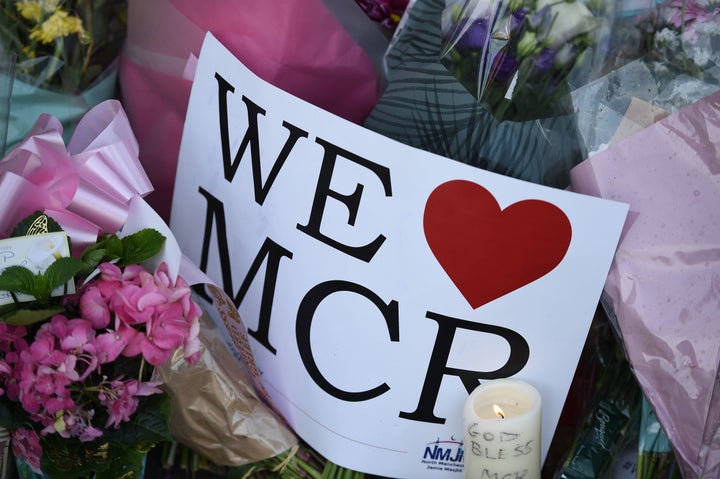 The Resilience Hub, set up by the NHS in Greater Manchester, shared an infographic listing 11 helpful things to do on 22 May. These include:
1. Do whatever you want and need to do to mark the occasion - join planned activities, join with your friends or with your family.
2. Take time to reflect in your own way.
3. Check in with others who may be struggling but make sure you still take care of yourself.
4. Think carefully about how much time you spend on social media and watching the news, switch it off if it's not helping.
5. Spend time with friends and family or speak to a key adult - try not to spend too much time alone.
6. Talk to someone you trust if you want to, but don't feel you have to.
7. Plan relaxing, comforting things to do and think about how you might manage if you are upset.
8. Get exercise, eat well and do nice things for yourself.
9. Keeping in your usual routine can be helpful.
10. Take unnecessary pressures off yourself.
11. Consider giving something back - maybe through helping others.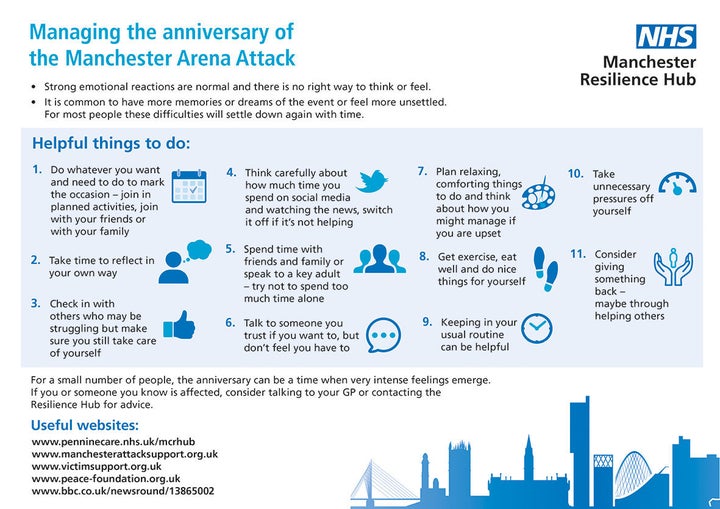 A spokesperson told HuffPost UK: "The Hub provides a central point for mental health advice and support. Where one-to-one therapy is needed, clinicians in the Hub work with other providers across the country to help people receive the care they need from services close to where they live."
Following the Manchester attack, the Hub proactively contacted over 6,000 people who had bought tickets for the concert, emailing them a link to the wellbeing screening programme with an online questionnaire which allowed health professionals to identify people who needed further help.
The wellbeing screening was repeated at three, six, nine and 12 month intervals to determine how people were feeling and reacting. It allowed participants and trained clinicians to track their progress through treatment.
"As the one year anniversary approaches, we are reaching out to anyone who might have been affected by this attack to provide advice, guidance and support where needed," said the spokesperson.
"Manchester wants to ensure that everyone who needs support following the attack receives this, regardless of where they live. The Hub will remain in place for the next two years to continue this work."