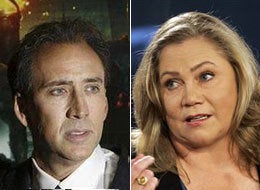 Nicolas Cage won an apology and damages from his "Peggy Sue Got Married" costar Kathleen Turner in London's High Court. Neither was present. Turner wrote in her recent autobiography "Send Yourself Roses" that Cage had dog-napped a chihuahua and been arrested twice for drunk driving.
Cage's lawyer Simon Smith told the court that the offending passages from Turner's autobiography "Send Yourself Roses" had appeared in the Daily Mail and on its Web site under the headline "Why I detest Burt Reynolds and Nicolas Cage."

They were based on the 53-year-old's experiences on set with Cage while making the 1986 hit "Peggy Sue Got Married."

Turner stated that Cage was "arrested twice for drunk-driving and, I think, for stealing a dog. He'd come across a Chihuahua he liked and stuck it in his jacket."

Smith said the allegations were false and had "caused damage to the claimant's personal and professional reputation."

Turner and the two publishing groups accepted that the allegations were untrue and would pay the 44-year-old Cage's legal costs and make a "substantial" donation to charity, Smith added.
Turner will now make a donation to National Adult Protective Services Foundation, a US charity which benefits vulnerable adults.
In the book Turner also wrote the general unpleasantness of working with Cage. He insisted on using a strange voice for his character and wearing fake teeth. "Oh, that stupid voice of his and the fake teeth! Honestly, I cringe to think about it." She added, "Nicolas didn't manage to kill the film, but he didn't add a lot to it, either."
Cage sues Turner for libel and slander

Related