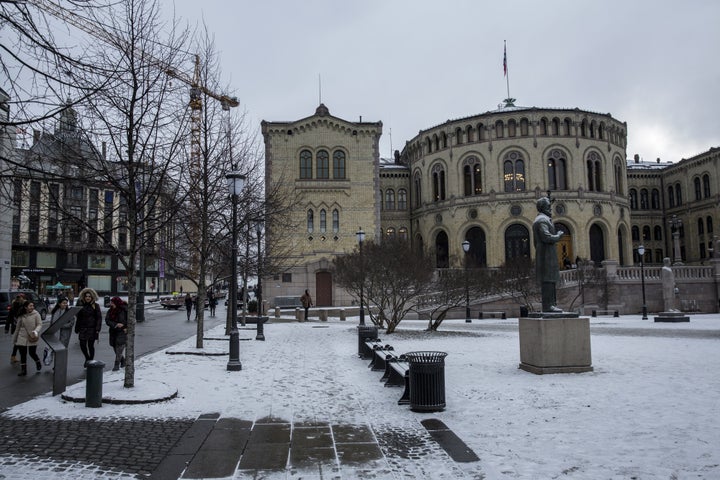 Norway's Parliament is set to decriminalize illicit drugs and divert people found with small quantities into treatment options rather than pursuing criminal prosecution.
Drug use, from marijuana to cocaine and heroin, would be decriminalized under the plan, similar to the system in Portugal, which has been held up as a model by drug law reformers worldwide as a preferable option to jailing drug users. The plan was supported by a majority of the Norwegian Parliament, known as the Storting.
A report from the European Monitoring Centre for Drugs and Drug Addiction earlier this year found that 8.6 percent of Norwegians ages 16 to 34 had used cannabis (marijuana) in the past year, with 2.2 percent using cocaine and 1.2 percent using MDMA (ecstasy). The report also found there were more than 48,000 drug law offenses in Norway, while 266 drug overdose deaths had occurred in the country in 2014.
The parliamentary result, however, does not automatically decriminalize illicit drugs in Norway. The vote directs the government to begin pursuing changes to laws to reflect the outcome of the vote. There is no draft legislation yet that actually would enact the change, according to Parliament.
"The majority in the parliament has asked the government to prepare for reform," a Storting spokesperson told Newsweek. "It has started a political process… it's just the starting point."
Under the plan, users who are caught with small quantities of drugs would be placed into treatment programs.
The government "will stop punishing people who struggle but instead give them help and treatment," Nicolas Wilkinson, health spokesman for the Socialist Left party, told Norwegian media outlet VG. "This is the start of a big rush reform. Now a big effort is being done to switch the system from punishment to help."
Sveinung Stensland, deputy chairman of the Storting's health committee, told VG that Norway would not be legalizing the drugs, just decriminalizing their use.
"The change will take some time, but that means a changed vision: Those who have a substance abuse problem should be treated as ill, and not as criminals with classical sanctions such as fines and imprisonment," he told VG.
Portugal decriminalized drugs in 2001 after years of harsh policy failed to have a significant effect on drug usage or deaths. Instead of fining or jailing drug users found with small quantities of drugs, the government started placing them in treatment and counseling programs.
A 2014 report from Transform Drug Policy Foundation found the total number of people in Portugal who had used drugs at any point in their lives rose after decriminalization in 2001 through 2012, but the numbers of people who had used drugs at any point in the year or month before they were surveyed actually decreased, meaning fewer were using drugs on a regular basis.
Drug-related deaths, cases of HIV and AIDS among drug users and general rates of drug use all sharply declined from 2001 to 2012 in Portugal, the report found.
"It is important for all parties involved in this that it is about large-scale reforms: how to support people and help them out of drug abuse," Wilkinson said.
"If we have to wait another year for it to really work, it's worth it."
Related