Sophie Tompkins vividly remembers the smell of vanilla that hit her as she walked down the aisle on her wedding day – it came from the flickering candles either side of her, as she walked towards her husband-to-be Michael. "Vanilla reminds us completely of the wedding now," she says.
Weddings are often described as the best day of a couple's life, but it was especially so for Sophie and Michael. Their big day on 24 May 2019 was arranged in six weeks by Gift Of A Wedding, a charity that organises free weddings for those with life-limiting illnesses. Everything was provided at zero cost by local suppliers – there was even a dove release to mark the day.
A particularly special part of the package were the rings, created used old donated jewellery that had been melted and transformed into two bands. "I was shocked how nice they were and [how nice] the finish on them was," says Sophie, 25, of her white-gold wedding ring. "You could totally tell someone had put a lot of thought, time and effort in to making these rings."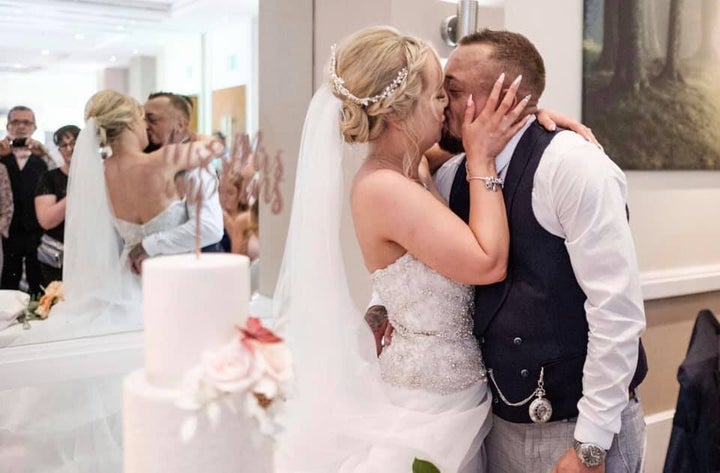 The couple were gifted their wedding because Michael, 28, has cystic fibrosis. He's in need of a double lung and kidney transplant, but is unable to have one because of how ill he's become. Michael also has type 1 diabetes and suffered a cardiac arrest last year, where he was given less than a 5% chance of survival.
"Somehow my dad saved [me]," he tells HuffPost UK. "My dad gave [me] CPR, otherwise I probably wouldn't have been here today."
The pair met almost four years ago on Tinder. On their first date, they drove around in Michael's car and went to McDonald's, where they spent hours chatting. "It was just your typical young thing to do really," says Sophie. Two years later, on a holiday to Turkey, Michael proposed on their hotel balcony. The couple were over the moon when Gift Of A Wedding offered to plan their day.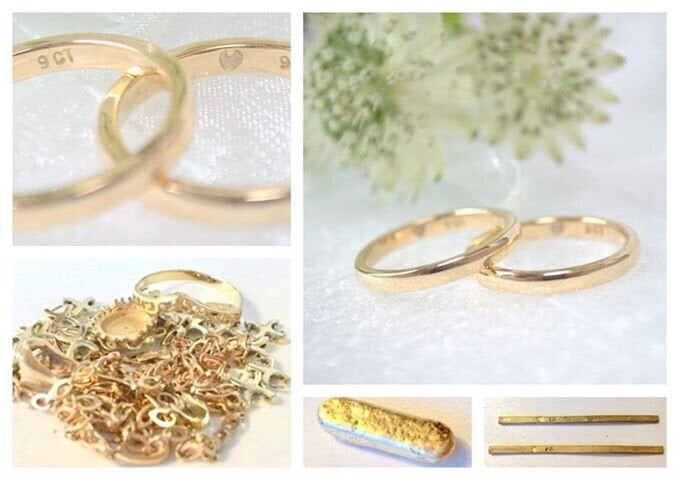 Patricia Harrison came up with the idea for the charity in 2012. Working as a wedding planner at the time, she was approached by a 27-year-old who had been diagnosed with terminal brain cancer. She and several other suppliers joined together to donate their services free of charge so the man could marry his partner – since then, she's helped gift more than 200 weddings to couples.
The ring recycling scheme came about in the past five years. It's been a struggle to get established jewellers to donate wedding rings, says Patricia, so she asked strangers to send their old jewellery and a handful of local jewellers melted them down to create brand-new rings. "You wouldn't even know they were secondhand," she says.
The recycled rings are made from all kinds of jewellery: snapped necklaces, broken bracelets, bent rings, wedding rings post divorce and single earrings that no longer form part of a pair.
The charity is now calling on the public to donate old gold, silver or platinum jewellery so it can be transformed into new pieces of jewellery for the couples they help. It's part of their fundraising jewellery drive, Goldrush, and Michael and Sophie are urging people to get involved.
"I couldn't be more grateful for [our rings]," says Sophie. "I don't really think you can put into words how much it means to us. To be given something like that, that could be worth a lot of money, just out of the kindness of someone's heart – that means a lot."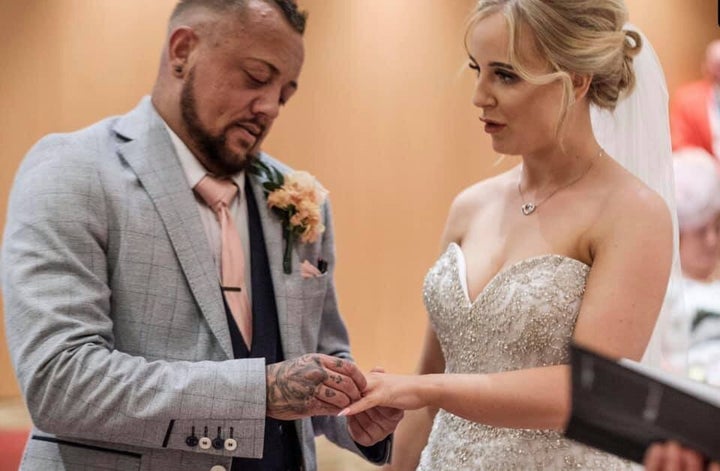 Reflecting on other highlights of their day, held in The Copthorne Hotel, Newcastle, Sophie recalls tripping over her dress while walking down the aisle. (Thankfully her dad was on hand to hold her up.) The evening do featured glitter tattoos, a photo booth and a lot of dancing.
Michael was thrilled to have his friends there, who he's known since nursery. "Even though I can't walk far and I can't dance much, they put [me] on a chair in the middle of the dance floor," he says. "My friends tried to get me involved in this rave scene in the middle of my wedding, which was a bit different!"
Almost a year on from their day, Michael says: "I'm still going and I'm 29 this year. I'm plodding away."
If you want to take part in Goldrush, either as an individual or as a 'Gold Ambassador' holding collections at your workplace, local pub or social group, please email fundraising@giftofawedding.org.