Almost a quarter of hospitals across the UK are routinely refusing to perform caesarean sections on expectant mothers, unless they have a medical reason for doing so.
An investigation has found 21 of 91 hospitals do not offer the procedure to women under the terms of 'maternal request' despite this refusal directly contradicting the latest NICE guidelines for NHS hospitals.
Since 2011, guidelines have stated that women have the right to choose a c-section on the grounds of anxiety or other personal factors.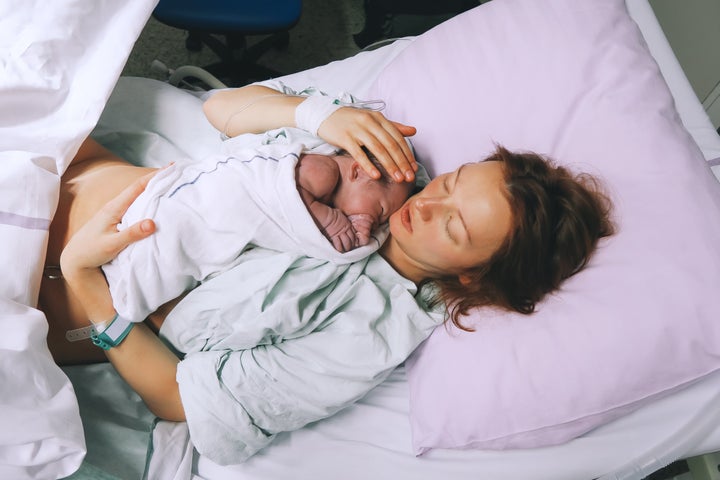 The data, obtained via Freedom of Information request by Mail Online, found that trusts including Sandwell and West Birmingham were not offering the service. The reasons being that they saw it as a cost saving tool, and also because management feared offering it to some patients would only encourage more women to ask in the future.
The NICE guidelines, first introduced six years ago, state that c-sections can be planned in advanced for a variety of reasons. Primarily this is those who present as breech, with placenta praevia, have risk of infection transmission or high risk factors such as high BMI (although this is not to be used as a sole indicator). But a woman can also request a caesarean on the NHS. In order to do so, she must discuss her reasons with her doctor or midwife. The health professionals are then obliged to share the "overall risks and benefits" compared to vaginal birth, but should offer the service after doing so.
If the reason a woman has chosen a c-section is anxious about delivery, then doctors should refer them to perinatal mental health support: something which the investigation found was offered in some hospitals including Basildon and Thurrock in Essex and Hull and East Yorkshire.
But the guidelines clearly say if a woman's personal doctor has reservations, she is entitled to seek treatment elsewhere: "An obstetrician unwilling to perform a CS should refer the woman to an obstetrician who will carry out the CS."
BirthRights, a group of lawyers supporting pregnant women in the UK explain that although these guidelines are not "legally binding on medical professionals" they do require a reason to be given if a decision is made in an individual case that departs from a guideline.
Mandy Forrester, head of quality and standards at the Royal College of Midwives, told HuffPost UK: "We support NICE recommendations on this issue and these are the recommendations and guidelines that midwives and doctors work from. Health professionals should discuss the risks and benefits of caesarean birth with women who want a caesarean section that is not medically necessary to enable them to make an informed choice."
"It cannot be stressed too much that having a caesarean section can have long term effects for the mother and her baby. It is a major surgical procedure that should not be undertaken without serious consideration."
"Midwives have an important role in supporting women who request caesarean section, such as women who may be worried about childbirth."
What happens during an elective c-section?
The NCT says: "If you are having an elective operation, you will have some routine blood tests done beforehand. You will be asked to go into hospital the night before or early on the morning of the operation, and to take a medicine to reduce the acidity in your stomach."
Before your operation, the final preparations will take place. These will involve: changing into a hospital gown; having a bikini shave if necessary; and removing nail varnish, glasses or contact lenses and jewellery. The nursing staff will put a name-band on your wrist. You may also need to take some clothes for your baby.
You will then be taken to the operating theatre. If you are having a spinal or epidural anaesthetic, your birth partner will be able to stay with you during your caesarean, but will have to change into theatre clothes. If you are going to have a general anaesthetic, your birth partner will usually be asked to stay outside the operating theatre.