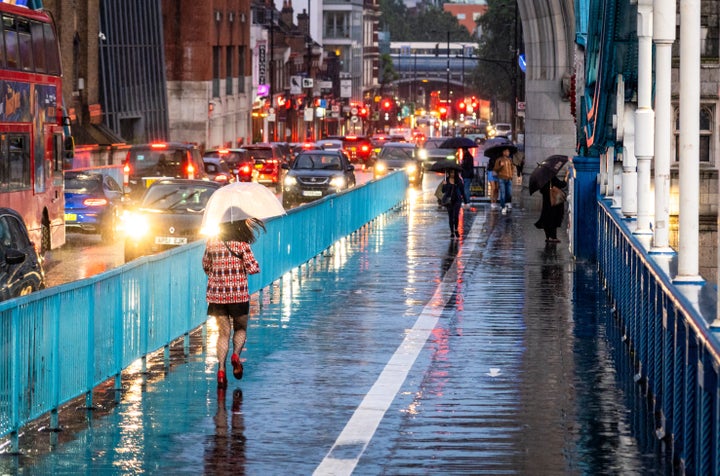 If you're anything like me and have been rudely hindered by the recent heatwave that crept up on us in recent weeks, you'll probably be ecstatic over the cold weather that's finally making it feel like autumn.
Storms on Wednesday caused localised flooding in areas of London, with a woman in her thirties being taken to hospital for "life-changing" injuries after a tree fell in high winds in Fulham. The Met Police said her injuries were not "life-threatening," however. Road closures and disruption were also reported by Traffic Wales.
That said, forecasters predict a dry start to the weekend for much of the UK.
Saturday is expected to be dry with temperatures hitting highs of 18°C in the south-east. However, the remnants of Hurricane Nigel are projected to bring heavy rain to parts of the UK this Sunday, with the Met Office issuing a yellow weather warning across the majority of Scotland.
"The centre of the low pressure system is far off shore, as much as 1,000 miles away from the UK," Met Office spokesman, Grahame Madge said.
"However, it is quite a deep system, so as it rotates, the edges of it will have an effect on us, pepping up our weather patterns."
The worst of the wet weather caused by Hurricane Nigel is expected in the south-west of Scotland, and the north-west of England.
Madge said: "Saturday will be quite a good day across most of the UK, but come Sunday, areas to the north-west of the Humber will experience more unsettled weather."
Meteorologist Aidan McGivern adds: "As Nigel moves north over the Atlantic, it gets picked up by the jet stream and moves towards the west of the UK, whilst losing its tropical characteristics."
"The worst of the winds from this former hurricane aren't expected to cross the UK, but various remnants of wind and rain swirling around that low pressure will bring a contrast to the more settled start to the weekend."