The list of people who say they've been adversely affected by anti-sex trafficking legislation Congress passed earlier this year continues to grow. Vex Ashley, a U.K.-based independent pornographer, is one of them.
Ashley joined Patreon, an online platform that allows fans to pay content creators to make art, four years ago to fund her work ― a porn company that strives to be ethical, inclusive and artistically satisfying in its content. But last week, Patreon forced her to remove her content or change it entirely, abruptly cutting off her income.
Ashley is confident that FOSTA-SESTA, the anti-sex trafficking legislation Congress passed in April, is to blame.
Ashley is just one of thousands of people whose lives and livelihoods have been affected by the legislation, which holds websites liable for any sex trafficking-related content. The law's immediate effect was to shutter the vast majority of websites that voluntary sex workers used to screen clients and keep themselves safe, such as Backpage and Craigslist Personals. But as Ashley's experience shows, the new law is making all sorts of online platforms more skittish about hosting sex-related content.
Patreon, which launched five years ago in San Francisco's startup boom, is a membership platform that allows users to subscribe to various independent artists' projects via monthly payments. It's not a site where users advertise personal sexual services directly to subscribers. Many artists, like Ashley, use the site to help support the cost of producing their sex and sexuality-related art. Subscription rates are offered on a sliding scale; the more you pay, the more art you have access to.
Ashley's patrons ― as subscribers are called on the site ― were paying to support Four Chambers, a project she started five years ago when she was finishing art school and working as a webcam performer. Four Chambers has more than 3,000 patrons and rakes in close to 25,000 dollars a month, which covered Ashley's cost of living as well as production costs for the company.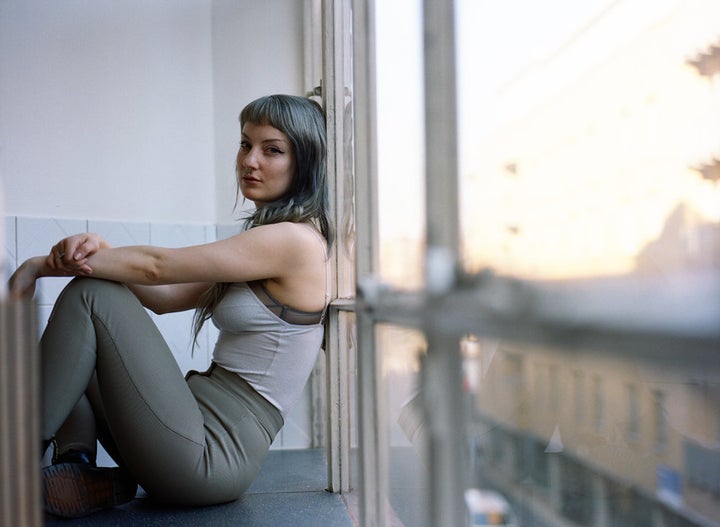 "A lot of the porn I saw felt like it relied on tired, outdated tropes and formulas, and I wanted to see if I could do something different, expand the idea of what porn can do or say," she said. "We make films with a focus on aesthetics, ideas and atmosphere."
"The success of our funding campaign meant we were able to make the work we felt was most important and interesting, not just what would 'sell best' ― to work with people outside of the traditional, marketable porn bracket and pay them top-rate performer fees for their labor," she said. "This is something pretty much unheard of in independent DIY porn."
But on June 21, after four productive years on the site, Ashley and members of Four Chambers were asked to hop on the phone with Patreon to "discuss compliance with their guidelines." When Ashley spoke to Patreon representatives, she was told that all nudity needed to be removed from her page by the end of the month — a difficult task for a project based entirely around sex.
"They suggested that we keep the fund open and use it just for 'beautiful art pictures.' I explained that would be impossible and that I didn't feel it was fair to take our supporters' money if it can't be a home for our work in its authentic entirety," Ashley told HuffPost. "I can't and I won't do that."
She subsequently removed all content from the page and paused all subscriptions, much to the dismay of her patrons.
"I want to say thank you, thank you, thank you, thank you," Ashley wrote to patrons on Sunday. "For your ongoing support, for believing in the project and what we are trying to do against the odds, for the countless amazing, emotional, heart breaking and touching emails and messages of support we get."
"A lot of the porn I saw felt like it relied on tired, outdated tropes and formulas and I wanted to see if I could do something different, expand the idea of what porn can do or say."
Patreon attributed its suspension of Ashley's account to demands from its payment processors.
"We have been ramping up the proactive review of content on Patreon due to requirements from our payment partners," a spokesperson for the site told HuffPost.
"Our community guidelines have not changed, and when we discover a page that is not in compliance with our guidelines we place that page in a state of suspension and work directly with the creator to bring them back within our guidelines. We have also doubled the size of our support team to ensure we get back to creators and give them 1-1 guidance as fast as humanly possible."
Ashley's page was a part of that "proactive review of content," and Patreon confirmed to HuffPost that it did not meet the community guidelines. The guidelines state: "You can't use Patreon to raise funds in order to produce pornographic material such as maintaining a website, funding the production of movies, or providing a private webcam session."
But Ashley, whose porn has been on the site for four years, said that her page has never been suspended before this, nor has she had any issues with Patreon regarding her content. She believes that recent anti-sex trafficking legislation is to blame for the site's recent crackdown.
"I can't imagine that it's not influenced by the sudden swing towards overreaching 'anti-trafficking' legislation that makes any money touched by sex work dangerous to handle," she said.
Other Patreon artists whose content happens to involve nudity ― but no sex ― have had similar interactions with Patreon since Trump signed FOSTA-SESTA, including the Naked Bakers, which is exactly what it sounds like: harmless videos of a woman baking naked. The page is currently suspended.
"It's just another example of how this law is affecting much more than empowering law enforcement to fight trafficking," David Greene, civil liberties director at the online free speech advocacy organization Electronic Frontier Foundation, told HuffPost.
EFF, along with several other activist organizations related to free speech, human rights and sex work, filed a lawsuit against the federal government and Attorney General Jeff Sessions on Thursday, citing a violation of the First and Fifth Amendments.
"Our lawsuit focuses on how the law reaches outside of sexual services," Greene said. "But those who are offering legal sexual services online and can't do that anymore have a lot to complain about as well."
For Ashley, the next step is figuring out how best to continue working ― especially in a climate so hostile to anyone involved in sex-related work.
"I feel immensely proud that we were able to make films and work with people who expanded the idea of what porn should and could be and pay them ethically, that was all down to the support from our community on Patreon," she wrote.
"That is all under threat now."