Sorry sourdough bloomer, there's a new bread taking over our social media feeds – and it's a damn sight more photogenic.
People have been showing off their creative flare by making elaborate "focaccia gardens", decorating fresh bakes with herbs and veg to emulate floral scenes.
The trend has been slowly blooming in recent years, with more than 5,000 artistic breads tagged #focacciagarden on Instagram. But spring (and our new love of baking) has led to a new flurry of fans, including Alyssa Reese from Colorado, USA.
The 35-year-old recently tried her hand at focaccia art and was shocked when a tweet of her creation gained more than 400K likes and over 30K retweets.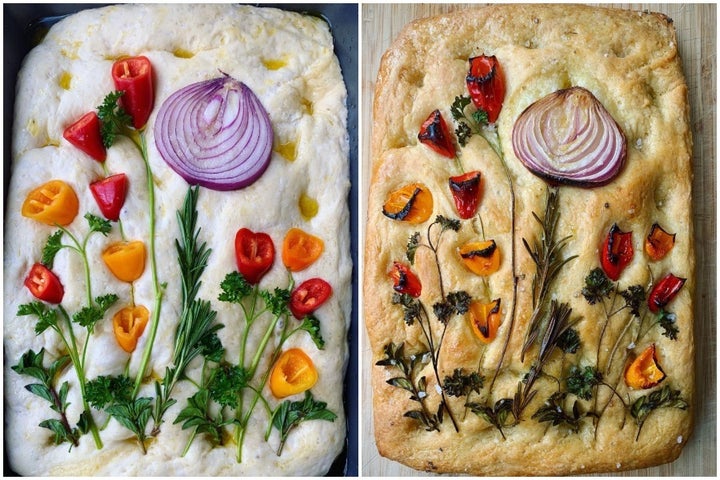 Starting on the winter solstice in December 2020, Reese decided to create a different bread and charcuterie board to mark each new season. The focaccia – created to "celebrate the much-welcomed coming of spring" – is one of her most ornate designs to date, but she insists it wasn't difficult.
"It was easy!" she tells HuffPost UK. "I've never made focaccia and have only made bread five – six times before. My family loved it."
Reese followed a recipe online to make her bread and doesn't profess to be an expert. Instead, that role belongs to George White – a baker so dedicated to decorative focaccia, he recently launched The Focaccia Florist, London's first floral bakery.
White's ethos is simple: cut flowers are wasteful, bread is delicious, combine the two and you get the best of both worlds. He creates delicious floral bread bouquets using organic ingredients that can be sent to loved ones as gifts (or consumed as the ultimate treat to yourself).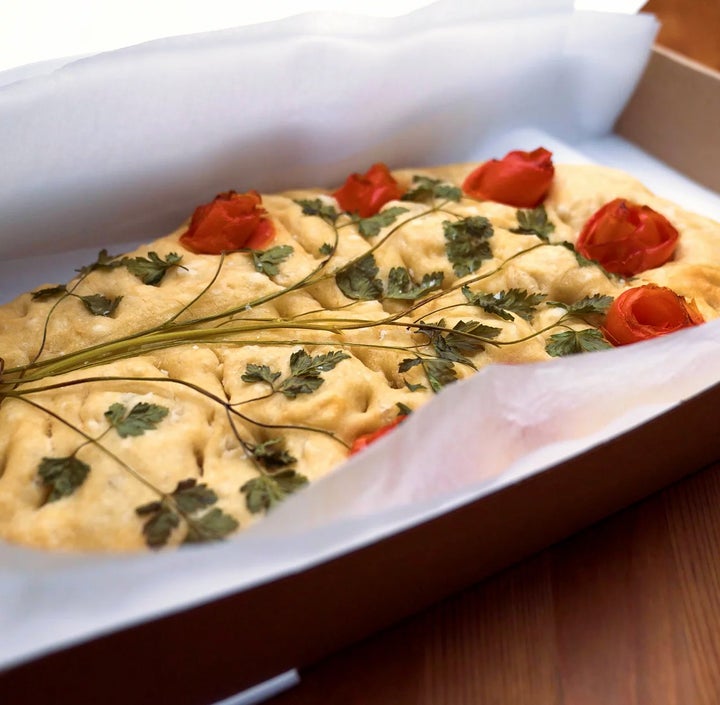 Apparently, decorating focaccia isn't as simple as plonking on a few herbs (nobody wants burnt rosemary). We asked White for his three top tips for first-timers.
1. Have an idea of a garden design beforehand

"Freestyle design is fun, but great designs are thought about beforehand, so you have the right ingredients, and enough time to complete your garden whilst the dough is proofing for a second time," says White. "I often sketch the garden first. Look at your garden or pics online – see how flowers grow and the lovely shapes they've formed and what veg could work."

2. Don't fight the veg

"Go with grooves, the natural direction of how the veg or herbs has grown," he adds. "With heat, they will want to return back to their original shape so don't fight it, go with it."

3. Be ready to protect your toppings

"If vegetables start to over-cook, over-brown or even burn, cover in foil to protect your lovely design," he adds. "And make sure your herbs and veg are nicely pressed into the dough – this will also prevent over browning."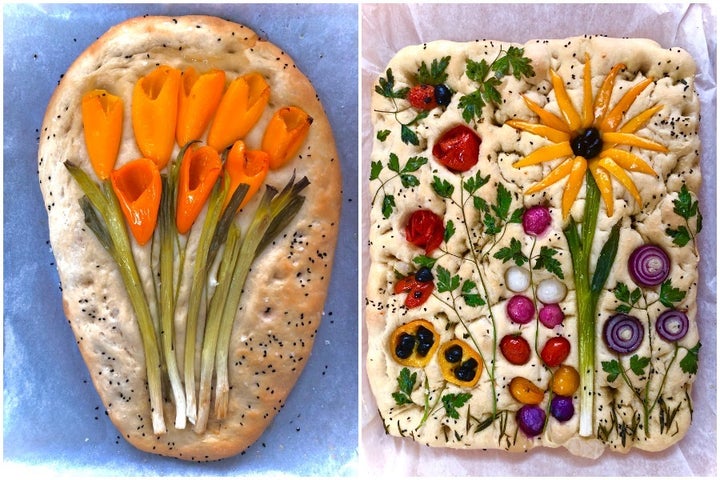 Think you're ready to start baking? White has provided this simple focaccia recipe – just don't go putting him out of business.
Focaccia Florist Simple Focaccia Recipe (makes 8-10)
50ml extra virgin olive oil (+ 100ml as topping)
Coarse sea salt and nigella seeds sprinkled over your final design
A4 size baking tin, baking paper, and foil to hand.
A baking stone (if you have one)
Put bread flour into large mixing bowl. Add yeast on one side, and salt on the other side, and gently mix together. Add the warm water and olive oil and mix together into a rough boule.

Pour out onto your work surface, and knead for 10 mins – finally shaping into a nice round boule. You'll know it is done as the dough will come away from your fingers and when you poke the top, it should spring back.

Place in the same mixing bowl, and coat the dough lightly in olive oil, finally covering the bowl with cling film or a wet tea towel. Let it rest for 45mins to one hour – or until doubled in size.

Ensure you have your veg and herbs ready to use and chopping board neatly set up. Find a tray approximately A4 size, and line with baking paper.

Once the dough has doubled in size, pour the dough into baking tray.

Gently press the dough with your knuckles and tips of your fingers to spread the dough evenly to the edges of the tray. (Do not stretch the dough by pulling it apart – it will lose it shape if you do that)

Now pour the 100ml of extra virgin olive oil and caress across the flattened dough, pushing into the dough with your fingertips.

Turn your oven on to 220 degrees C. Whilst this dough rests and proves, you can prepare your veg and herbs. Gently place on the flattened dough. You have approx 45mins for the dough to be at its optimum (but an hour will be fine).

Once happy with your design, gently push the ingredients into the dough by 2mm or so, and poke holes around the gaps between your flowers. Sprinkle with sea salt and if you want be fancy, some nigella seeds.

Place in the hot oven for 10 mins at 220 degrees C, and then turn down to 190 degrees C for 30-40 mins – until the top is golden and the sides and the base are also golden. (To check, gently lift up with a spatula under the baking paper).

Gently remove from pan onto a wire cooling tray. Remove baking paper from underneath (or otherwise it will sweat). Finally show off your magnificent design on a fancy wooden board.