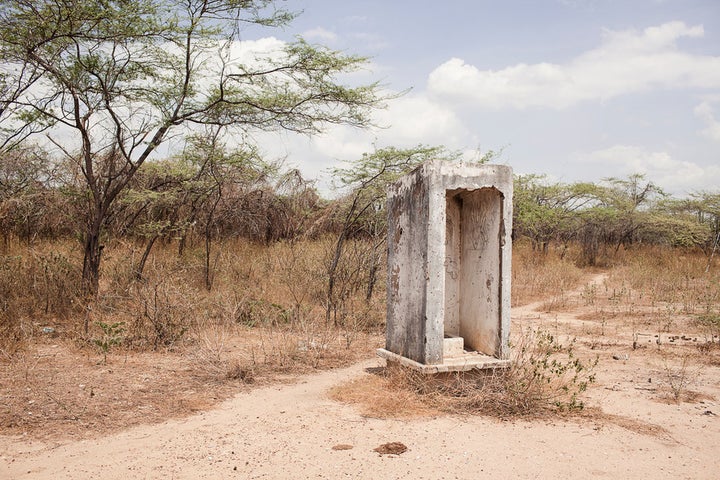 Being able to manage your period is a necessity, not a luxury. That's the message coming from India as it scraps the controversial 12% tax on sanitary pads after months of campaigning by the public.
While the full impact on the end cost of sanitary pads is unclear, it is a positive step forward in a country where two in five girls don't use hygienic protection while on their period, and it could mean more people will be able to afford sanitary products. More importantly, the fact that the Indian Government has spoken openly about periods has helped bring the issue out of the shadows.
Everyone who menstruates should be able to manage their periods hygienically and with dignity. However, millions of women and girls across the world are denied this right, and the problem is not just one of affordability. Menstruation is an issue shrouded in stigma and shame, and at the heart is a lack of priority, knowledge and, equality.
One in three people have no decent toilet, meaning over a billion women and girls have nowhere clean and private to manage their periods or dispose of products. One in three girls in South Asia are not getting the education they deserve because they miss school every month during their period due to inadequate toilets and a lack of disposal options, as well as social and cultural restrictions imposed on menstruating girls.
Two-thirds of girls in South Asia didn't know about menstruation before starting their period, resulting in a potentially frightening experience. Many then turn to their mothers and teachers for support, and if they lack the confidence and information themselves, it can perpetuate myths and taboos.
A common perception is that periods are a dirty secret, leading to beliefs that restrict women and girls from doing everyday activities during their period – such as looking in the mirror, eating fruit, or even being able to stay in their own home. We need to change the message so that everyone views periods as healthy and normal.
In Nepal, with support from the UK aid from the British people, WaterAid has been working in schools and communities to educate and empower girls. One such project was with a group of teenagers from Kavre. We helped them take the issue into their own hands, teaching them how to manage their periods hygienically, and also giving them photography training. They produced a series of powerful images showing how period taboos affect their lives.
Empowered by the project and the knowledge they now have about periods, the girls are using the photo series to educate others about menstrual hygiene and challenge taboos, driving change in their families and wider community.
WaterAid has gone even further to address the taboo in Nepal. In collaboration with the London School of Hygiene and Tropical Medicine, we have carried out research on the additional barriers to menstrual hygiene management faced by adolescent girls with disabilities to help develop accessible approaches.
Deep-set norms also affect girls' access to and use of hygienic menstrual products, as well as their disposal. Many governments and civil society organisations are making sanitary pads more available to adolescents, which is a welcome step. There also needs to be a focus on providing girls with comprehensive information on the range of disposable and reusable products, and enabling them to choose what best suits their needs and contexts.
The increasing use of sanitary pads comes with disposal challenges, as most developing economies lack safe and appropriate means to dispose of and treat used materials. In India, if an estimated 121 million women of reproductive age use eight sanitary pads a month, 12 billion pads will be discarded annually. The Indian Government has taken notice of this issue and has considered menstrual waste management as part of their solid and liquid waste management agenda.
The tampon tax debate is a valuable stepping stone for opening up discussions around menstrual hygiene, but let's not stop there. We must stop cloaking the subject of periods in stigma and shame, so they are seen as healthy and normal. Bringing the issue out into the open will help change happen as politicians, education chiefs and other decision makers will be aware of the impact poor menstrual hygiene can have on women and girls, education and the environment. This in turn will ensure they are more open to exploring how to ensure women and girls everywhere have the facilities and support they need to manage their periods with dignity and confidence.