A shocking video shows a group of women fighting mid-air on a plane after a brawl broke out over loud music being played on a boom box.
Two women blasted loud music from the device on the Spirit Airlines flight flight from Baltimore to Los Angeles on Wednesday morning, the Los Angeles Times reported.
When the passengers, who "appeared to be intoxicated" according to the airline, refused to lower the volume, a fight broke out.
Mobile phone footage shows five women punching each other and screaming on Flight 141 from Baltimore to LA, with one standing in the aisle and pulling another's hair while passengers watched.
Spirit Airlines spokesman Paul Berry said some other passengers had asked the women to turn the music down, but they refused, asking: "What are you going to do?"
The women with the boom box then began to "wave it around" to "provoke" other travellers, according to Berry.
A second group of passengers then approached the two women, and the fight started.
Emerson Silva, who was on the plane, told NBC's Today show: "They were throwing serious punches. The ladies — they were serious."
The LAX police were notified and met the plane when it landed in Baltimore.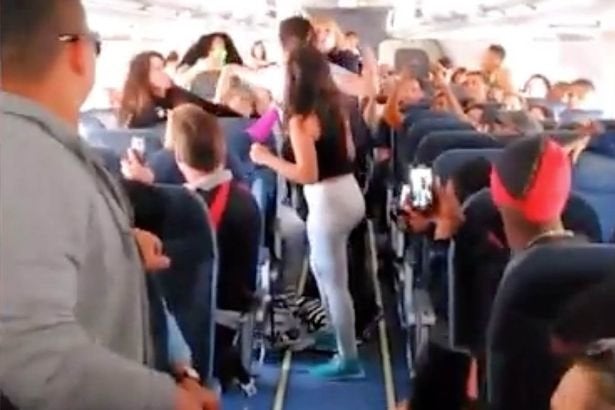 Officer Rob Pedregon said the five women involved in the "mutual combat situation" were pulled off the plane. Police spoke to them for an hour, according to NBC. The FBI was called to investigate but no-one was charged.
Related