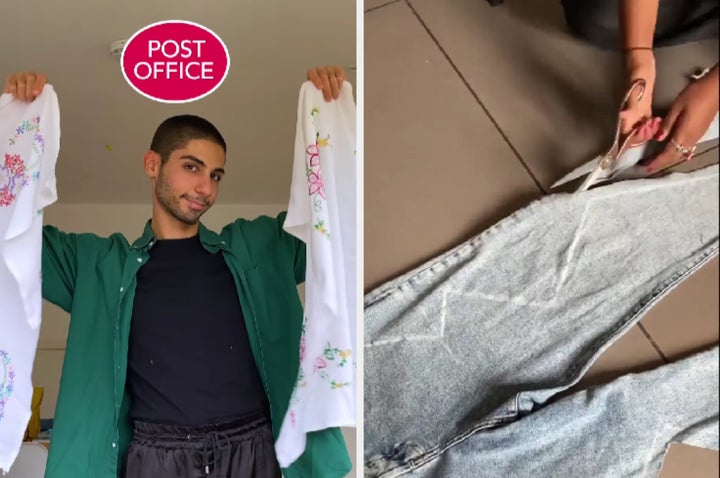 Some of us have a craving for crochet. Others macramé like a maestro. And almost all of us really, really like the idea of sharing our creative gifts with the world.

Whatever form your creations take, the thought of a customer (or loved one) hearing the thud of your parcel on their floor is pretty thrilling.

If you're among the 90% of UK residents who live within a mile of a Post Office, you've probably already got an established package-sending system. And if you're a regular Post Office user, like loads of small business owners, you might even know about all the added extras (like Drop & Go and Parcels Online) that make receiving that delighted "thank you" message even easier.

Recently, Post Office and BuzzFeed collaborated with six talented upcycling creators for their "Post it like a pro" campaign to show how their services help to deliver creativity across the country. Here are the gorgeous garments their collaborators made and a glimpse into how they post it like a pro:

1) Tammy Silver used curtains and an old skirt to create a stunning dress
Sewing master Tammy Silver transformed a fuchsia curtain and black-and-white checkered skirt into a gorgeous mini dress for her big sister. (Can all siblings take notes, please?)

The project took her just two days. "There's always been a Post Office close to me, and the self-checkout is so simple to use," Silver says, using the self-service kiosk to weigh, label and send her parcel herself.

2) Bahram Yara turned two embroidered table linens into a shirt that looks wayyy more expensive than it really is
Bahram is an upcycling pro, so it shouldn't be surprising that he turned these web-thrifted tablecloths into the kind of shirt that someone could shill hundreds for (linen?? Ka-ching!). It's stunning!

Bahram sent the shirt to his friend for a photoshoot using Post Office's Drop & Go, which meant he didn't have to queue in-store, scan, weigh or add labels to his post. "You create an account online, you top it up, you bring your package to the Post Office, and then they do the rest," Bahram says ― so it's perfect if you send a lot of mail.
The sewing and crochet enthusiast got to work making a coat for her nan's dog, Percy, out of a pre-loved jumper (the cuffs became a collar, which is frankly too cute for words).

The scarlet garment made its way to Issy's nan's house in a reused package via Post Office's Desk Service. Issy's best friend's mum was working the counter when she came in to drop the package off. "It's always lovely to see her. She was super lovely and helpful as per usual," Issy said.

Percy is now successfully bejumpered.

4) Amira (AKA T£RK) turned three pairs of unwanted jeans into "an ode to the Post Office"
Amira wanted to make some jeans that reminded her friend of the Post Office, because "the Post Office has literally become a second home" to the pair who are "always sending off items for [their] businesses."

So, she layered and distressed white, blue and red jeans to make a baggier, zigzag-patterned pair an immediate wardrobe necessity. "I used Parcels Online to compare the cost of the different couriers," Amira said. "And then, using my QR code, I'm off to drop off my package."
Parcels Online is one of Post Office's newest ways to post it like a pro – by using it you can compare the postage services and prices from other carriers, and still send your parcel via your local Post Office branch!
5) Denzel (AKA Currie Goat) created the label maker cover you never knew you needed
There are people who can make ordinary items beautiful. And then there's Denzel, who just created the kind of stunning object you'd never even think to make.

The artist printed and hand-painted a blue and white swirling design onto sheets of leather, which then curved over his label maker to form something between a butter dish and a very fancy decorative egg (genius).

"I always like to use the desk service at my local Post Office," Denzel said. "Creating things is my speciality, but sometimes I be making mistakes with the shipping, and they always help me check that I have the right postage. The postmasters that work there are so helpful and knowledgeable," he added.
The sewing whizz transformed Christmas tree skirts into a personalised, monogrammed dress as a gift for her friend in college (again, where were these friends in uni?).

"As someone who is constantly sending handmade gifts, Post Office makes it so easy," the creator shared. She used the same Drop & Go system Bahram mentioned earlier, meaning she could send out "loads at once"; "I just fill out the online form, hand over all my packages, and the money is collected from my prepaid account when I Drop & Go," she said. Dreamy.
With such an incredible range of services, from Parcels Online to the good old classic desk service, Post Office is always on hand to help you post your Christmas presents or creations from your new side-hustle like a pro!
Related