It used to take great courage to really put oneself out there, for all the world to see. But according to an article in the Daily Mail last year, it doesn't seem to be all that difficult for the majority of us to snap, fix and upload these days -- at least on a surface level. But what about going deeper? That requires a bit more of a commitment and risk -- a leap that artist Antony Micallef is willing to take.
The 30-something British painter strips himself bare (theoretically, not in reality) in his latest show at Lazarides Rathbone, aptly entitled Self. This body of work (his first in many years) is the ultimate self-portrait; splaying the artist wide open for his audience, waiting for their judgement call. In the era of 'me me me' it is exhibitions like this that open up the dialogue of the real selfie -- exploring what it really means to show oneself, warts and all -- and face the consequences -- especially without the help of Photoshop or some other quick fix app.
Here the artist talks about the global domination of self-absorption, consumerism, and this, his latest -- and perhaps most exposing -- painterly exploration to date.
What do you think of society's obsession with narcissism these days? What have we become?
Antony Micallef: I think we have always been obsessed with the way we look since the beginning of time. I think we just have more media outlets these days so it has becomes polarized and concentrated and we are easier to target. Our concentrated consumer culture has developed into a machine carefully calibrated to feed us messages about conventions of beauty and how to look. It does this to persuade us to buy products that help us look like the archetypes of beauty and conform and then the circle is self perpetuating. Our heroes and Idols work for brands and everything inch of talent is monetized to raise more profits. With the ever increasing accessibility of imagery and advertising being streamed and bombarded at such a rate with are helpless to resist. We are constantly reminded that the self and our representation of beauty is the most important thing in our society...How can we not be obsessed with narcissism?
Are you one to 'take' a selfie ? What do you think of people when they stop post conversation and say 'can we take a selfie'?
Antony Micallef: Without taking myself too seriously I don't think I've ever taken a selfie for social media. Of course I've taken one privately but I don't think I've ever posted anything. People who constantly take selfies of them selves make me cringe a little. I hope I don't sound judging but there is just something really unflattering about it.
The majority of your works are called SELF. Why?
Antony Micallef: All of the woks are titled self portraits because they are studies of myself in constant transitions. They document certain states of how I feel so it seems natural to title them in this way. They don't have a narrative in my opinion...they're just paintings of me.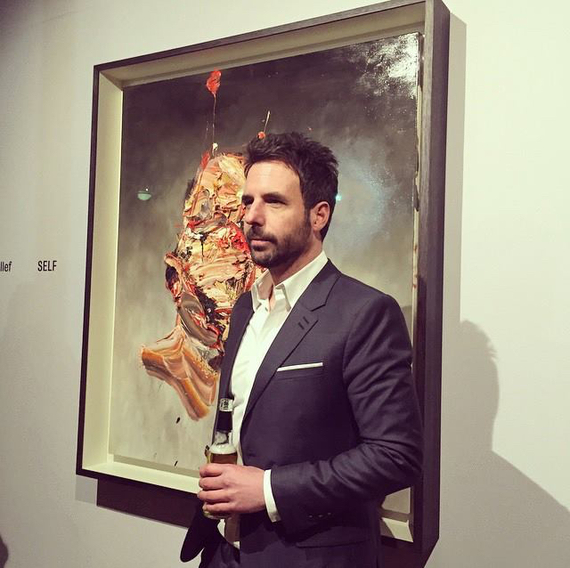 (The artist on Opening Night. Image courtesy of Lazarides London)
This is your first solo show in a number of years - what took you so long?
Antony Micallef: I think life just got in the way this time. I normally like to show every two years but I went through a lot of turbulence personally. I felt like something had to change with my work too. It felt like I had lost some of the magic and excitement and I had to discover new things. Making this work felt like I was excavating something but I wasn't sure what I was going to find. Now looking back I'm so glad I took the time to let this happen. I feel like I have new tools now and my dexterity and my language is stronger then it's ever been. This was the hardest show I've ever had to make but it's a nice feeling to feel I've come through the storm and feel I've learned something.
Speaking of the SELF, have you had many occasions where people have admired your work and then met you and then said 'You're not what U thought' (good or bad)?
Antony Micallef: I always find this quite humorous. I think this happens a lot. People always assume I'll be a darker character then how I appear. I understand this as aspects of my older work is viewed as being quite dark. I think it's natural as people who haven't met me have to have a reference point to make an assumption. The thing is I could never be my paintings as I wouldn't have any friends.
Give us your top five favorite living artists (could be painters, writers, actors, poets, architects) and the one artist you admire most - living or dead. In no particular order.
Antony Micallef:
My top five includes:
Bruce Nauman
Thomas Houseago
Anselm Keifer
Frank Aurebach
Lee Bul
If I could own any painting it would have to be a Caravaggio. Simply because the really good ones just make me melt. They have real life, and to me sum up the essence of being human - which is ultimately about sex and death. His work contains all of this; and Caravaggio painted it with such a passion... it's just... poetry.
I hate having to choose one artist as we all do different things, and there are a lot of artists the story of art owe a lot to. If I had to choose any artist that I admire the most, I would have to say Picasso - simply because of the journey he undertook and his fearlessness.
Americans aren't that familiar with your work. Do you plan to do any shows in the US?
Antony Micallef: Possibly the next show will be in NYC but nothing is confirmed just yet.
Antony Micallef: Self is on display at Lazarides Rathbone until 19th March 2015.
Related