The government has hired a PR firm to boost vaccine take-up among minority groups amid concerns that Black, Asian and minority ethnic (BAME) and eastern European people are less likely to accept the jab.
MMC, a specialist agency for diverse communities, has been contacting different communities in a bid to tackle misinformation and vaccine hesitancy, HuffPost UK understands.
It has in the past worked on community-specific marketing campaigns for the government – for example, on ending female genital mutilation, and to increase knowledge of prostate cancer among Black men.
Last month, experts told HuffPost UK why it is harder for some communities to trust the coronavirus vaccine, including concerns stemming from alleged racial inequality in the health system and the history of medical experiments on Black people.
The Scientific Advisory Group for Emergencies (Sage) has already warned the government there is a "significant risk" that vaccine take-up will be lower among minority ethnic groups – chiefly Black, Pakistani and Bangladeshi people.
Other white ethnic groups, including eastern European communities, were also more hesitant than white British or Irish people.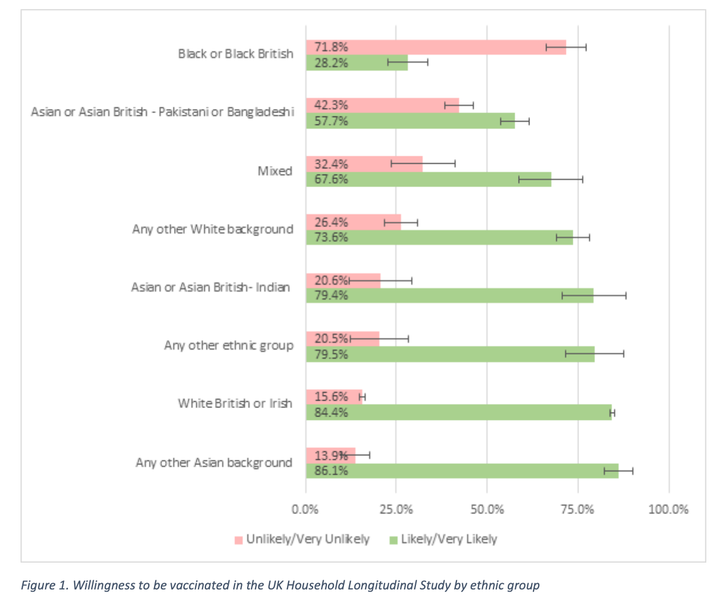 A recent YouGov poll showed just 28% of Poles in Poland were willing to take-up the jab, and there are concerns similar attitudes are feeding through to the large diaspora in the UK.
Among the barriers to the vaccine uptake is the perception of risk, low confidence in the vaccine, a lack of endorsement from trusted providers and community leaders, and "historical issues of unethical health research particularly affecting Black communities", Sage said.
On Monday, vaccines minister Nadhim Zahawi said he is "worried" that vaccine uptake may be lower in Black and Asian communities.
He held a Zoom call over the weekend with Black doctors who have been vaccinated and answered questions from 1,400 people in the community.
Zahawi told BBC Radio 4's Today programme: "My big worry is if 85% of the adult population get vaccinated, if the 15% skews heavily to the BAME community, the virus will very quickly infect that community."
London mayor Sadiq Khan has also expressed concerns about vaccine takeup amongst London's Black communities in particular.
He said he was "hearing stories of more and more Black Londoners [...] who are being offered the vaccine because they're a health worker, they're a care worker or they're above the age of 70, and they're declining the vaccine".
Explaining why, he told last week: "The obvious reason is Black Londoners have a rich history of being let down by people in positions of power and influence. [...]
"And that's one of the reasons why some Black Londoners don't have the trust and confidence in institutions that other minority groups and other ethnic groups have."
Concerns have been raised that misinformation spread within some BAME communities plays on religious concerns – that the vaccine might contain gelatine, or other animal products and is not halal, or that it can result in modification of DNA. None of these claims is true.
Dr Habib Naqvi, director of the NHS Race and Health Observatory, has said language and cultural barriers play a part in the false information being distributed.
He said: "We need to be clear to our communities that there is no meat or meat products in the vaccine. There is no pork, there is no alcohol and it has been endorsed by religious leaders and religious councils.
"Organisations and officials are working with social Asian role models, community leaders, influencers, religious leaders, to help to debunk some of the myths that are out there."
Naqvi said it is essential for the NHS to tailor its services to meet "the diverse needs of our communities".
Berkshire GP and Oxford Uni researcher Salman Waqar, from the British Islamic Medical Association (BIMA), is helping set up one of the local vaccination hubs.
"Some of my colleagues have said that they struggled to book in minority community patients, particularly the elderly," he said.
"If you look at data from influenza, that's also showed a lower uptake amongst minority communities, so it's not surprising in that sense.
"There is a lot of misinformation, a lot of fog. And people really need help seeing through that fog.
"When you do actually sit them down and explain to them, 'these are the myths', a lot people turn around and they do change their minds."
A Department for Health and Social Care spokesperson said: "Vaccines are the most effective way to protect people from coronavirus and will save thousands of lives, and we are working with a range of partners to communicate to as many people as possible.
"The NHS will provide advice and information at every possible opportunity, including working closely with BAME communities, to support those receiving a vaccine and to anyone who has questions about the vaccination process."
Popular in the Community