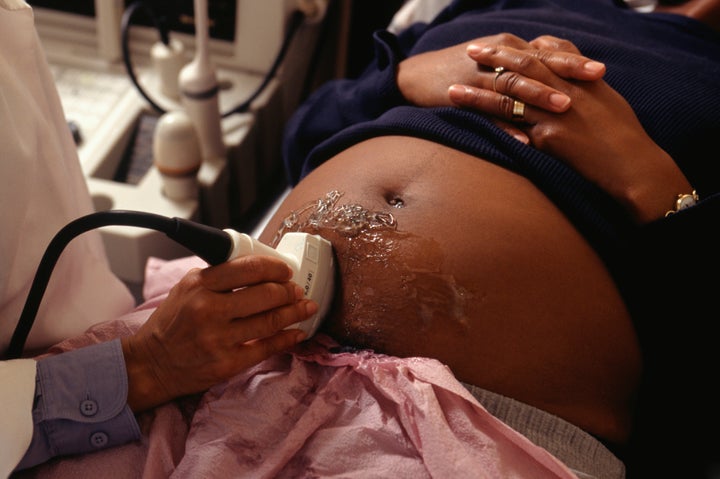 Pregnant Black, Asian and ethnic minority women will now get additional support from the NHS, as new research shows the heightened risks facing women from minority groups.
Recent analysis shows Black pregnant women are eight times more likely to be admitted to hospital with Covid-19, while Asian women are four times as likely.
The NHS in England is taking action to protect expectant mums, including increasing the uptake of important vitamin D and undertaking outreach in expectant mothers' neighbourhoods and communities.
Women from ethnic minority backgrounds had already been known to face additional maternity risks, with maternal mortality rates significantly higher than for white women.
But reecnt research from Oxford University shows 55% of the pregnant women admitted to hospital with Covid-19 are also from a Black, Asian or ethnic minority background, even though they only make up a quarter of the births in England and Wales.
England's most senior midwife, Jacqueline Dunkley-Bent, has written to all maternity units in the country calling on them to take four specific actions which will minimise the additional risk of Covid-19 for Black, Asian and ethnic minority women and their babies.
The steps include:

1. Increasing support of at-risk pregnant women – e.g. making sure clinicians have a lower threshold to review, admit and consider multidisciplinary escalation in women from a Black, Asian, or ethnic minority background.

2. Reaching out and reassuring pregnant Black, Asian, or ethnic minority women with tailored communications.

3. Ensuring hospitals discuss vitamins, supplements and nutrition in pregnancy with all women. Women low in vitamin D may be more vulnerable to coronavirus so women with darker skin or those who always cover their skin when outside may be at particular risk of vitamin D insufficiency.

4. Ensuring all providers record on maternity information systems the ethnicity of every woman, as well as other risk factors, such as living in a deprived area (postcode), co-morbidities, BMI and aged 35 years or over, to identify those most at risk of poor outcomes.
Is it enough?
In response to the announcement for pregnant Black, Asian and ethnic minority women, Endy McKay from Dope Black Mums said she's pleased the NHS is putting this additional support in practice. But, she adds, "it's imperative this is only the start of narrowing this alarming health gap".
"Research into why there are these increased health risks suffered by Black and Asian women needs to be extended," McKay tells HuffPost UK, "societal shifts to address the disproportionate socio-economic factors that effect non-white women need to happen, and further training in unconscious bias needs to be rolled out within the NHS.
"These are all additional ways we can seek to narrow this exposing and troubling health gap."
"It's imperative this is only the start of narrowing this alarming health gap."
"In this space of a pandemic, we're seeing the same data with the amount of deaths in regards to BAME people," she said. "And there's nothing positive about this, but it really is bringing some things into the forefront.
"America have been very ahead of the UK in admitting the discrepancies in health care when it comes to black, pregnant women. Beyonce and Serena Williams' birth experience shows us that money doesn't change anything."
At the time, a mother from the north of England, who is of dual ethnicity with a Black father and white mother, told HuffPost UK she works in healthcare where she said non-white pregnant employees' lives were endangered. She was pressured by her employer to work in an unsafe environment and forced to repeatedly explain why she was unable to take this risk.
"I wasn't able to sleep as I couldn't stop worrying and obviously felt a lot anger too," she said. "While I've been at work, I wondered how they could be such hypocrites as a healthcare company."
Chief midwifery officer for England, Jacqueline Dunkley-Bent, said: "While Public Health England is continuing to assess and advise on the impact of the Covid-19 outbreak on ethnic groups, I want to make sure that the NHS is doing everything we can to reach out, reassure and support those pregnant women and new mums most at risk."