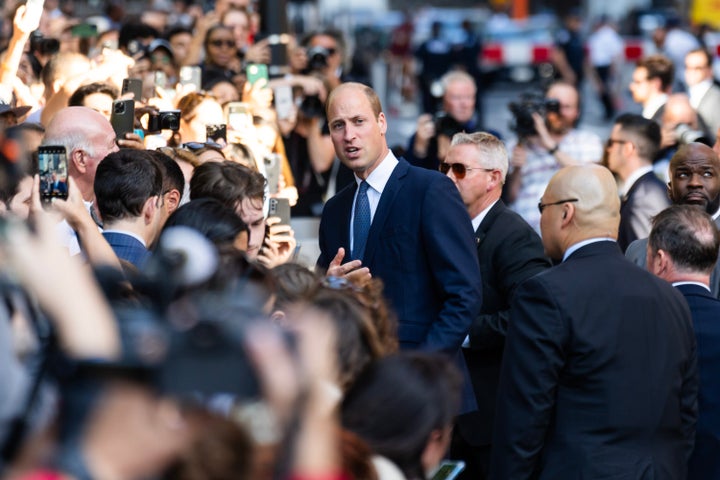 Prince William closed out his whirlwind, two-day tour of New York by greeting adoring crowds at an FDNY firehouse at his last engagement in the city.
The Prince of Wales received gifts during the event from a fan named Alyssa Budihas, who spoke with the press – including HuffPost – after her royal encounter.
"I thanked him for coming to visit us, and I gave him three 'I ❤️ NY' T-shirts, one for each of the children," Budihas, an attorney, said of the presents for Prince George, Princess Charlotte and Prince Louis.
She added that she bought the shirts at a souvenir shop two doors down from William's stop by FDNY Ten House and that her hands were shaking as the prince walked over to her.
In addition to the T-shirts, Budihas also purchased two souvenir New York license plates that said "William" and "Catherine" for the Prince and Princess of Wales.
You can watch the exchange between Budihas and William in video footage that HuffPost recorded below:
Budihas, a lifelong New Yorker and royals fan, said she was "very overwhelmed" by the encounter.
She added that she was "very grateful" that the prince was "as kind and as gracious" as she'd always imagined he would be, and felt that the encounter was "meant to be" because the royal visit took place only two blocks from her office.
William received additional gifts during the firehouse visit, including rubber fire trucks with Ten House's logo, along with pens, notebooks and T-shirts.
The Prince of Wales kicked off the second day of his New York trip by meeting with Ecuadorian President Guillermo Lasso and first lady Maria de Lourdes Alcívar Crespo during the 78th U.N. General Assembly in New York.
They met at the official residence of the British consul general, which was adorned with a real Andy Warhol print of William's grandmother Queen Elizabeth.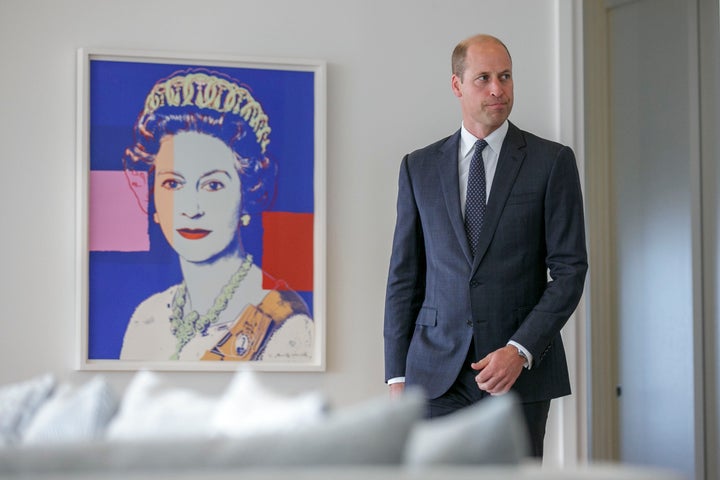 During the meeting, the prince spoke of all the "fantastic work that Ecuador has done" with environmental initiatives before taking off to speak at the Earthshot Innovation Summit, which was held at the U.N. Plaza.
Former New York City Mayor Michael Bloomberg kicked off the summit, which was co-hosted by Bloomberg Philanthropies, with jokes about the prince's popularity.
William was recently named the most popular candidate "that a majority of Americans feel good about and that Republicans and Democrats can agree on" in a viral Gallup poll that made headlines last month.
"The prince has clearly won over Americans of all stripes, and these days, that is – as you all know – no small feat," Bloomberg said, adding that the polls showed that over 60% of Democrats and over 60% of Republicans viewed William positively.
"America has not seen that kind of bipartisanship since 1776," Bloomberg said, to laughs from the audience. "But this time we're all drinking to the king's health."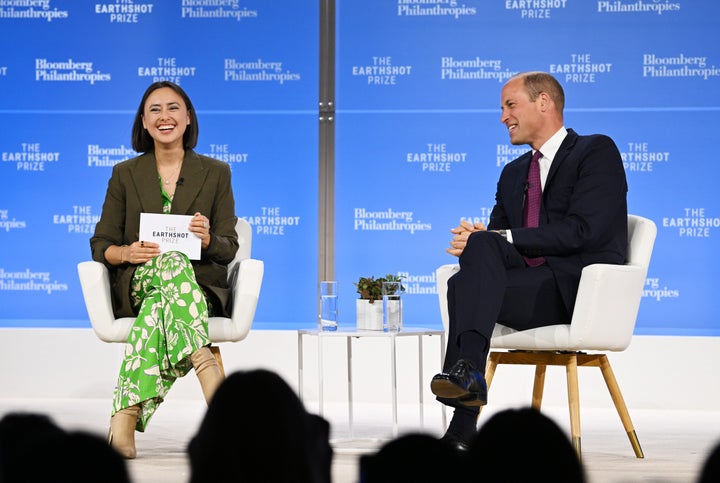 After panel appearances at the summit from former New Zealand Prime Minister Jacinda Ardern and Microsoft co-founder Bill Gates, the Prince of Wales appeared for a fireside chat and remarked that earlier in the day, he'd even gone for a run in Central Park.
"I decided to join the hordes of New Yorkers during their morning routine," the prince said, adding that it was "wonderful waking up in New York on a sunny morning rather than the rain we had yesterday."
At the summit, which announced the 15 finalists for the 2023 Earthshot Prize Awards, the prince also confirmed that he will be at the awards ceremony in Singapore this year on Nov. 7.