The Duke and Duchess of Cambridge have revealed what lockdown looks like in the royal households – with homeschooling and anxieties for older relatives stressing them out.
Prince William revealed that, like many of us, he's worried about his grandparents during the coronavirus outbreak – it just so happens that his grandma is the Queen, 93, and grandfather is the Duke of Edinburgh, 98.
"Obviously I think very carefully about my grandparents, who are the age they're at," he said in an interview with BBC Breakfast. "We're doing everything we can to make sure that they're isolated away and protected from this."
The couple appeared via video link in an interview with host Tine Daheley on Friday morning. William revealed they've been keeping in touch with "all the family" via video calls.
"It's been a really good way of keeping in touch and seeing each other. As you can imagine the younger generation are a little bit more tech savvy – but only just!" he joked.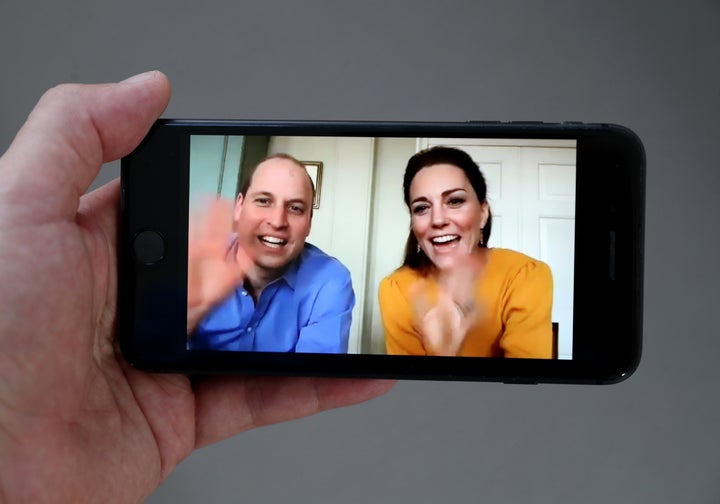 They're homes may be quite different, but Kate said the experience of lockdown for the royals has "been ups and downs, like a lot of families self-isolating".
She said she was surprised how much their children, particularly the eldest, Prince George, had an awareness of the coronavirus pandemic.
"Although you don't want to scare or overwhelm them, I think it is appropriate to acknowledge it in the simple ways and in age-appropriate ways," she said.
When asked how homeschooling was going, the couple laughed, before Kate revealed that they haven't even told the children it's the Easter holidays and have been fitting some lessons around play to maintain a strict routine.
"The children have got such stamina, I don't know how, honestly. You get to the end of the day, you write down all the list of the things you've done in that day: you pitch a tent, take a tent down again, cook, bake. It is amazing how much they can cram into one day, that's for sure," she said.
William also spoke about his father, Prince Charles' Covid-19 diagnosis. He said the initial diagnosis did cause to worry: "I have to admit, at first I was quite concerned. He fits the profile of somebody, at the age he is at, which is fairly risky."
But he went on to say Prince Charles' symptoms were relatively mild and the hardest thing for him was not being able to go for walks.
"My father has had many chest infections, colds, and things like that over the years. And so, I thought to myself, if anybody is going to be able to beat this, it's going to be him." William added.
The Duke and Duchess of Cambridge also spoke about how Covid-19 might be impacting the nation's mental health, with William saying there is an "ever-increasing need for people to look after their mental health and take it seriously and also know where to go to get the support they might need".
The couple have voiced a new advert for Public Health England's Every Mind Matters platform, which will air across TV channels from Monday, signposting the public towards NHS tips and advice around mental health and wellbeing during the pandemic.
It comes after new data shows over four in five (85.2% ) British people are worried about the effect that coronavirus is having on their life, with over half (53.1%) saying it was affecting their well-being and nearly half (46.9%) reporting high levels of anxiety.
The Every Mind Matters platform will host a range of new resources, designed specifically to help manage mental wellbeing during coronavirus. These will include a tailored COVID-19 Mind Plan, COVID-19 specific content for individuals and their loved ones, and support for specific mental health issues such as anxiety, stress, low mood and trouble sleeping.