U.K.-based artist Conor Collins paid tribute to Princess Diana in an unusual way, using a mixture of HIV-positive blood and diamond dust to paint her portrait.
Collins, 29, unveiled the image via Twitter on Tuesday afternoon.
In a series of tweets that followed, the artist said he was inspired by a 1987 photo of Diana shaking the hand of an HIV-positive man at London's Middlesex Hospital.
As Collins pointed out, Diana didn't wear gloves in the image, sending a message to the world that the virus couldn't be spread by casual contact. Since then, it has been hailed as a watershed moment in fighting HIV/AIDS stigma.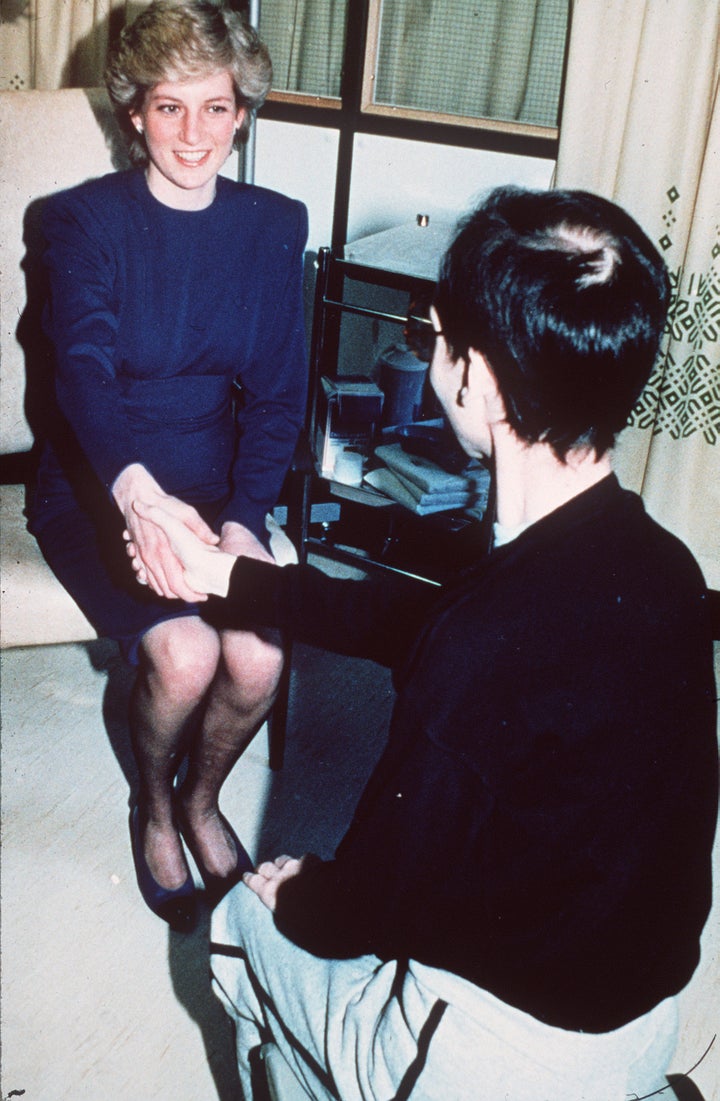 Diana remained active in the fight against HIV/AIDS for the rest of her life.
"HIV does not make people dangerous to know," she said in 1991. "You can shake their hands and give them a hug. Heaven knows they need it. What's more, you can share their homes, their workplaces, their playgrounds and their toys."
Collins, who identifies as gay, told HuffPost that he has wanted to tackle the lingering stigma around HIV/AIDS through his work for some time. Eventually, he said, "the story of Diana came back into my mind and how she, without judgment, held the hand of a patient with HIV."
"I realized Diana as a person ― and her actions ― were the perfect medium to try to express my message," he said.
The response has been mostly positive.
"I'm so thankful people have gotten behind it and are not only supporting it but sharing it," he said. "My ultimate hope from this piece is that people learn and share. Stigma comes from myth, misinformation and prejudice."
He is no stranger to creating politically charged works. Last year he painted a portrait of President Donald Trump using, Collins said, "racist, sexist, ignorant and bigoted" terms that Trump used during his time on the campaign trail and in office.
As for those who feel artists should keep their work politics-free, Collins said, "If you want to get something done, you have to do it yourself. You can't leave changing the world to politicians."
"Just change the world in your own way," he added, "and let the rest of the world catch up."
Related