You know that moment where Wile E. Coyote, in pursuit of Road Runner, runs right off a cliff and, for just a second before he falls, hovers there, levitating in thin air, warping the laws of time and space for the purpose of a slapstick cosmic joke?
If you grew up mesmerized by the strange and skewed animated visions that dwelled on your television screen, you know there are few spaces as serious about play as the cartoon universe. In this quasi-two-dimensional plane, children's entertainment happily contorts into complex exploration through an endless stream of double entendres and hidden meanings. In this lawless flatland, binaries do not hold, as hybrid creatures somewhere between human and animal romp without consequence in an absurdly fantastical virtual reality.
A new exhibition at New York's SculptureCenter, titled "Puddle, pothole, portal," examines the ways we make sense of space, and constantly unscramble our understandings of it with the arrival of the latest technologies. Curated by SculptureCenter's Ruba Katrib and artist Camille Henrot, the exhibition compares our bumbling attempts to comprehend an ever-changing world to those of a child, hungry with wonder.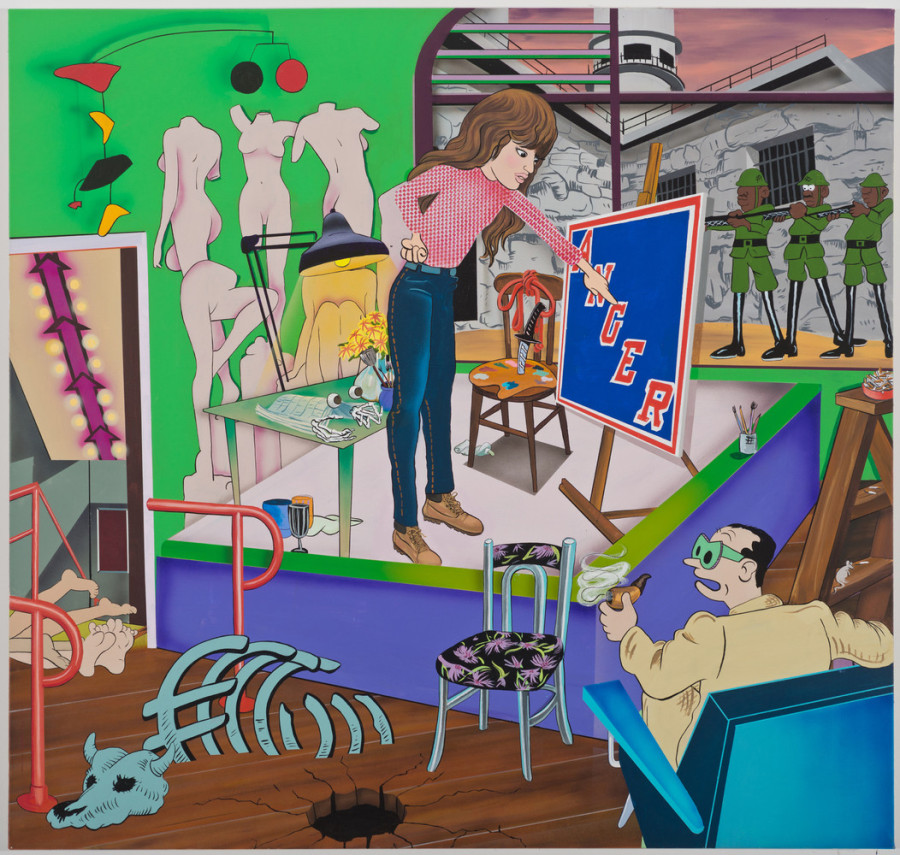 Jamian Juliano-Villani, Messy View, 2013. Acrylic on canvas. 48 x 50 inches (121.9 x 127 cm). Collection of Liz Goldman. Photo: Retrospective Gallery.
"The inspiration was this idea of dealing with new relationships between two-dimensional and three-dimensional space in relation to new technologies," Katrib explained to The Huffington Post Arts. "Through that we came up with three points we wanted to address: Saul Steinberg, "Who Framed Roger Rabbit" and early 20th century cartoons -- different but connected instances in which multiple actors, avatars, space, and anachronistic objects would come together in one plane and interact."
The show features an international, multigenerational cast of artists, approximately half of whom have created new works for the show. Like their cartoon counterparts, the artworks feature unorthodox interactions between 2D and 3D, as well as a fair share of absurdity, hybridity and randomness. In her acrylic on canvas "Messy View," Jamian Juliano-Villani delivers a neon-tinged artist studio as bumbling and chaotic as war and sex combined -- both of which manage to make an appearance. Camille Blatrix's "The girl from the mailbox," created specifically for the exhibition, is a singing mailbox that waits for an important letter to arrive, and needs a key to be opened.

Saul Steinberg, Untitled, 1971 Pencil and colored pencil on paper, 13 ¼ x 22 ¾ in. Framed History Published: The New Yorker, February 24, 1973, in Steinberg's portfolio "The City" Exhibited: "Steinberg at The New Yorker," The Pace Gallery, New York, February 11-March 5, 2005 (no catalogue)
And then there's Steinberg's work, which comprises a hefty portion of the show's inspiration. "Saul Steinberg is interesting because he deals with this idea of animating space," Katrib explained. "A lot of his work touches on notions of animation even though there aren't really any cartoons. Steinberg was working as an illustrator but also an artist in his own right. So he's really working between these different boundaries, between high and low and art, navigating that in a very interesting way. And he is bringing together all these disparate characters and architectural references into the plane of the drawing. He makes sculptures that look like drawings and he makes drawings that create virtual realities. He is someone who thinks through the mission of drawing in 2D space as something that could create a virtual reality before the concept of virtual reality as we know it now."
Do you remember the feeling of total confusion and captivation that emerged from watching your first few episodes of "Looney Tunes"? This exhibition, we predict, will reawaken that childlike feeling -- the slightest possibility that maybe if you stepped off a cliff you too would dangle there for just a second before spiraling down. "Puddle, pothole, portal" runs until January 5, 2015 at SculptureCenter. Get a preview below.