Pukka, the tea brand, has been told to stop using the word 'detox' in advertising for its Detox tea because under EU regulation it's not allowed.
The Advertising Standards Authority (ASA) has told it to stop using the word in all future marketing, after two people wrote to challenge whether it was permitted to claim it was a detoxifying drink.
Under EU regulations, food and drink companies can only use health or nutrition claims that are registered as permissible. The word detox isn't.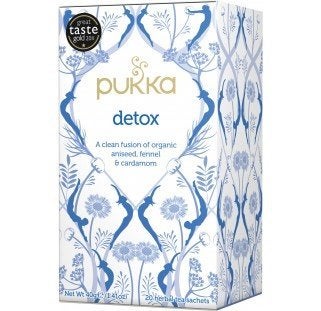 So even though the brand name is called Detox, the ASA told HuffPost UK, the brand will no longer be able to use the word to describe the drink.
From 2022, the ASA said, it won't be able to use the word Detox in its brand name either.
Pukka told the ASA in its defence that it had used the name Pukka Detox Tea since 2004.
In a statement the ASA said: "The claim must not appear again in its current form. We told Pukka not to make references to general benefits of food for overall good health or health-related well-being in brand names unless those claims were accompanied by a permitted health or nutrition claim."
Euan MacLennan, Pukka Herbal Director, said: "We respect the ASA's decision and, indeed, EU regulations relating to health and nutritional claims. This ruling from the ASA contradicts previous rulings from Trading Standards and relates only to advertising. Pukka Detox tea will continue sell in the UK as has been permitted by Trading Standards until 2022.
"At Pukka, we support a sensible and proportionate approach to health. This includes any person's choice to 'detox' or 'cleanse' their bodies."