Bare breasts, sexually-charged scenes and dominant women: these are just some of the themes that surround a groundbreaking new exhibition, 'Radical Love'.
Female artists from across the globe have produced artwork - including paintings, illustrations, films, sculptures and jewellery - centred around the hot topic of female lust.
The artists - many of whom are Muslim or of Arabic descent - were each sent an ancient Arabic poem focused around female lust and sexuality, and asked to create a piece inspired by it.
By doing so, they are helping to challenging outdated and oppressive stereotypes around women and sexuality, while proving that women of all ethnicities and religious backgrounds can talk openly about female desire without feeling ashamed.
The result of their artistic collaboration is an extraordinary and incredibly diverse exploration of female sexuality from a broad range of cultural perspectives with a unified theme - empowering women.
We spoke to six of the 48 artists involved about what female lust means to them, as well as their hopes for women in 2017.
Sheila Nortley
Sheila Nortley, who lives in the UK but whose family is originally from Ghana, produced a short film inspired by a 10th-century poem which told of a woman's rejection of various suitors, despite their class and financial status.
The beauty of it, Nortley told The Huffington Post UK, is that the female subject had the power and authority to choose for herself.
What does female lust mean to you?
"Female lust is quite controversial particularly when it's to do with women from an Arab background or from the Muslim community," she said.
"It is another word for female sexuality - and that, to me, is simply a part of being a human being and a part of human nature. It's something that is not necessarily to be rejected or denied.
"For me, as a Muslim, there's a context in which it is to be celebrated and a context in which it's to be fully expressed."
She added that in a world where Donald Trump is President, it is more important than ever that "we are free and comfortable to express ourselves".
What are your hopes for women in 2017?
"I hope that we can begin to realise that the glass ceiling that we've been told about for so long is only an illusion," she said.
"I also hope women realise that our femininity is our power and it's our gift as human beings. We don't have to behave like men to be successful. You can still be a woman and still be strong, still be articulate, still be successful and still be you. My hope for women is that we're just not afraid to be ourselves."
Ilona Szalay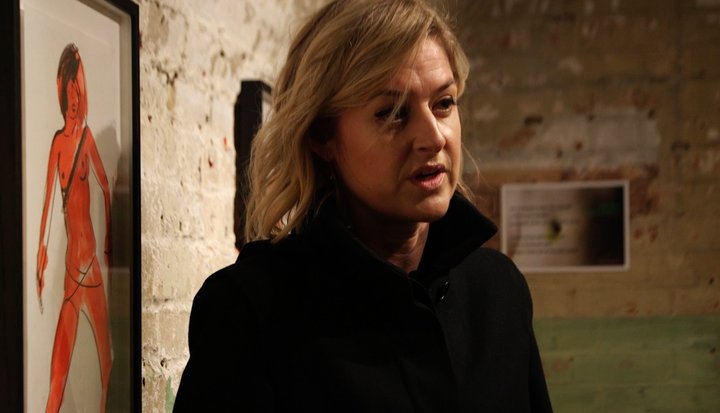 Ilona Szalay, who was born in Lebanon and now lives in the UK, took an ancient Arabic poem and transformed it into a series of eight paintings and drawings, with women taking centre-stage as the dominant subject.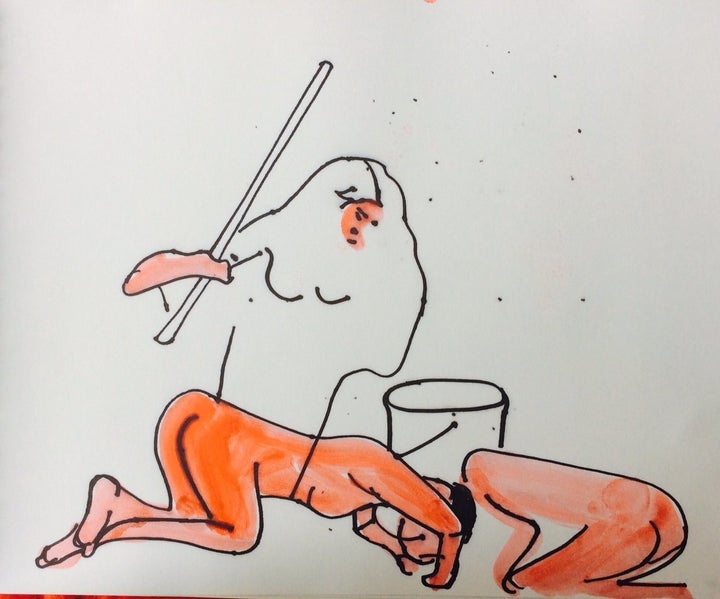 What does female lust mean to you?
"Female sexual desire is a very rich, complicated subject," she said. "We live in a world which is saturated with sexual imagery of women and I feel that it's coming from a very male point of view - so the female voice, as the consumer rather than the consumed, is not very loud.
"I was interested in looking at that element - the idea of female desire being an active thing, rather than a passive one. I think it's really important that there's another story going on, aside from the male-centric one.
"One thing I want people to take away from my work is that there is no right or wrong in sexuality. Sexuality is incredibly diverse, it's incredibly subjective, it's beautiful - and to have an open dialogue about it is important."
What are your hopes for women in 2017?
"I think 2017 is going to be a huge year for women because of global political events which are bubbling," she explained.
"I hope the female voice becomes stronger, more unified and less polarised."
Darin Ahmad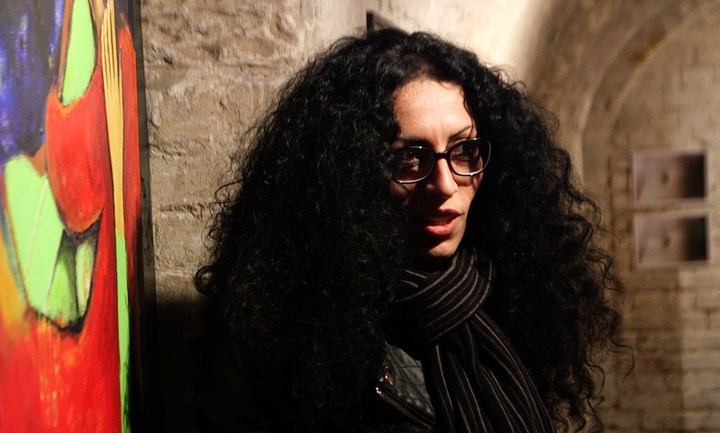 Darin Ahmad is a Syrian artist, now residing in Germany, who created a painting of a woman cradling her lover. Her hand is reaching down to his groin, a clear display of her sexuality and desire.
Ahmad said she was particularly excited about the project because it combines old poetry with new artwork, unites female artists from around the world and presents the "bright side of Arabic culture".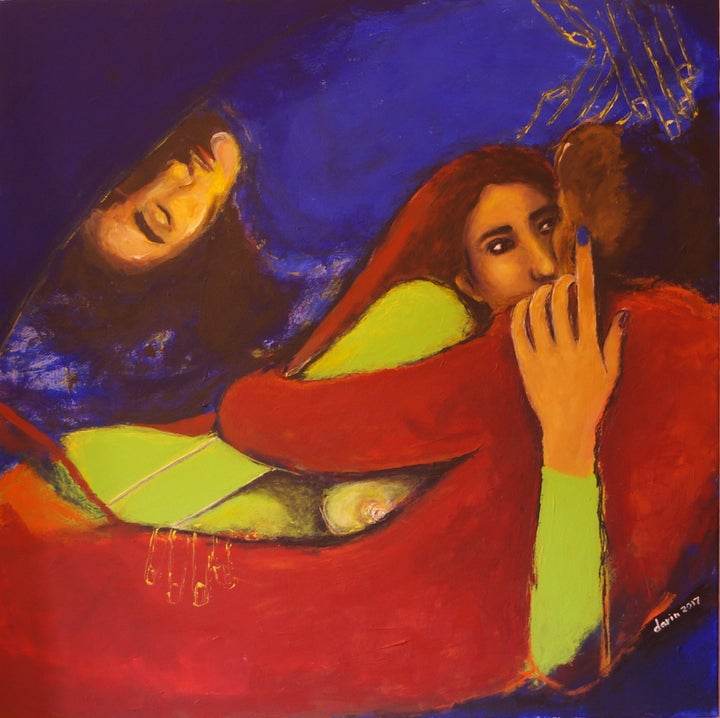 What does female lust mean to you?
"I think female lust is a dark point in our culture, because it's a masculine culture," Ahmad explained.
"In our culture it has a negative meaning. But for me it's positive, I think it is the energy of our world."
What are your hopes for women in 2017?
"The whole world is changing... I hope that women, together, can do something - not against men, not against anything, but working together to make changes."
Michelle Tiwo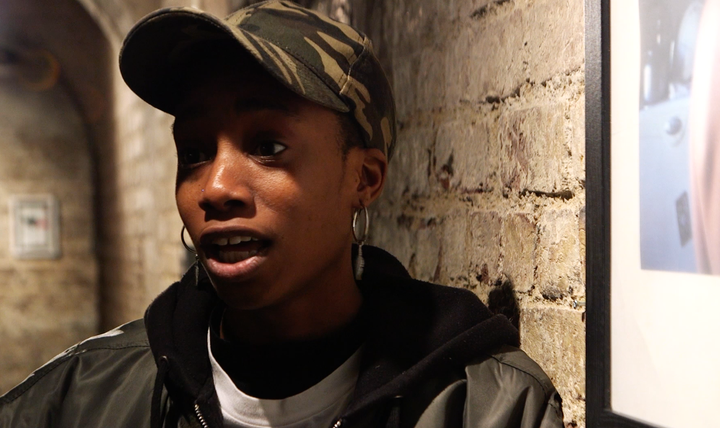 Michelle Tiwo, whose family are originally from Togo and Nigeria, created a piece called 'There's No Home For You Here' which is about a woman going through a breakup.
The painting features a woman in her underwear who has been "liberated from her ex" and has taken her top off. The word 'no' is repeated across her underwear - to represent consent and empowerment - while an English translation of the original Arabic poem floats around her body.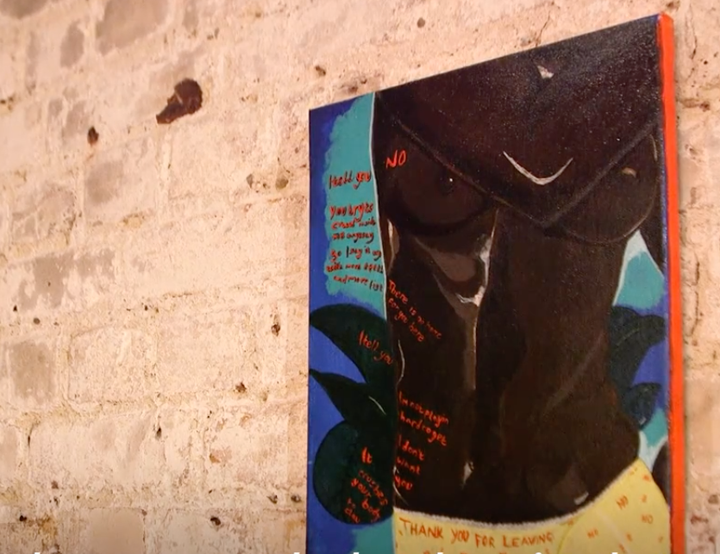 What does female lust mean to you?
"I suppose it means being a woman and owning your sexuality, owning your desires, not being afraid of it, not shying away from it - and not worrying about what men think about that," said Tiwo, who lives in the UK.
"Men are allowed to be lustful, but when it's a woman all of a sudden it becomes an issue. Female lust is about empowering yourself."
What are your hopes for women in 2017?
"I hope that we can all come together to dismantle patriarchy, misogyny and sexism, and just really uplift and support each other, and show each other love from a really genuine place," she added.
Anu Ambasna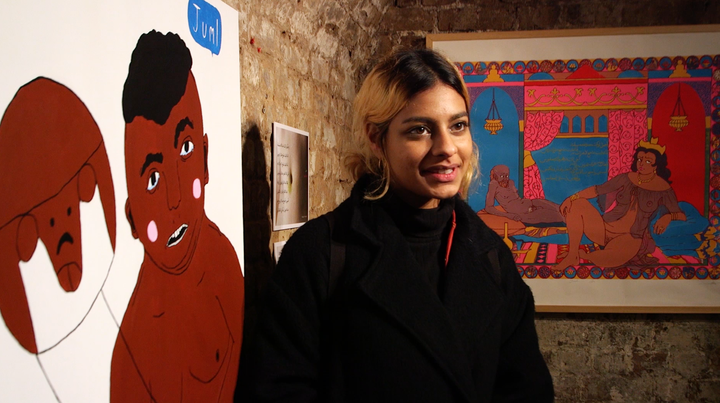 Anu Ambasna, who has Indian heritage but lives in the UK, was given a poem that was about about a man who was dealt a drooping penis because he had sinned.
In her piece, 'Text Messages From God', she painted a man with a small penis complete with a sad face. She explained that the man was dealt this flaccid penis by Allah because he had smoked cigarettes.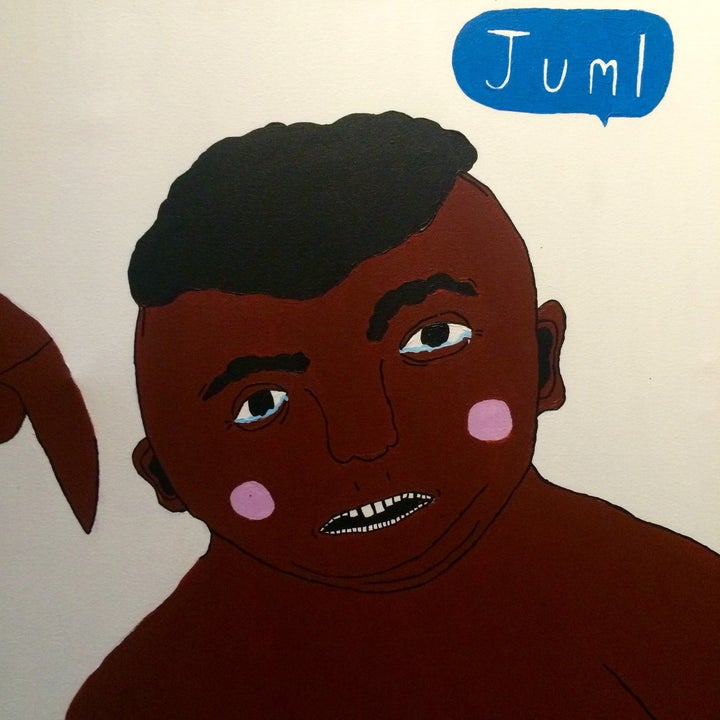 What does female lust mean to you?
"The emotions and inhibitions that a female would feel, just like a male would feel," she said.
"I think female lust might be interpreted in a different way to male lust because if you're lustful as a female you can be deemed as a slut, but with a male it's okay."
What are your hopes for women in 2017?
"That we are being constantly given platforms," she explained. "I feel that it's already happening. I've heard people saying 2017 is 'the year for women'. We are being recognised and we should be given the same opportunities as men.
"I also hope people can learn, from this exhibition, to be a lot less judgmental of women of colour - and not to put everyone in a box. No matter what faith you're from, or what culture you're from, we all have so many similarities."
Rosie Hilal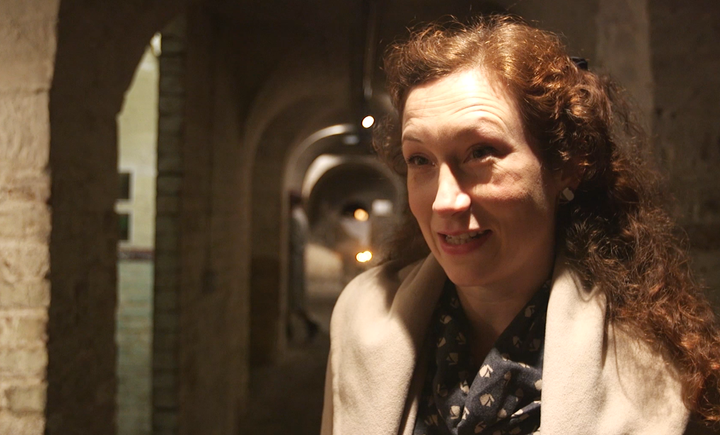 Rosie Hilal, who has Turkish heritage but lives in the UK, took a poem about a woman who wanted to show her lover "that her fire is hotter than anyone else's" and transformed it into a portrait painting of a woman in a roll-neck jumper, staring forwards lustfully. There is a fire burning in her chest.
Hilal explained that she wanted others to see sexuality as "something that can be covered up, something that can be private and yet still enjoyed".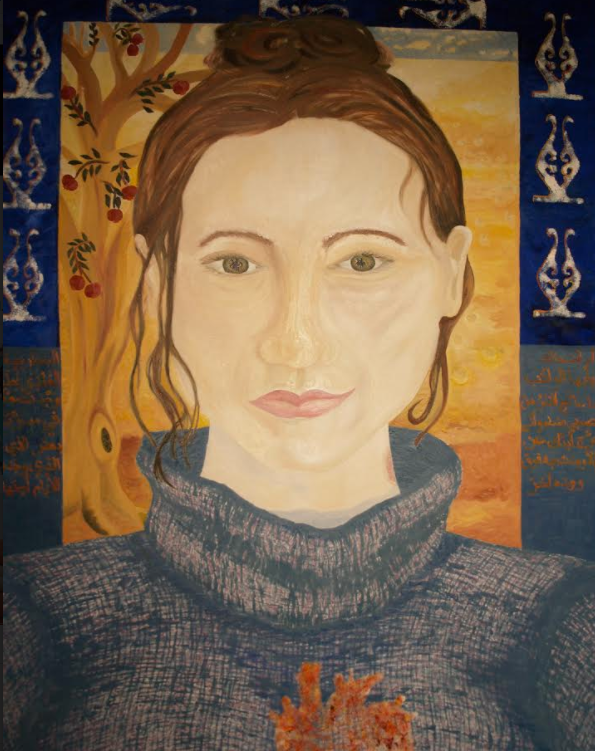 What does female lust mean to you?
"For me, female lust is intrinsically linked with feeling free," Hilal explained.
"I don't think any woman can enjoy her own sexuality when she feels oppressed or inhibited. And I think there are many ways in which society makes us feel like that - from pornography to the constant naked images or images of women in bikinis on the tube, to these overly-perfect bodies that we're supposed to have.
"In other societies, there are other forms of oppression too, whether that's not letting you be educated, not letting you own property or not letting you make your own marriage choices.
"We have this patriarchal society where men get to decide what happens to women. Women don't have agency over their own bodies still and I think we need to crush some of the stereotypes surrounding women's sexuality, which is deemed this dangerous thing that you have to keep under control."
What are your hopes for women in 2017?
"World peace, I really hope that women are listened to more and that men start doing things slightly differently and learning from women," she said.
"Women are amazing builders, they're connectors, they work together. They are taught from birth to cooperate and I think men often miss out on that.
"It would be so great if women of all backgrounds and men of all backgrounds could start creating peace together."
'Radical Love' is on display until 5 March at The Crypt Gallery, London. Art is for sale with 50% of the profits going to the Global Fund for Women which helps Syrian refugees.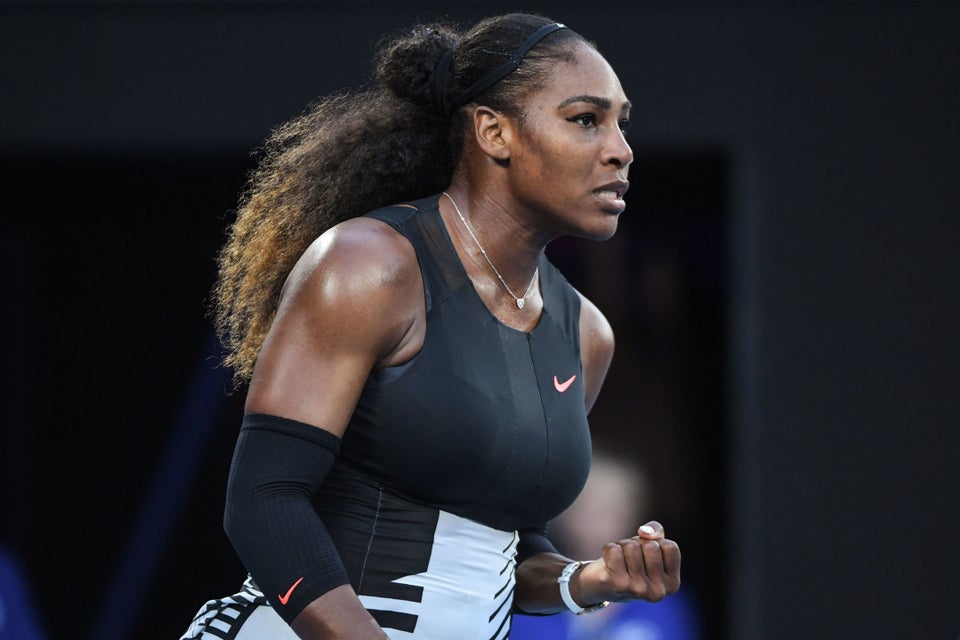 Women Who Prove It's Cool To Be Competitive
Related