A bride-to-be is battling a mystery illness which leaves her face constantly covered in large, blue bruises.
Adele Uden, 26, first began to suffer from problems 18 months after her seven-year-old son Zak was born via emergency caesarean section.
The mum-of-one was left in agonising pain and needed surgery following the procedure, which caused scar tissue.
She was later diagnosed with polycystic ovary syndrome and endometriosis, where tissue that behaves like the lining of the womb is found outside of it.
Adele also suffers from unexplained bruising, which led to rumours that her fiancé Chris North, 26, had been beating her.
Doctors have been left baffled by the condition and have been unable to explain why the mystery marks have started appearing in the last 18 months.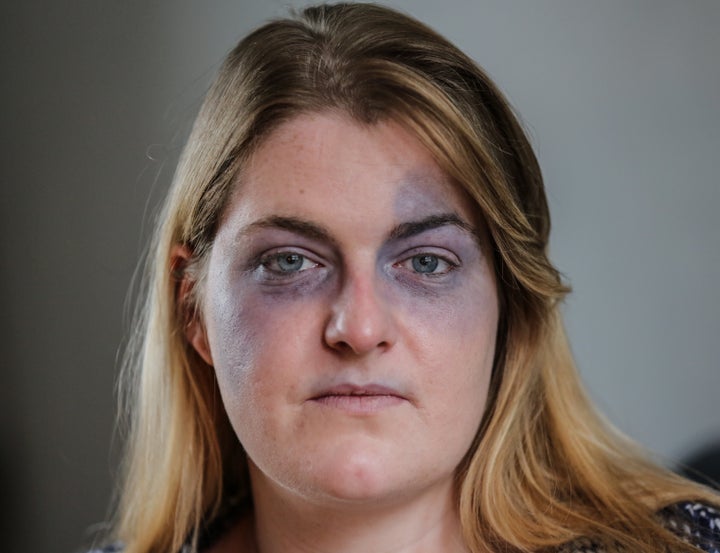 Adele, who lives with fiancé Chris in Mansfield, Notts., said: "The bruises are changing and ever-moving but they don't hurt to touch.
"They come and go randomly and then reappear. It's gradually been getting worse over the past 18 months to the point they are always there and I constantly look like I've been beaten.
"I'm seeing a haematologist at the moment but nobody has been able to offer an explanation as to why these bruise-like marks keep breaking out.
"It's a mystery to them at the moment."
The former watch-repairer is also in constant pain and suffers bleeding on a daily basis - and has cheated death on several occasions.
Shockingly, she has been resuscitated six times in the past 12 months and undergone nine emergency blood transfusions.
Adele takes an astonishing 220 tablets a week as well as liquid morphine to cope with her condition and has a wheelchair and aids to help her walk.
The mystery condition has baffled doctors despite Adele making numerous visits to her GP and hospital and even having exploratory operations to look into the source of the problem.
Adele, who has now started having sudden spells of heavy bleeding and passing out, has been rushed to hospital five times in the last nine months.
"The doctors said if this carries on, it's going to shorten my life," she said.
"It's come down to quality, not quantity of my life.
"There's been times when I've said my goodbyes to Chris and my mum but I've come out the other end.
"But because they don't know exactly what's wrong with me, they can't really give a detailed long-term prognosis.
"I'm just trying to carry on with things the best I can and I just really want to know what I'm suffering from."
Her family feared she was going to die when she was rushed into theatre for emergency surgery after suffering a heavy bleed in July last year.
It was after that incident that childhood sweetheart Chris decided to propose to her.
The couple are now tying the knot on 4 May after a host of bridal suppliers rallied around the pair to supply them with a wedding package worth £10,000.
Adele, who had scoured magazines for competitions, was stunned when she received a call from Bespoke Weddings saying she had won Shottle Hall in Belper, Derbys., as their venue.
Adele said: "It's very overwhelming but I'm very, very grateful and it's given me a lot of confidence that there are still some good people out there."
Chris, who gave up his job as a chef to look after his fiancee, added: "I'm just looking forward to getting married - it's something we both really want.
"Its been a tough few years but Adele is amazing and just battles everything that is put in front of her."
Natasha Sellers, from Mansfield-based wedding planners Bespoke Weddings, said Adele is "inspirational".
She added: "Even when I met her, she was having to take morphine and was in constant pain.
"To look after a young child and keep her chin up is really inspirational. It's just really nice to give something good."
A spokesman for Sherwood Forest Hospitals NHS Foundation Trust said it could not comment on individual cases.