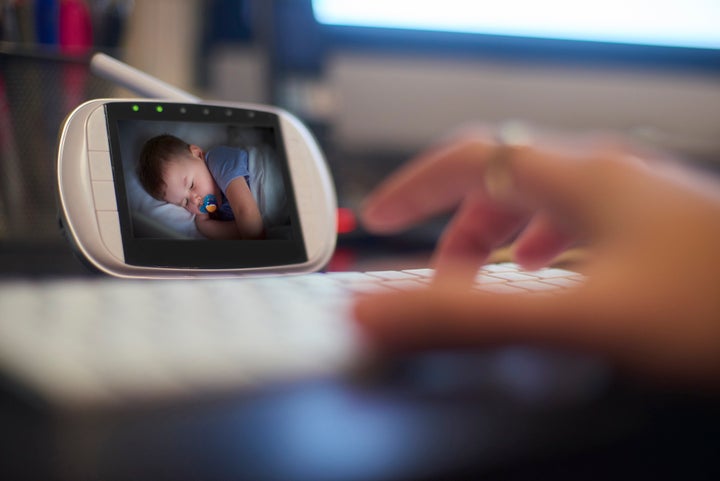 What's it like to return to the office from maternity leave without an office to return to? This is a question I'd foolishly hoped I wouldn't have to answer. After all, I gave birth back in the first wave, and surely the world would be back on track by January 2021?
Like all "Covid mums", I experienced moments of deep joy this year, but spent much of it pacing the streets, exhausted, alone with a newborn baby and nowhere to feed or change him apart from a park bench. Now I find myself trying to manage another rite of passage refracted through a Covid lens: the transition from full-time childcare to work.
I'm lucky to have spent my career surrounded by incredible working mums, and to have been raised by one. Working motherhood looked hard, but it was also something I aspired to.
"On the first working day after Christmas, I ascended the stairs to shut myself in the attic, feeling a little like a modern update on Mrs Rochester."
"Going back to work was when I really started to enjoy motherhood," a friend told me once. "You have less time," said another, "but you become so much more efficient."
One colleague returned from her second maternity leave with the best work wardrobe in the building, and confided that she lines up all her work clothes in the spare room every Sunday night. I love my son's company but I too imagined myself selecting an outfit unsuitable for grubby fingers and baby vomit, then standing on a packed commuter train feeling the strange levity of not being attached to a pram.
Then Covid happened. Still, the optimists were out in force. My partner is taking a couple of months of shared parental leave, meaning he will be looking after our son at home while I work here. People told me how much I'd enjoy cuddling the baby in between meetings. Others suggested I could carry on breastfeeding during the working day. Anyone who has done work calls with the laptop camera tilted up to hide the small human feeding in her lap will know this is far from ideal. But I was willing to be persuaded. After all, I know many parents love home working, and the flexibility it can offer when you're juggling childcare and careers.
So, on the first working day after Christmas, I ascended the stairs to shut myself in the attic, feeling a little like a modern update on Mrs Rochester. As my son gurgled at me happily from the breakfast table, the time-honoured guilt was there, even though my commute was only a few steps. I'd decided to try and dress for work – something met with amusement by colleagues, who are all home-working veterans by now. But after eight months of barely wearing mascara, let alone a blazer, I needed something to trick my brain into thinking I'm capable of leaving my domestic identity behind, even if I haven't left the domestic sphere.
Those tricks matter. I long, as many – though certainly not all – of us do, to chat to a colleague by the coffee machine, or catch a glimpse of myself in the mirror in the office loo, dressed as Me At Work. At home, I've assumed a different identity than the one I left behind in the office and I'm not sure how to blend the two together. The first day of meetings only served to deepen the sense of confusion. My team, hardworking and exhausted by a draining year of news coverage, expressed excitement I would be back with "new energy" and "fresh ideas". But after eight months tending to a baby in a world where everything was closed I felt as tired as them.
The silence is the strangest thing. For so long, all I craved was a moment of peace. I have loved being the mother of a small baby so much more than I expected but never being alone can take its toll. And for people (mainly women) doing childcare in this pandemic, there is often no one to take the baby while you grab a shower or drink a cup of tea before it gets cold. To suddenly find myself with only the tap-tap of my laptop keys for company was a shock to the system. By day two I had plugged a radio in next to my desk.
Is it better or worse to be returning from maternity leave in this moment? For me, that's hard to say.
If resilience is a skill we all honed in 2020 then an ability to better absorb disappointment is something the new mothers of 2020 have practised even more. After giving birth during a pandemic surrounded by people in facemasks and visors, missing a chance to put on your favourite work shoes and grab a Pret coffee on the way in doesn't feel very important. Then you hear the baby crying while you're in the midst of something – you're at work and you can't go to comfort them. And you're halfway back there, walking those empty streets with a pram or weeping with exhaustion on a bench as you try to feed a hungry six-week-old.
So many women are forced back to work after becoming mothers through economic necessity. I am one of the very lucky ones – I love my job, I have a room to do it in away from my family, and I count my colleagues as friends. And after months of unchanging hours and days caring for a tiny baby in lockdown, I longed for the structure and company of my professional life.
But the truth is it's not the same in this strange pandemic landscape. That sense of multiple identities crashing into each other is familiar to all working mums, but Covid has robbed us of the devices that ease the transition into our new hybrid selves. As one woman put it to me: "The physical distance, while at the time I found hard, is in hindsight so important for allowing mental distance. Reclaiming that bit of you is so important."
For now, as much as I sometimes miss the idea of that packed commuter train to run away to each morning as I leave my son behind, with its snatched moments of "me time" between working and parenting, I will try to recall instead the journey home after a long day. And for every wrench at hearing a noise downstairs while I try to retain my composure in a meeting, there is the unexpected gift of being there each night for a pre-bedtime cuddle.
Jess Brammar is editor-in-chief of HuffPost UK