Ads for the premium bottled water brand No 1 Rosemary Water have been banned for suggesting the drink can free the body of illness and disease and extend life.
A campaign for the water, seen in April and June last year, used various headlines based around claims that people in the Italian hamlet of Acciaroli consumed rosemary on a daily basis and lived to more than 100 years old in "unusually large numbers".
The ads went on to claim a combination of extraction techniques resulted in "all the correct amino acids and flavonoids being present", and that "evidence strongly suggests a daily intake of rosemary can help the body stay illness-free and in turn contribute to a much longer life".
The campaign claimed almost 350 (roughly one in 10) people living in Acciaroli are now healthy centenarians with "little or no Alzheimers (sic), arthritis or cataracts," adding: "Scientists believe their daily consumption of rosemary is responsible for their incredible good health and longevity."
It also referred to widely-reported findings by Dr Mark Moss, of Northumbria University, that exposure to the smell of rosemary can help to boost children's memory.
A paid-for tweet promoting the water, which initially sold exclusively at Harvey Nichols at £3.95 for a 750 ml bottle, read: "Anti-inflammatory, anti-oxidant, anti-carcinogenic and memory-boosting. It must be something in the water."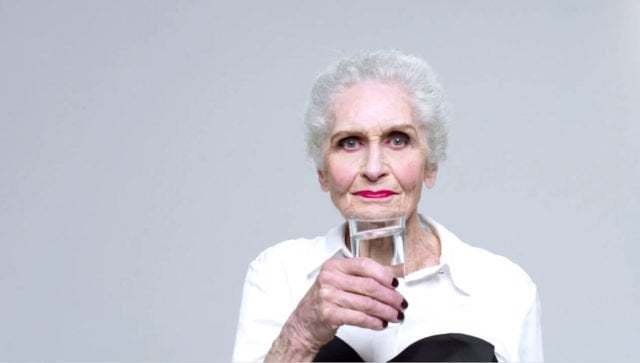 A video ad showed a woman with long silver hair taking a sip of the water before her appearance changed to look as if she were in her twenties.
The Advertising Standards Authority (ASA) received 19 complaints that the campaign's explicit and implied claims the water could help the body stay free of illness, improve memory and provide "good health and longevity" were unauthorised.
Rosemary Water said its claim that a high proportion of Acciaroli's residents had little or no Alzheimer's, arthritis or cataracts did not imply that the product or any of its ingredients were responsible for those low rates of disease.
They said the ads communicated facts about the very low rates of specific chronic and degenerative diseases in Acciaroli's citizens, and indicated that their rosemary was sourced from near to the town.
They said the ads did not make any link, either stated or implied, between disease prevention and the consumption of rosemary or No1 Rosemary Water.
Upholding the complaints, the ASA said consumers would understand the claims to mean that the product could prevent them from developing cancer, the development of diseases, prevent the development of Alzheimer's, arthritis and cataracts, and provide general benefits for overall good health and health related well-being.
It noted none of the general health claims in the ads were accompanied by a specific health claim authorised on the EU Register, saying: "We concluded the general health claims in the ads therefore breached the code."
It ruled the ads must not appear again, adding: "We told Rosemary Water not to make claims that No1 Rosemary Water could prevent, treat or cure disease."