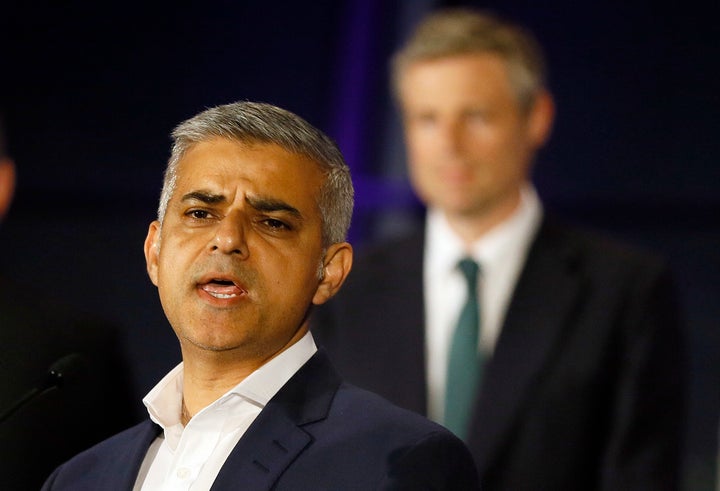 Sadiq Khan claimed Londoners have chosen "hope over fear" as he beat Zac Goldsmith to become the Mayor of the capital.
The Labour candidate won on second preferences, winning 57 per cent of the vote to the Tory candidate's 43 per cent.
Speaking at 12.30am, after a count that went on for more than 16 hours, Khan said he was "deeply humbled" by the "hope and trust" placed in him by Londoners.
The new Mayor of London then turned his attention to nature of the campaign run by Goldsmith, which even some Tory colleagues had described as "dog whistle" for its focus on Khan's supposed links to "extremists".
With Goldsmith looking on, Khan said: "This election was not without controversy and I am so proud that London has today chosen hope over fear and unity over division.
"I hope that we will never be offered such a stark choice again. Fear does not make us safer, it only makes us weaker, and the politics of fear is simply not welcome in our city."
It was noticeable that Khan did not mention Labour leader Jeremy Corbyn in his winning speech.
Speaking after Khan, Goldsmith said he was "disappointed, of course" by the result, but congratulated the Labour victor.
"I wish him well as sets out to build on the successes that we have seen under Boris Johnson," he said.
As he stepped away from the podium, Labour MP Dawn Butler shouted "apologise" at Goldsmith.
The contest to succeed Johnson became increasingly divisive in the run up to the vote, with Goldsmith questioning Khan's links to "extremists", and Labour claiming the Tories were running an "Islamophobic" campaign.
But ultimately Khan prevailed, and has won City Hall back for Labour after eight years of the Tories ruling the capital.
After the count, Khan headed to his victory party in a bar near to City Hall, which was attended by, among others, comedian Bill Bailey.
He said: "How do you think they feel when – and I say this without hubris or arrogance – a mainstream British Muslim, someone who has spent his life lecturing British Muslims about getting involved in mainstream society and civic society is treated this way?
"I've already had people approaching me saying 'you know, do you really think I'm going to encourage my nephew and niece, son and daughter, to get involved in politics if this is the way that you're treated?'
"That's why I'm disappointed in Zac. Zac should know better and Zac does know better and one of the things when you're a candidate is you receive advice all the time."