Sainsbury's has launched its own same-sex Valentine's Day cards, for the first time ever.
In a bid to be more inclusive, the supermarket now sells two cards, one featuring an all-female couple and the other an all-male couple, with the words 'You + Me'.
Prices start at £1.99 and the cards will be stocked in nearly 500 stores across the UK.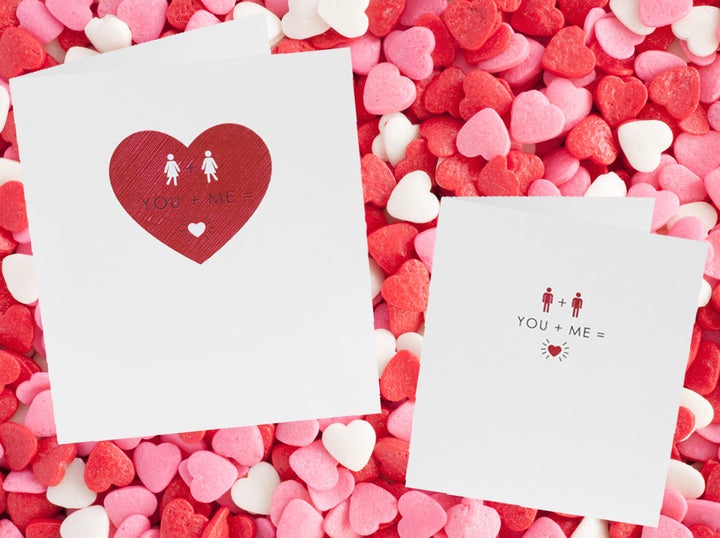 "I think it's a great idea," Eve Hartley, multimedia editor for The Huffington Post UK, said of the cards.
"Representation is so important in the strive for equality. The simple act of having two women holding hands or two men kissing on the front of a greeting card really helps to illustrate happy LGB relationships across the UK.
"I would hope that all couples can feel represented by what's on the shelves."
The UK greeting card industry is worth an estimated £1.7 billion and keeps growing, with Britons buying an average of 31 cards per year. Roughly £40.2 million of that is spent on Valentine's Day cards, the highest spend among special occasions.
James Brown, director of commercial for Sainsbury's, said: "Choosing the perfect Valentine's Day card is a personal and sentimental experience, which is why we're pleased to offer new same-sex cards and give all of our love-stricken customers the ability to choose the card that's right for them."
Sainsbury's aim is to become "the most inclusive retailer, where people love to work and shop". Last year, over 2000 Sainsbury's colleagues attended 28 Pride events across the UK.
The supermarket also has an active LGBT network of nearly 600 members including colleagues, stakeholders and organisations that come together regularly to share experiences and contribute ideas to further support LGBT+ colleagues.