The couple, who announced their engagement in May 2019, tied the knot in an intimate ceremony over the weekend after three years of dating.
The Black Widow star and the Saturday Night Live comedian broke the news via the Meals On Wheels America Instagram account on Thursday, which noted that the wedding had taken place with their "immediate family and loved ones" under "Covid-19 safety precautions as directed by the CDC."
"Their wedding wish is to help make a difference for vulnerable older adults during this difficult time by supporting @mealsonwheelsamerica," the organisation captioned a photo of the Staten Island Ferry with wedding cans edited onto the rear of the vessel.
Just to drive it home, the words "JOST MARRIED" were splashed across the image.
The pair, known as ScarJost, first met on the set of the late-night sketch comedy series back in 2006. At the time, she was returning as a host and he was just a newbie writer, but the two successfully collaborated on a parody sketch of MTV's My Super Sweet Sixteen.
"I remember her being beautiful, smart, sweet, and intimidatingly sophisticated," Jost said of his first impression of his future fiancée in his recently published memoir. "And she had a grace and a smile that I've still never seen in any other human."
But their connection was strictly platonic at the time, as Johansson soon started dating actor Ryan Reynolds, whom she would later marry before the two divorced in July 2011.
After the Avengers Endgame star remarried and then divorced her second husband, Romain Duriac, with whom she shares her 5-year-old daughter Rose, she returned to SNL to host once again and sparked a romance with Jost.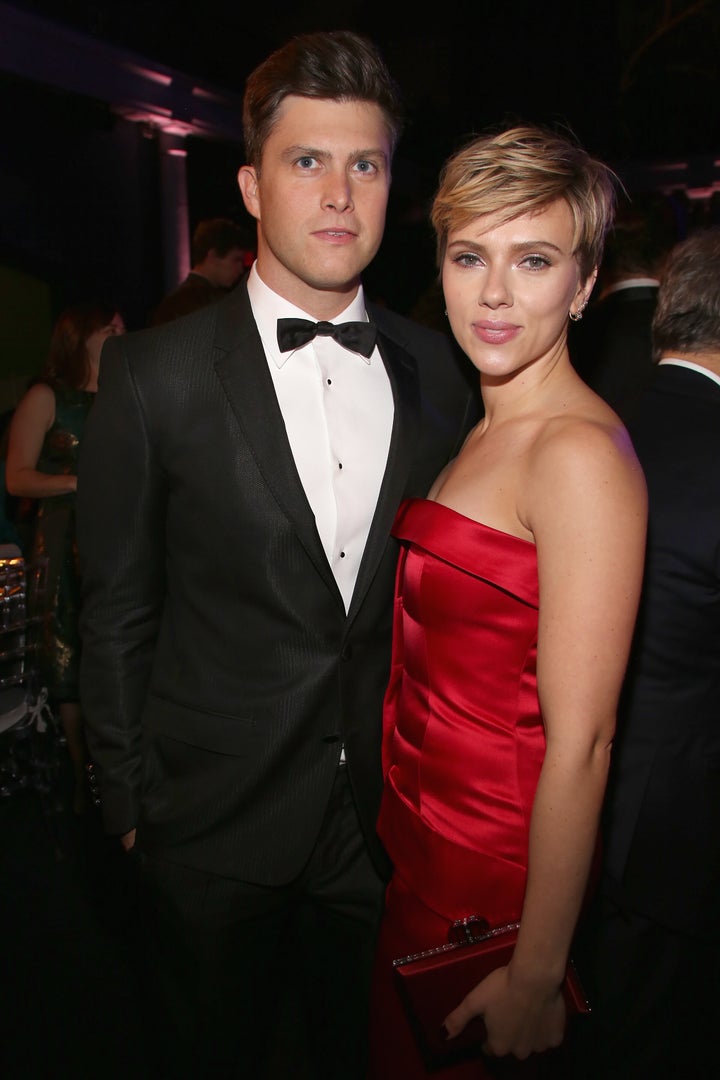 The two kept their relationship private for a short time before making their public debut as a couple in November 2017. Two years later, Jost popped the question with an 11-carat diamond, which Johansson flashed for the first time during a San Diego Comic-Con 2019 panel.
Johansson said Jost "killed it" in his proposal, which she said came as a surprise.
"He's very charming and very thoughtful and romantic. But yeah, I was surprised," she explained, calling his approach "a whole James Bond situation." "Even if you kind of imagine what that moment's gonna be like, it's still a beautiful moment ... I think more than anything, when someone tells you they want to share the rest of their life with you, it's a lovely, special thing."
Johansson and Jost reunited on the SNL stage last year, with the Oscar nominee declaring she had met the "love of my life" on the show.
And as for their wedding ceremony, the real question is whether Jost's Weekend Update co-anchor, Michael Che, had any objections.
"I mean, he plans to make a scene at most events. I would say that's his general approach," Jost told host Ellen Degeneres of Che. "That's part of why we've just been postponing it. We can see him getting ready for the wedding and we're like, maybe we should wait another day."
"What I really want for Che, I want to ask him to do an objection at the wedding," he joked. "You know, a lot of people do speeches, but I think it would be nice in that moment. So few people utilise that moment to object, and I think he could do a really great objection."