A mum fears her toddler faces a race against time to get urgent treatment before his spine curves so much it puts his life in danger.
Konrad Smith, two, has scoliosis, which has already caused his spine to curve by 57.5 degrees, meaning it is now virtually 's' shaped.
Konrad's mum Lisa Pendry, 31, is concerned her son's condition will worsen before he can get NHS treatment.
"If his spine gets worse I fear it could affect his breathing and be life-threatening," she said.
"I'm not prepared to wait."
Doctors in Llandough, Cardiff, have said they can treat Konrad, but Pendry fears the four week wait time is too long for her son.
She is now crowdfunding to help her fund more immediate treatment in London.
"I pleaded for doctors to see him sooner, but I was told it wasn't possible," said Pendry, from Aberbargoed, in mid-Glamorgan.
"I understand there is a way to apply for funding for treatment but we don't want to wait so we're looking to raise the money ourselves. If the only way to get him seen fast is to go private, we'll find a way to pay.
"I think my little boy deserves the best possible chance."
Alarm bells first rang for Pendry in early 2015, when she noticed that Konrad had started leaning to one side when he stood.
He also walked with a limp and his right side arched when he lay down.
She was drying him after a bath one day in September 2015 when she felt the abnormal curvature of his spine.
"I felt his back and his spine ran down the centre of his back, before veering to the right, then down the centre again," Lisa recalled.
"I shouted to his dad, Darren Smith, 'Oh my god, his spine's missing.'"
Outwardly, Konrad's right shoulder was higher than his left, and his body slanted.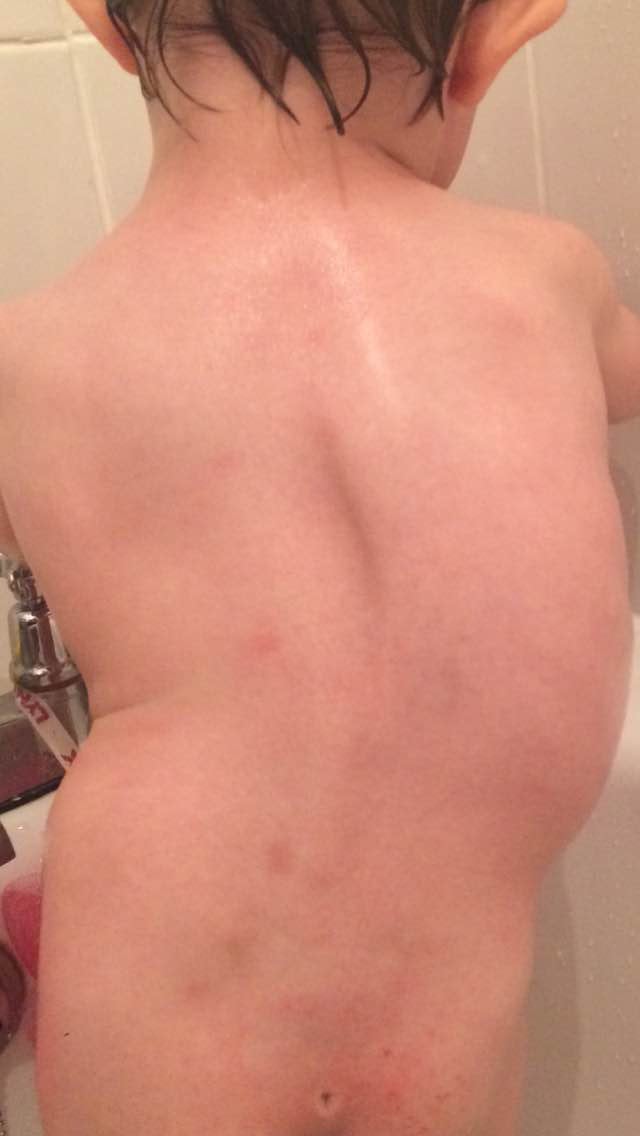 That same month, doctors at Prince Charles Hospital in Merthyr Tydfil officially diagnosed Konrad with scoliosis, which is the abnormal twisting and curvature of the spine.
They also noted that his right leg is two centimetres shorter than his left, and his hip bones are out of alignment.
Konrad was booked in for a series of scans to fully examine his spine, which confirmed the curve was there and checked for any other weaknesses.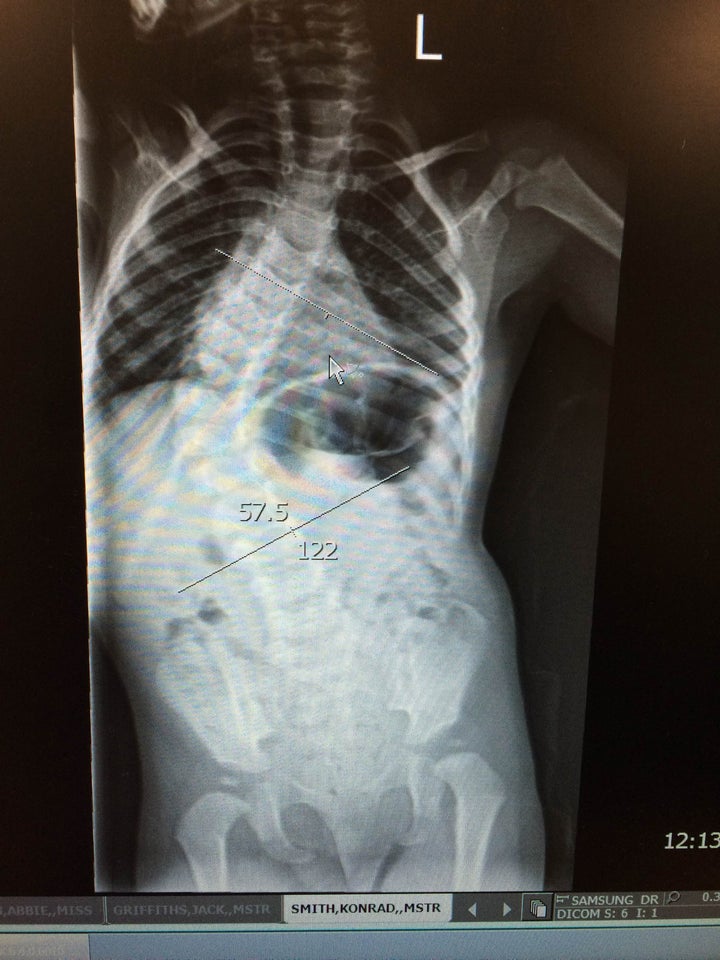 Earlier this year, Pendry was told Konrad would need to wear a brace for 23 hours a day.
It is hoped that this would apply pressure to his body, preventing his spine from curving further.
But, due to standard wait times, he cannot be fitted for the brace until September, leaving Pendry fearing his condition would deteriorate in that time.
She said: "Konrad had an X-ray in February and the curve was 30 degrees, then he had another in June and it was 57.5 degrees, It's doubled in four months.
"By September, his spine could bend by another 30 degrees and if it gets over 70 degrees there's a possibility this could affect his breathing."
Now, Pendry is hoping Konrad can be treated privately at Great Ormond Street Hospital in central London.
There, he will have his brace within two weeks.
She has set up a GoFundMe page to help gather the £7,500 needed to cover up to a year of appointments including transport and accommodation, plus all the braces Konrad will need as his spine straightens.
Should the NHS treatment become available earlier than expected Pendry would donate the money to charity.
It is thought Konrad will need a new brace fitted every two months.
Then, when he turns five, he can undergo surgery which will fuse metal rods to his spine to keep it from bending again.
"Hopefully then he can play with his half-sisters, Kacey and Ellie, both 11, and five-month-old sister Madison," said Pendry.
"He's adapted to his condition and doesn't let it stop him. He'll run around at home, but he'll hold my hand once we're out the front door because he's worried he'll fall over.
"I'd like to see him having fun and keeping up at the playground."
A spokeswoman for Cardiff and Vale University Health Board said: "We are unable to comment on individual cases.
"We are continually working with patients and their families to ensure that we provide access to the treatments and services that all patients require as quickly as possible. We will continue to work with the family to reach the best possible outcome."