 In 2009, as conservative consultant Sean Noble was poised to launch the Center to Protect Patient Rights, an Arizona-based advocacy group, he was invited to one of the secretive conferences for wealthy donors and prominent politicos hosted by multibillionaires Charles and David Koch.

Noble's entree to the Kochs' fundraising kingdom came via Randy Kendrick, a conservative philanthropist and a regular attendee at the Kochs' confabs. Kendrick, a fellow Arizonan, proved to be instrumental in building and financing Noble's outfit. She helped introduce Noble to the Koch donor world and has kicked in previously unreported seven-figure checks to the center, multiple GOP consultants familiar with the group told The Huffington Post.
The center's growth has been staggering. Kendrick's largess is part of an estimated $200 million that's flowed to Noble's group since 2009. By 2010, ahead of that year's midterm congressional elections, Noble's center had evolved into a giant conduit through which donors secretly funneled over $55 million to some 20 other conservative groups, which, in turn, ran ads to help Republicans and attack Obamacare.
The center's clout grew even more in advance of last year's presidential election. The largest chunk of the center's funding to date has come from one group, Freedom Partners, another Koch-linked money machine to promote small-government ideas, which contributed $115 million to the center in the year prior to the 2012 elections, according to Internal Revenue Service records.
Along the way, Noble, a devout Mormon, father of five and former chief of staff to then-Rep. John Shadegg (R-Ariz.), became a prominent player in conservative circles. Noble, who seems to relish flying under the public radar, has spoken at several of the Kochs' semi-annual conferences and, according to attendees, often represented the Koch network of conservative groups at periodic strategy meetings hosted by Karl Rove's American Crossroads during the last election cycle. One GOP operative told HuffPost that in 2012, Noble was "the wizard behind the screen," serving as a key strategist for Koch-allied groups and donors working to unseat President Barack Obama.
The consultants who spoke to HuffPost asked for anonymity because they weren't authorized to discuss private donations. Neither Kendrick nor Noble responded to calls seeking comment.
Now, however, according to three GOP operatives, Noble appears to have fallen out of favor with many in the Koch world. Even as he continues to leverage his "dark money" ties with his private consulting business, Noble's center has become entangled in an ongoing California probe that a state election regulator has called the largest case of "campaign money laundering" in California history.
As a result, one GOP operative said, "Noble has had his wings clipped."
The Center to Protect Patient Rights, whose only address is a P.O. box outside Phoenix, Ariz., is emblematic of the Koch network's penchant for secrecy and its increasing complexity and opaqueness.
As a "social welfare" 501(c)(4) nonprofit group, whose primary purpose cannot be political activity, the center must provide information about its donors to the IRS -- though the names aren't disclosed publicly. But in a move apparently to further mask its donors, the center has been working with an affiliated Delaware-based limited liability company, Corner Table, which doesn't have to reveal its contributors at all, according to tax documents filed by Freedom Partners. James Davis, a Freedom Partners spokesman, said that his group's $115 million grant was "designated to CPPR but the actual check was sent to Corner Table."
Working through an LLC controlled by the center "would tend to obscure the source of the money," said Marc Owens, who used to head the IRS tax-exempt division and is now a partner at the law firm Caplin & Drysdale. "It adds another layer of anonymity."
According to IRS records and GOP operatives, the center has helped fund such conservative bastions as Americans for Prosperity, 60 Plus and the American Future Fund. Which groups benefited from the $115 million that Freedom Partners sent to the center, however, won't be known until the center files its next 990 tax form (most likely sometime later this year).
Like Noble's group, Freedom Partners has worked mightily to keep a low profile, even as it raked in $256 million in just its first year -- a total some 125 times greater than the $2 million it projected for its 2012 revenues, according to a tax document it filed with the IRS in late 2011. Freedom Partners was first established in late 2011 as the Association for American Innovation and changed its name just weeks prior to filing with the IRS in September of this year. The group said the new name -- which on its tax forms reads "Freedom Partners Chamber of Commerce" -- more accurately reflects its mission, but the shift also looks like an effort to bolster its bona fides as a business league.
The high premium that Koch-backed groups attach to preserving donor anonymity was underscored in a previously undisclosed email that Kevin Gentry, the lead organizer of the Kochs' twice-a-year donor meetings, sent out to scores of financial backers in September, right after Freedom Partners President Marc Short leaked key details of its IRS filing to Politico. The filing revealed that Freedom Partners has become a super conduit for funding many of the same conservative allies as the Center to Protect Patient Rights, plus others like the National Rifle Association, the U.S. Chamber of Commerce and the National Federation of Independent Business.
"As always, the confidentiality of members is a major priority for us," Gentry's email said. "So just to be clear -- filing these tax documents in no way publically [sic] discloses the names or other details of donors."
Significantly, Gentry stressed that Freedom Partners was set up as a business league or 501(c)(6) -- similar to the U.S. Chamber of Commerce -- with a tax status that "provides additional safeguards," since "members' names are not disclosed to the IRS."
The importance of anonymity to some donors has increased since last fall's elections when two California agencies began probing possible violations of a state election law by Noble's center and two other nonprofits that also don't disclose their donors. In California, the state's attorney general and its Fair Political Practices Commission have been looking into how the three nonprofits funneled $11 million to a small-business PAC in the state, which spent the funds on an unsuccessful drive to sway two ballot measures.
One ballot measure would have curbed union spending, while the other would have blocked a tax hike backed by the governor. Under California law, donors to state initiative campaigns are supposed to be fully disclosed, and the probe is seeking to ferret out the real source of the $11 million.
The inquiry has been heating up, with an increased focus on possible criminal wrongdoing, according to two people familiar with its progress, and could potentially lead to millions of dollars in civil penalties and criminal charges. In recent weeks, additional subpoenas have been issued and new cooperation has come from some witnesses, the two individuals said. Some of that cooperation seems to be "adverse" to Noble's center and parts of the Koch donor network, according to one of the two sources.
At least one donor who has been touched by the probe had previously helped fund some Koch-backed projects. Charles R. Schwab, chairman of the eponymous investment firm Charles Schwab Corp., or an entity connected to him has received a subpoena, according to an individual familiar with the probe. Charles Koch, speaking at a Koch conference in 2011, cited Schwab as one of about 30 donors who had kicked in $1 million or more in the prior year to Koch-backed causes.
A spokesperson for Schwab declined to comment. Rob Tappan, a Koch Industries spokesman, has said that the company had no financial or other role with the two California measures, and stressed that he was speaking for the Kochs and not "independent entities" such as Noble's center. Both the California attorney general's office and the Fair Political Practices Commission declined to comment. Koch Industries, a vast manufacturing and energy conglomerate, is the nation's second-largest privately owned company, with annual sales of about $100 billion and 70,000 employees worldwide.
Noble's status within the Koch network appears to have been hurt by this increased scrutiny, as well as by the disappointing outcome of the 2012 election. His niche as a top political strategist in the Koch universe is expected to be sharply reduced and funding for his center would likewise decline, GOP operatives said.
But while his work as a Koch operative may be waning, Noble's consulting firm DC London, which has offices in Phoenix and Washington, is keeping busy on other fronts -- and exploiting some of the dark money ties established via his Koch connections.
In Arizona, for instance, Noble's current consulting work involves at least one effort in tandem with a fledgling dark money group, Prosper, and a leading utility, Arizona Public Services. Together, they are battling to change a key regulatory incentive for the state's 18,000 homes and businesses that have installed rooftop solar panels. Arizona ranks among the nation's leading users of rooftop solar.
Noble is working closely with Prosper, a nonprofit group led by former Arizona House Speaker Kirk Adams (R), who in 2012 lost a race for Congress despite Noble's consulting efforts on his behalf. Serendipitously, Adams is president of Americans for Responsible Leadership, another dark money group embroiled in the California probe. Adams' group actually sent the mysterious $11 million to the small-business PAC -- and was initially listed by the PAC as the donor -- after the funds were routed through Noble's center by still another outfit, Americans for Job Security. (The money trail was unraveled after the California Supreme Court ordered Adams' group to explain where the funds originated.)
Essentially, the solar fight in Arizona is over cutting incentives under the state's net metering program, which allows business and homes with solar power to sell the excess energy that they generate back to the grid. The utility and its dark money allies argue that, under the current net metering regulations, rooftop solar users are not paying adequate fees to help cover grid maintenance costs. Solar advocates counter that the proposed regulatory changes would throttle solar usage in Arizona by reducing incentives.
Prosper and 60 Plus have been running attack ads, one of which blasts the current net metering policy as "corporate welfare." Pro-solar groups -- including one led by former Rep. Barry Goldwater Jr. (R), who chairs the major pro-rooftop solar effort, Tell Utilities Solar won't be Killed (TUSK) -- reject that message.
Goldwater voices outrage at the tactics of the dark money groups and their utility ally. "I think it's an effort of desperation," he told The Huffington Post. "Why don't they speak for themselves?" he asked, referring to the utility. "I'm pissed off that we have a monopoly. They're acting like a dinosaur when they should be encouraging solar."
Arizona Public Services has denied funding the dark money spending, but it has acknowledged that Noble is working as a consultant. And per his modus operandi, Noble has been trying to keep a low profile.
"Sean is a great absorber of information but not a great sharer of information," said one Arizona consultant who attests to his under-the-radar style. Noble, the consultant added, knows how to "leverage" fundraising and conservative alliances from his Koch network.
Whatever happens in the solar battle, consultants in Arizona said Noble has already begun forging other business deals with Adams that could help offset the loss of work in the Koch world and the uncertainty created by the ongoing California probe.
Related
Before You Go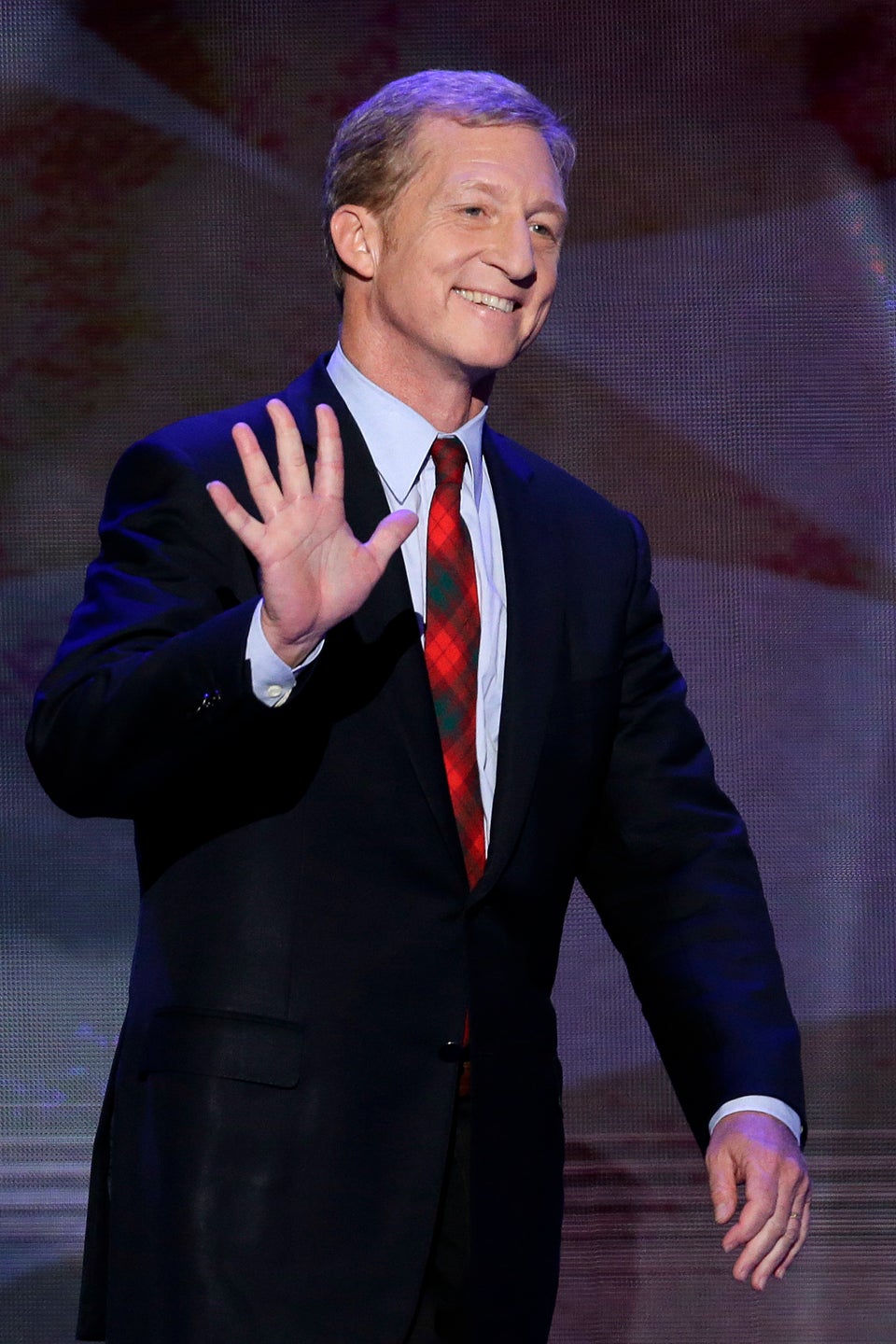 2014 Election: $500,000-Plus Super PAC Donors