Are we about to see another spike in coronavirus cases in the UK? It's a question many of us have been asking.
Currently, there are between 600-800 new daily cases of Covid-19 in the UK, but these are the laboratory-confirmed cases. The actual number will be higher, as some people will be asymptomatic (they show no symptoms) and others may receive a false negative test result. Some won't have had a test at all.
Professor David Hunter, an expert in epidemiology and medicine in the Nuffield Department of Population Health at University of Oxford, says this mode of detection – lab-confirmed tests – unearths one in five of the actual cases out there. Realistically, new infections may be 3,000-5,000 cases a day, he says.
The most recent figures from the Office for National Statistics (ONS) suggest there are around 4,200 new cases per day in England (20-26 July), up from 2,800 new cases per day the week before (13-19 July).
Cases have been stable for about a month, Prof Hunter tells HuffPost UK, rather than showing a visible decline, which is what data suggests was happening up until the start of July. "There's a substantial number of infections happening on a daily basis in the UK that could flare up," he says.
"And, of course, it's almost silly to talk about the UK as one entity because the numbers are tiny in Scotland and Northern Ireland, but not in the north of England. The one thing we know about Covid is all of that can change very rapidly, almost before we see it happening."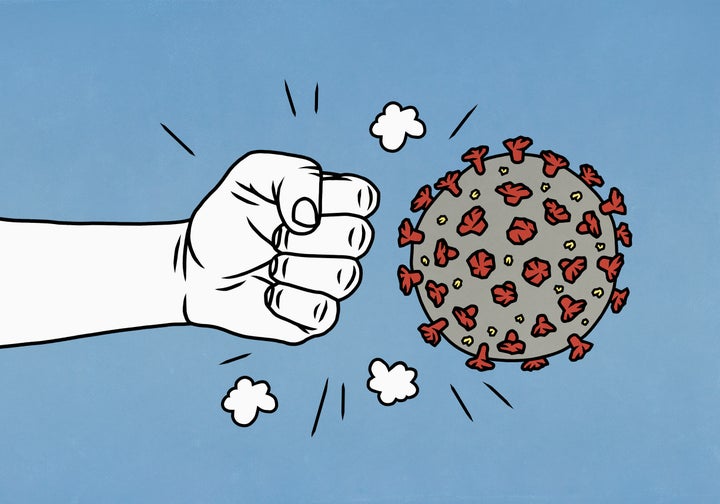 Is it one big wave, or two waves?
A World Health Organisation official has described the coronavirus pandemic as being "one big wave", while others describe the coming of a second wave, suggesting one "wave" has already passed. So, who's right?
"Both sides could be right," says Prof Hunter. "It's right to say the first wave has never gone completely away and if we do experience a substantial and visible bump in the charts, which you can only recognise in retrospect, I think it would be legitimate to call that a second wave.
"There's no universally accepted definition of waves. Some people say it's not the best analogy and that we might talk about tides coming in and out instead."
Are we heading for a second wave, then?
It's hard to say whether the UK faces an imminent second wave, but Prof Hunter says there are "troubling signs" emerging from other countries in Europe, such as Spain, where numbers have doubled from one day to the next.
Does that mean they're experiencing a second wave, as Boris Johnson suggests? Dr Michael Head, senior researcher in global health at the University of Southampton, says it's "too early" to say whether they're experiencing the start of a second wave, or simply seeing spikes in their caseloads.
"The long-term decline to zero cases of Covid-19 will always see bumps in their graphs within the downward trend," he says, adding that it's up to all of these countries to "ensure these are only 'spikes' and not a 'second wave'".
Did the July 4 easing of lockdown restrictions change anything?
Professor Jose Vazquez-Boland, chair of infectious diseases at the University of Edinburgh, believes we're now facing a "comeback of community transmission" after removing the lockdown measures – and experts agree this is largely the case across Europe, too.
The graph below shows a slight weekly rise in lab-confirmed cases in England since July 4. "We have to be clear that the efficacy of lockdowns is only temporary," he says. "There will be a resurgence of new cases every time social restriction measures are lifted as long as the virus remains in circulation."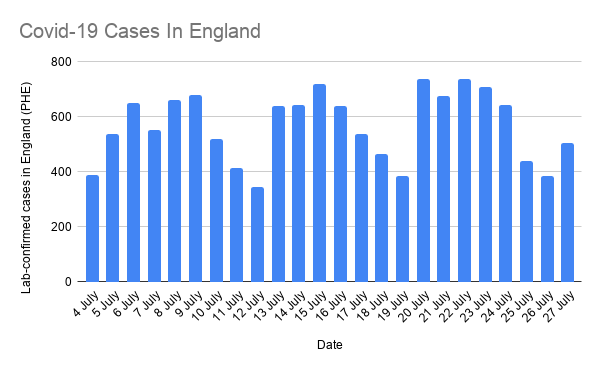 Data shows Covid-19 cases in the UK were declining steadily until the start of July, when they began to "plateau". Prof Hunter says this could be attributed to the lockdown easing.
He suggests we're now starting to see more of an impact – ie. a rise in cases – because people were initially quite cautious about the easing of restrictions, "but as the weeks have gone by, they've become less cautious".
It's likely we'll have to deal with peaks and troughs – and potentially large waves, where lockdowns are needed – until the virus is eradicated. These peaks may become smaller if previously exposed people become immune, Prof Vazquez-Bolan points out – but whether this will happen or not is unclear.
What could we do to help prevent a second wave?
"The one thing we know now that wasn't as apparent in March is that a large proportion of the cases were due to so-called super-spreader events," he says. "Estimates show 80% of infections were communicated by about 10% of the people infected – not because they were super infectious, but because they were in an indoor, crowded environment.
"And if people were singing or shouting – so that's choirs, churches, and pubs and bars where there's loud music – these are venues where one person can infect, in some cases, 50 or 100 people."
Prof Hunter adds that it's now clear face masks do help. "You don't have to wear a face mask if you're out for a walk on your own, but if you're going to come within, 6ft of somebody, put it on – certainly if you're indoors," he says.
What could the government do to stop a second wave?
Clear and consistent messaging from the government is key going forward, says Prof Hunter. "They need to follow the data, but get ahead of recommendations and send people a consistent message so people aren't confused."
The test, trace and isolate system also needs to be improved, he says, suggesting there could be better (and faster) coordination with local authorities.
Those who do need to self-isolate should be offered some form of income support, he adds. If people aren't offered financial support during the self-isolation period, there's a chance they'll go to work and risk spreading the virus.
Professor James Naismith, director of the Rosalind Franklin Institute, a hub for research and technology development, is concerned not enough effort has been put into isolation measures, such as free hotel stays for those who need to self-isolate. "The testing and tracking will all be for nothing if infectious people do not isolate," he adds. "Without effective isolation, all we will have is a more detailed view of an unfolding tragedy."
Countries must also learn from each other, adds Dr Gail Carson, a consultant in infectious diseases at the University of Oxford. Governments need to discuss with other countries what measures and steps work in easing out of lockdown, she says, as well recognising the warning signs of an increase in virus spread.
"The testing and tracking will all be for nothing if infectious people do not isolate."
On the issue of preventing a second wave, a government spokesperson told HuffPost UK: "We have made significant strides in our approach to tackling coronavirus. We have established, from scratch, one of the world's largest testing programmes, with capacity for 300,000 tests every day and we have traced more than 200,000 people who may have unknowingly spread the virus.
"This month the prime minister announced a further £3 billion for the NHS to provide high quality care as we head into winter, while treatments like Dexamethasone have been proven to save lives and progress of vaccines is promising.
"As demonstrated in Leicester, this government will be guided by scientific advice and is prepared to take further decisive action as needed. We urge the public to play their part by following the latest government guidance."