A former Russian double agent convicted of treason in Moscow is critically ill in a British hospital along with his daughter after exposure to an unknown substance.
Police declared a "major incident" in Salisbury, Wiltshire on Monday. The Foreign Secretary, Boris Johnson, later said Russia would be punished if it was found to be responsible for the hospitalisation of the former spy and his 33-year-old daughter.
So what do we know about this intriguing story so far?
THE VICTIMS
A 66-year-old former spy
Skripal was once a colonel in Russia's GRU military intelligence service. He was convicted in 2006 was convicted in Russia of "high treason in the form of espionage" for passing state secrets to UK intelligence.
He was pardoned by then Russian president, Dmitry Medvedev, in 2010 and was given refuge in Britain.
He was exchanged in 2010 for Russian spies caught in the west as part of a Cold War-style spy swap on the tarmac of Vienna airport.
Since taking refuge in Britain, Skripal lived quietly in Salisbury and kept out of the spotlight until he was found unconscious on Sunday.
Yulia Skripal
Sergei's 33-year-old daughter.
According to a Facebook profile bearing her name and image, she lives in Moscow, Russia.
THE CAUSE
Both are critically ill in Salisbury District Hospital after exposure to an as-yet unidentified substance.
Neither showed signs of any visible injuries.
On Tuesday they remained in a "critical condition", police confirmed.
Samples from the scene are being tested at Porton Down, Britain's military research laboratory.
THE LOCATION
The pair were found slumped unconscious on a bench in the centre of Salisbury, a city in the south of England around 4:15pm (GMT) on Sunday.
The area around the bench has been cordoned off, and a nearby restaurant has closed. There is no known risk to the public.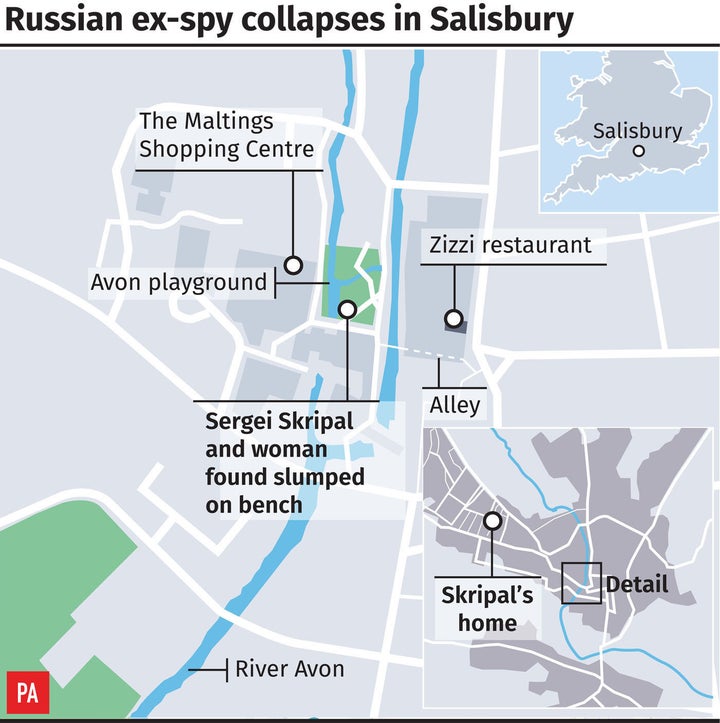 THE WITNESS
"On the bench there was a couple – an older guy and a younger girl. She was leant in on him. It looked like she'd passed out. He was doing some strange hand movements, looking up to the sky. I felt anxious, like I should step in but they looked so out of it. They looked like they had been taking something quite strong."
THE POLICE RESPONSE
The police's have declared it a "major incident", but it is not yet counter-terrorism operation.
On Tuesday the Metropolitan Police confirmed its counter-terror unit would lead the investigation.
Metropolitan Police assistant commissioner Mark Rowley said on Tuesday:
"Clearly it's a very unusual case and the critical thing is to get to the bottom of what has caused this incident as quickly as possible.

"If you look back at other cases like (Alexander) Litvinenko, if necessary we will bring that investigation into the counter-terrorism network.

"At the moment the key is, though, to get to the bottom of what caused this."
THE RUSSIA CONNECTION
Despite the scarcity of available evidence, the fact a former Russian spy convicted of treason has fallen ill due to an unidentified substance has stoked speculation that the Kremlin is in some way involved.
British Foreign Secretary Boris Johnson told parliament on Tuesday that while the authorities "don't know exactly what has taken place" it looks as if it is "another crime in the litany of crimes that we can lay at Russia's door".
Johnson described Russia as a "malign and disruptive force" and told MPs that "no attempt to take innocent life on UK soil will go unsanctioned or unpunished".
Bill Browder, a well-known critic of Putin's government, told HuffPost UK: "The first theory I would investigate would be that he was the victim of a Kremlin-sponsored assassination and I would run with that theory until it was proven otherwise."
THE KREMLIN RESPONSE
In its first response, the Kremlin said it was ready to cooperate if Britain asked for help in its investigation of the "tragic situation", but said it did not have any information about what had happened.
But tension between the two countries ratcheted up on Tuesday. Russia's embassy in London first said it was seriously concerned by British media reporting that was demonising the country. It later accused Johnson of reading a "script of yet another anti-Russian campaign".
THE UK GOVERNMENT RESPONSE
Home Secretary Amber Rudd will chair a meeting of the Government's emergency committee Cobra on Wednesday morning to discuss the on-going investigation into the incident in Salisbury, No 10 said.
Prime Minister Theresa May was briefed at a meeting of the National Security Council on the investigation into the incident.
THE HISTORICAL PRECEDENTS
Relations between Britain and Russia have been particularly strained since the murder of ex-KGB agent Alexander Litvinenko, who was poisoned with radioactive polonium-210 in London in 2006, a killing which a British inquiry said was probably approved by President Vladimir Putin.
The Kremlin has always denied responsibility for the murder.
Litvinenko's widow, Marina Litvinenko, has described the Salisbury incident as feeling like "deja vu".
Asked about the link being made in the media between Skripal and the death of Litvinenko, Kremlin spokesman Dmitry Peskov said: "It didn't take them long."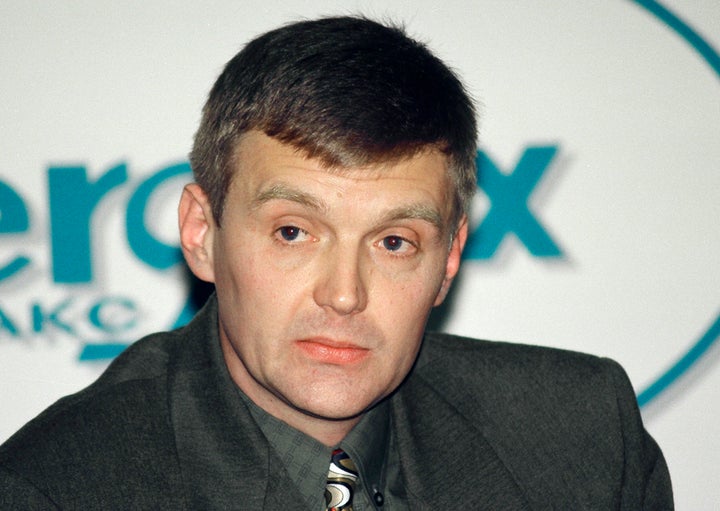 Alexander Perepilichny
In 2012 Alexander Perepilichny dropped dead in what have been described as mysterious circumstances.
He had left Russia in 2009 after implicating Russian officials in the alleged $220m (£159m) fraud of the Hermitage Capital Management fund run by American-born British financier, Bill Browder.
A lengthy and ongoing inquest into his death has not provided evidence he died of anything other than natural causes but there have been multiple accusations of a flawed investigation and the covering up of evidence by both Russian and British authorities.
Browder told HuffPost UK: "That is based on the facts this person was considered a traitor to Russia, that Putin has publicly announced traitors of Russia will be liquidated, that Putin has liquidated opponents both domestically and abroad and that he's used poisons in the UK as in the Litvinenko and Perepilichny cases."
WHAT RUSSIAN MEDIA IS SAYING
Reporting on the incident in Russia has been mostly measured, but with more emphasis on Skripal's treason charge – and the Kremlin's denials.