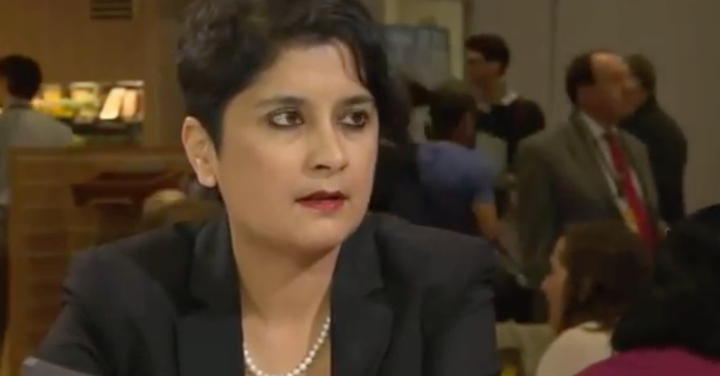 Shami Chakrabarti is set to join Jeremy Corbyn's Shadow Cabinet just months after her controversial report into allegations of anti-Semitism in Labour.
The New Statesman are reporting the Chakrabarti, who was appointed to the House of Lords just days after concluding her inquiry, will be appointed Shadow Attorney General in the imminent reshuffle.
The Labour peer worked as a barrister in the Home Office in the late 1990s and in 2001 joined human rights lobbyists Liberty.
A source told the New Statesman that Chakrabarti "wants to do more" and the "gig is a no brainer."
Chakrabarti has faced repeated questions over when she was first offered a peerage by Corbyn, and whether it was discussed before or after she carried out the anti-Semitism inquiry.
Her report, published in June, concluded Labour was "not overrun by anti-Semitism, Islamophobia, or other forms of racism" but there was an "occasionally toxic atmosphere."
Marie van der Zyl, who is on the Board of Deputies of British Jews, said the peerage was "beyond disappointing" after her "so-called independent inquiry", the BBC reported.
The Campaign Against Antisemitism said in a statement: "If anybody still took Shami Chakrabarti's report on anti-Semitism in the Labour Party or Jeremy Corbyn's declared opposition to anti-Semitism seriously, this must be the final straw... Having promised to never send anyone to the House of Lords, that is exactly what Jeremy Corbyn has done in return for a clean bill of health."
In an interview on the BBC's Daily Politics on Wednesday, Chakrabarti claimed she had been offered the peerage after the inquiry had concluded, and suggestions to the contrary were "smears".
Chakrabarti provoked controversy at Labour's conference this week when she urged Jewish supporters not to quit the party.
She said: "Please don't go. Don't leave me here, don't leave me locked in a room with Essex man."
The Daily Mail reported that Chakrabarti added: "If you want to put that on the internet and I get suspended, put it on.
"I don't want to be left alone with people who lack the vision and views that you and I bring to this party as members of minority groups."
Colchester MP Will Quince took to Twitter to vent his anger.