Jewish leaders have hit out at Jeremy Corbyn's decision to nominate Shami Chakrabarti, the head of Labour's anti-Semitism inquiry, for a peerage.
The credibility of Chakrabarti's independent report "lies in tatters" after she accepted the peerage, said Chief Rabbi Ephraim Mirvis, while MP Wes Streeting said "let's not pretend that a Labour peerage in these circumstances doesn't stink."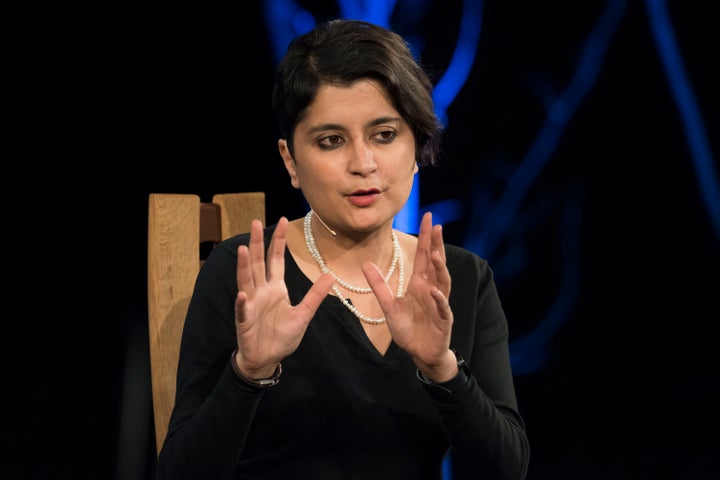 Chakrabarti's report concluded in June that the Labour party was "not overrun" by anti-Semitism, but its independence has been questioned. But the former head of Liberty noted that the party had an "occasionally toxic atmosphere".
Marie van der Zyl, who is on the Board of Deputies of British Jews, said the peerage was "beyond disappointing" after her "so-called independent inquiry", the BBC reported.
The Campaign Against Antisemitism said in a statement: "If anybody still took Shami Chakrabarti's report on anti-Semitism in the Labour Party or Jeremy Corbyn's declared opposition to anti-Semitism seriously, this must be the final straw... Having promised to never send anyone to the House of Lords, that is exactly what Jeremy Corbyn has done in return for a clean bill of health."
Journalist Michael Crick said the peerage "raises more questions whether her Labour inquiry into anti-semitism really was independent".
Streeting, the Labour MP for Ilford North, told the BBC: "Shami Chakrabarti will bring great experience to Lords," but claimed Corbyn had "undermined" the inquiry with "just one Lords appointment".
Corbyn chose Chakrabarti as his only nomination as part of David Cameron's resignation honours list.
Labour's deputy leader Tom Watson told Radio 4's Today programme it was a "mistake" for Corbyn to recommend Chakrabarti because it made him "complicit" in Cameron's resignation honours list, which has been decried as cronyism by critics.
He said he was not consulted on the idea of nominating her.
Diane Abbott, the Shadow Health Secretary, told Sky News Wes Streeting should "consider his position" after saying the appointment stunk.
She claimed his remarks were "extraordinary".
"Shami Chakrabarti is one of the most distinguished people in public life. She would have had a peerage under a number of Labour leaders," Abbott said. "To say her appointment 'stinks', what message does that give to young women of Shami's background about stepping into the public space?"
"If we're going to have the type of House of Lords we've got, then Shami is exactly the sort of person that should be in it."
Many others pointed out Chakrabarti's notable work in human rights, saying she was the "most deserving" person on the honours list.
Chakrabarti has been a leading campaigner for over a decade, representing the government and doubling Liberty's membership.
Read the Labour statement in full: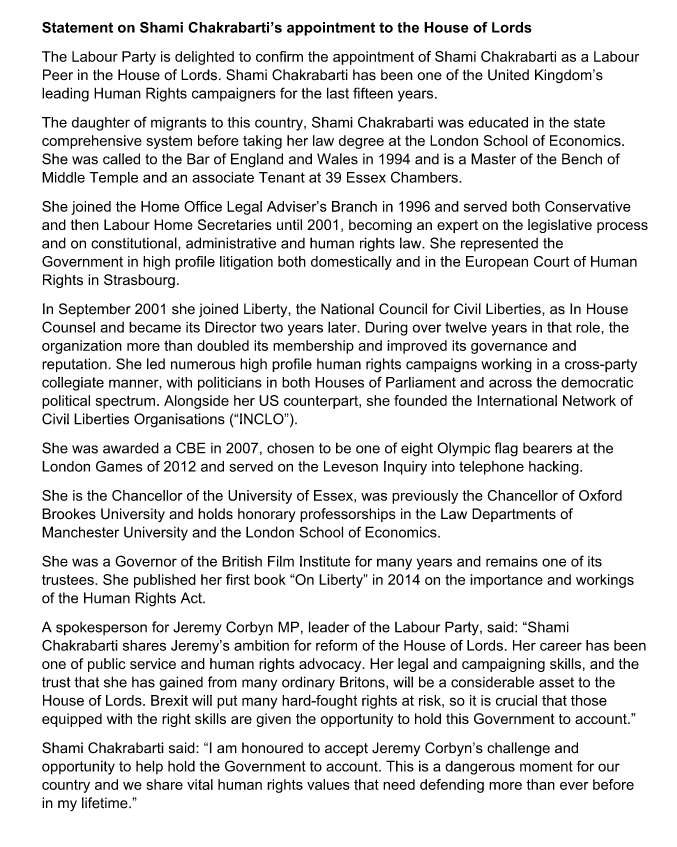 Chakrabarti said she was "honoured" to accept the Labour leader's "challenge".
A spokesman for Jeremy Corbyn praised Chakrabarti's "legal and campaigning skills, and the trust that she has gained."