Article originally published 18/08/2016: due to a technical issue this article may have resurfaced for some readers, and the original publish date may not have been visible.
Sir Philip Green has completely lost it at a Sky News reporter attempting to question the retail billionaire about the collapse of BHS.
The clash on an upmarket Greek marina as the tycoon attempted to board his luxury yacht saw Sir Philip threaten to throw the camera being pointed at him "in the fucking sea".
You can watch David Bowden's full report above - and the bust-up below.
The 88-year-old department store went bust in April, putting 11,000 jobs at risk and threatening the closure of up to 164 stores in the biggest retail failure since Woolworths went under in 2008.
Sir Philip, 64, sold BHS to the consortium Retail Acquisitions (RA) for £1, with debts exceeding £1.3bn and a pension fund deficit of £571m.
Bowden quizzed Sir Philip about the massive pensions black hole while holidaying in the Greek isle of Ithaca, but was abruptly told to mind his own business.
"I'm going to call the police if you don't go away," said Sir Philip as he was heading to his £100m boat.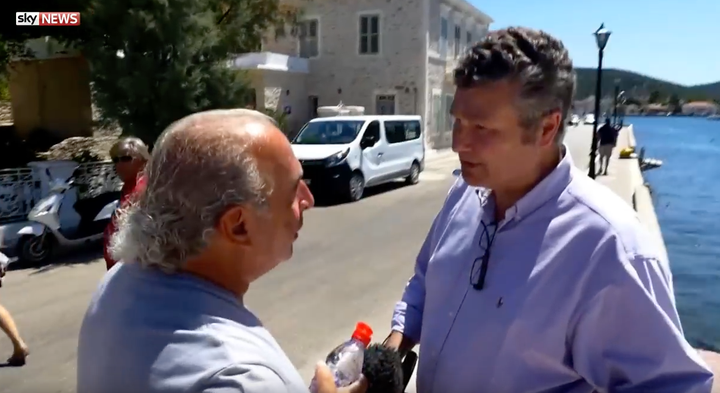 "People will want to know why you're on holiday when they think you should be sorting out the pension deficit."
To which Sir Philip replied:
"Will you go away? Go away!"
A scuffle ensued - with a water bottle pointed at the reporter - before Sir Philip asked:
"Which bit are you not understanding? Just go away. That's going in the fucking sea."
The report begins with Bowden circling the yacht, named Lionheart, to no avail until they meet on shore. The reporter notes:
"He could hardly have been less pleased to see us."
READ MORE:
Popular in the Community